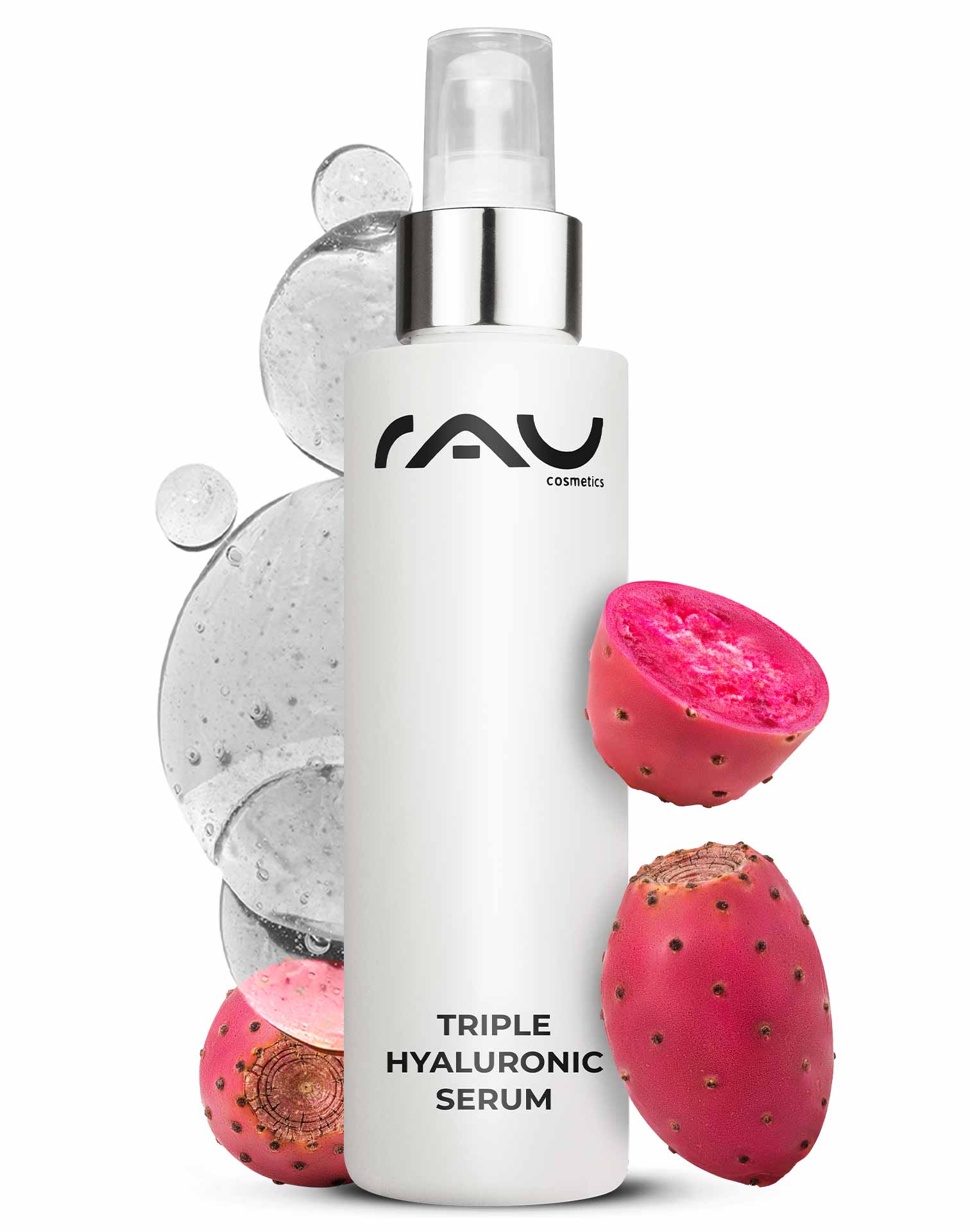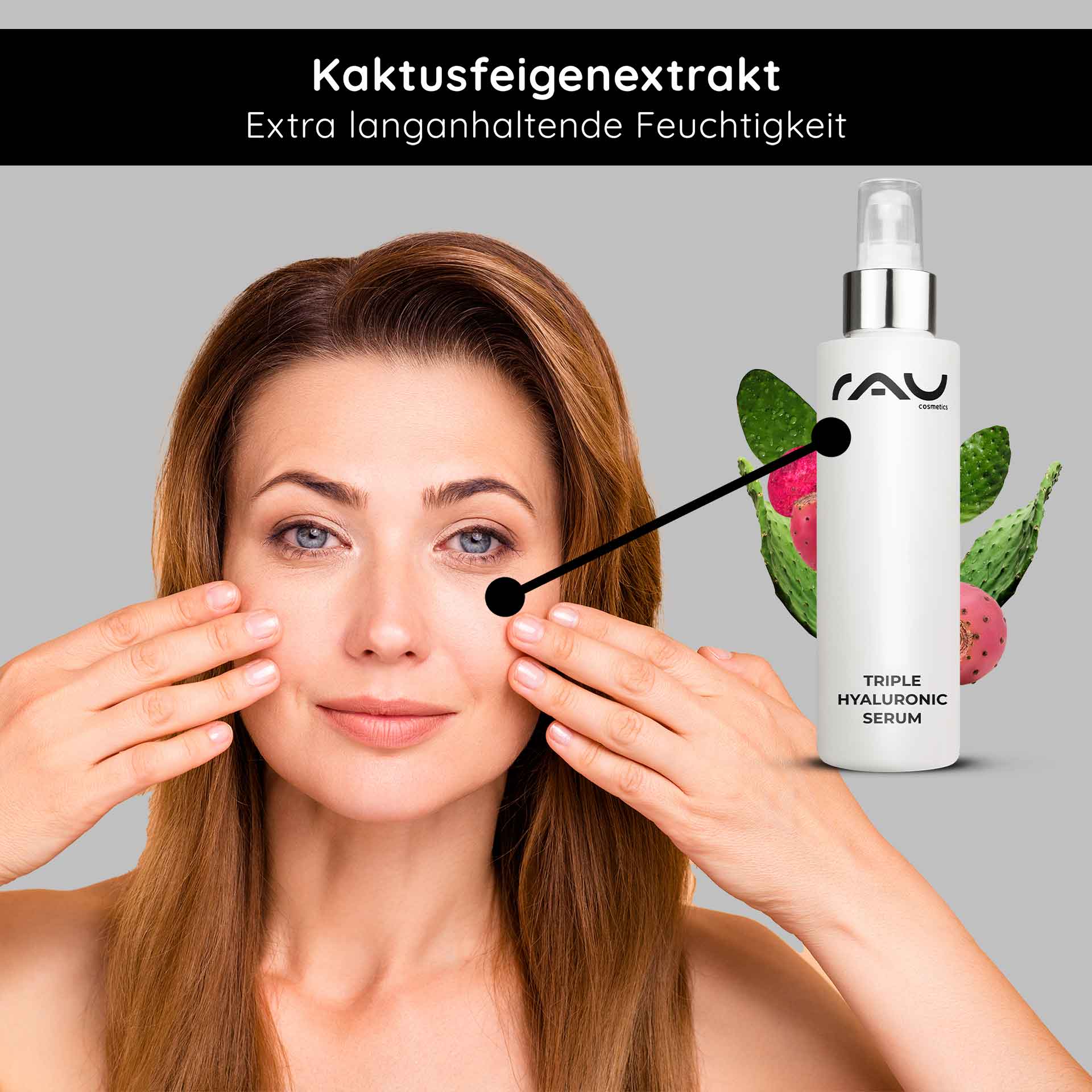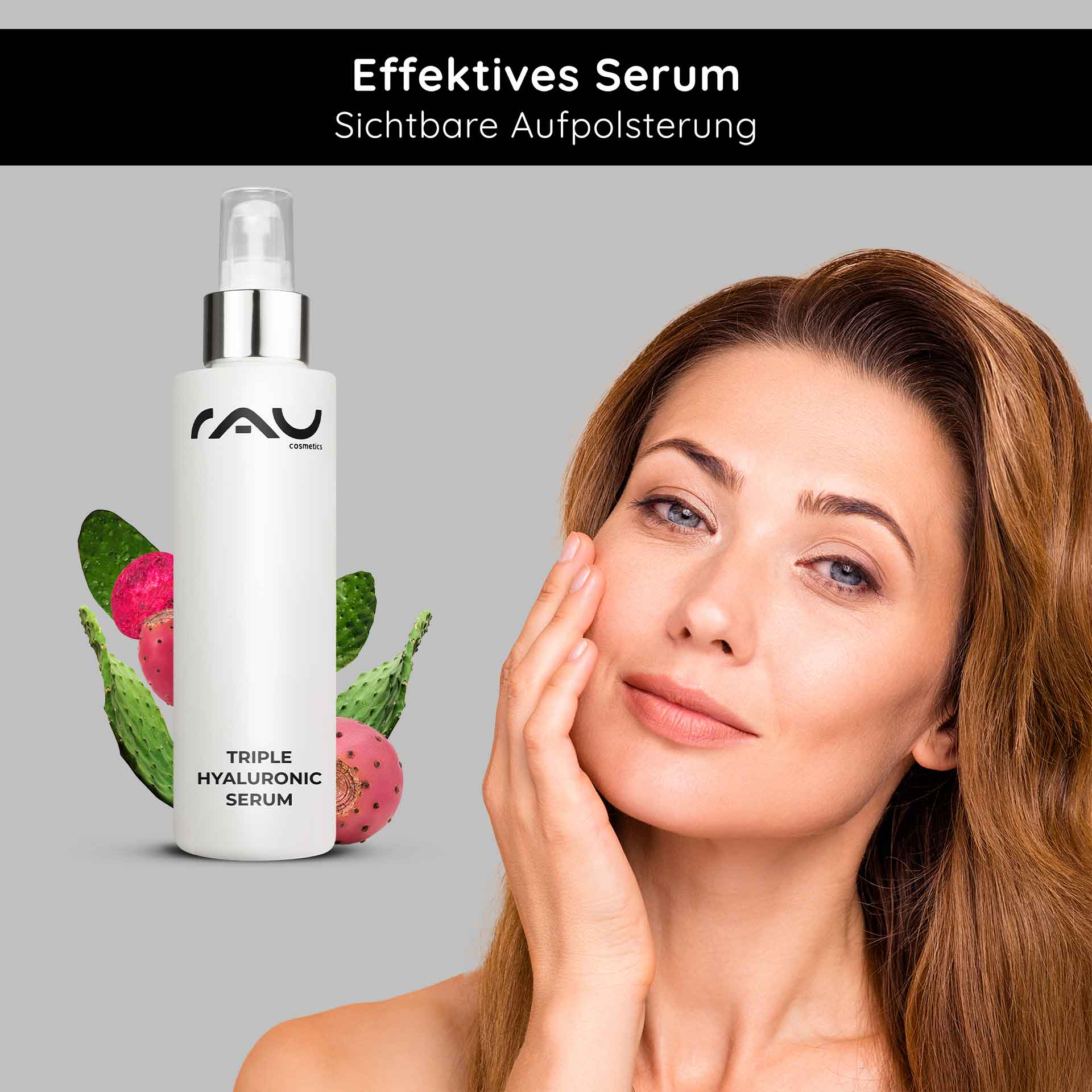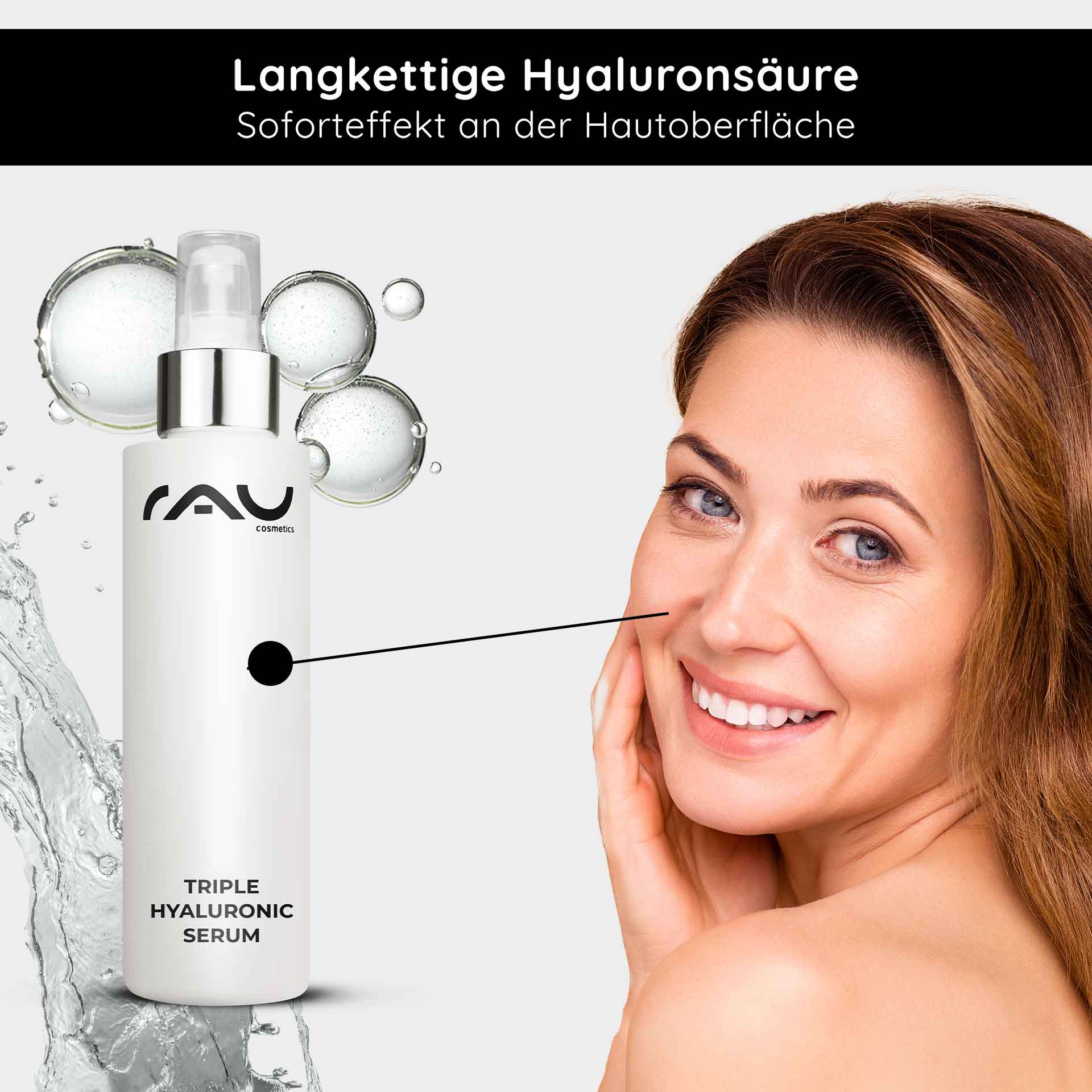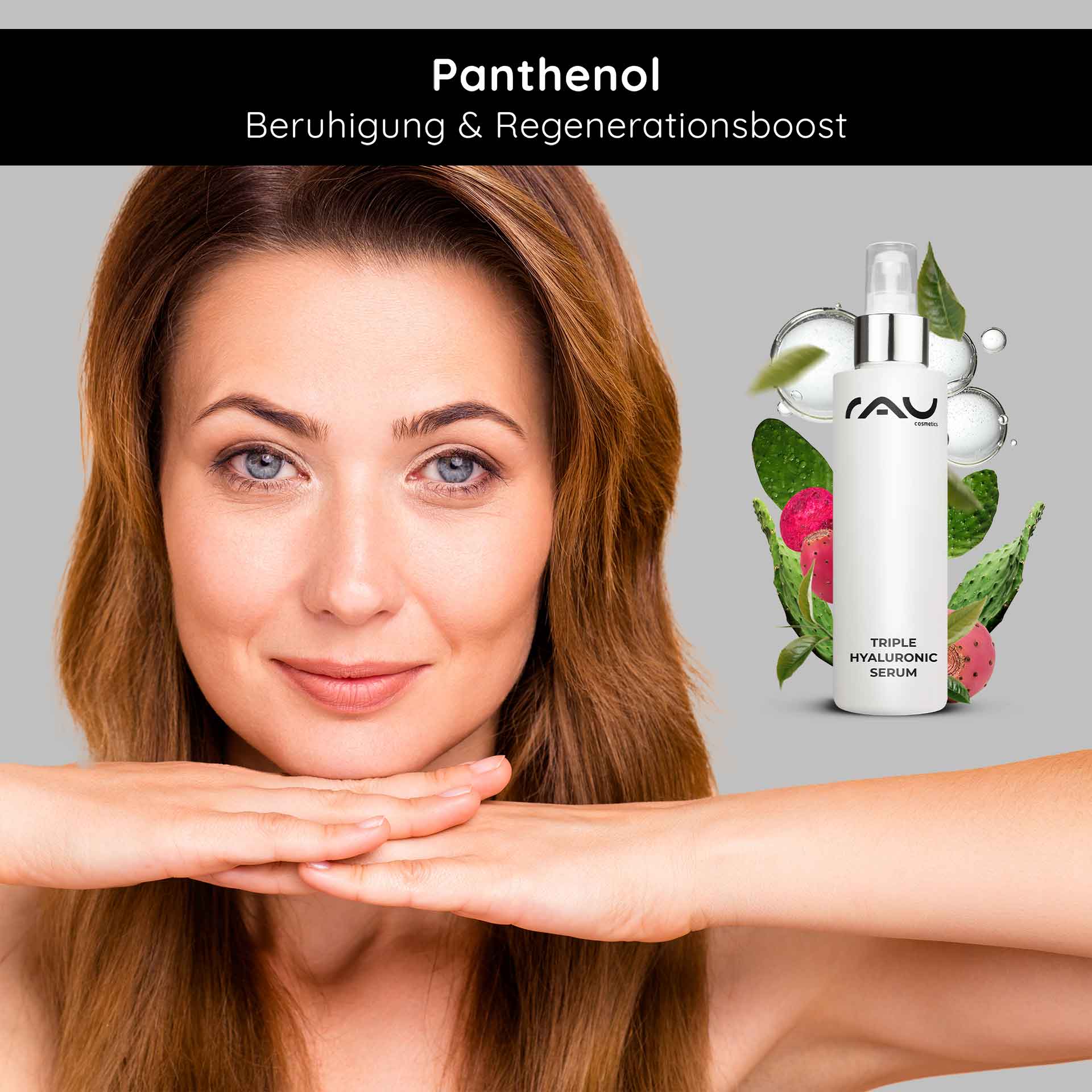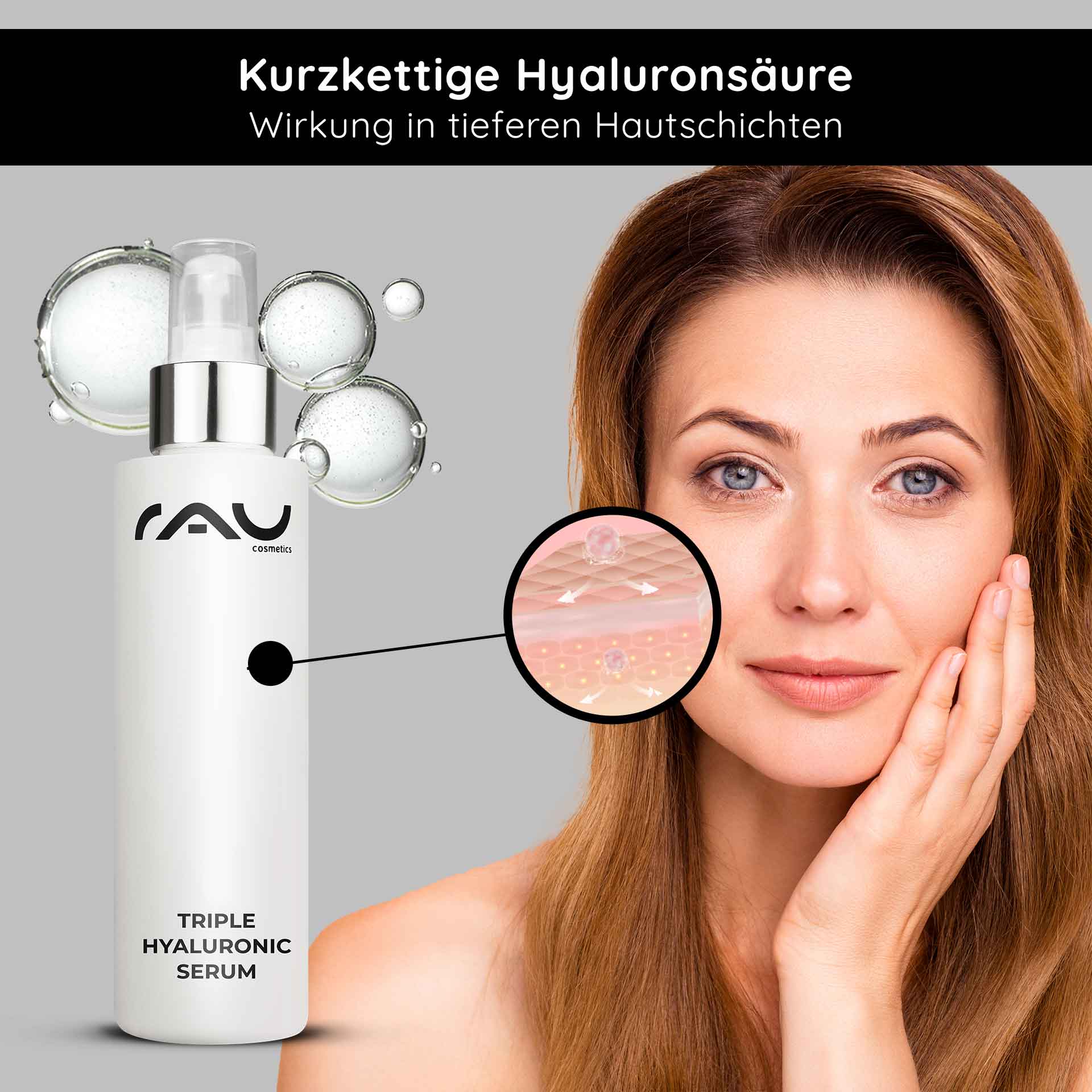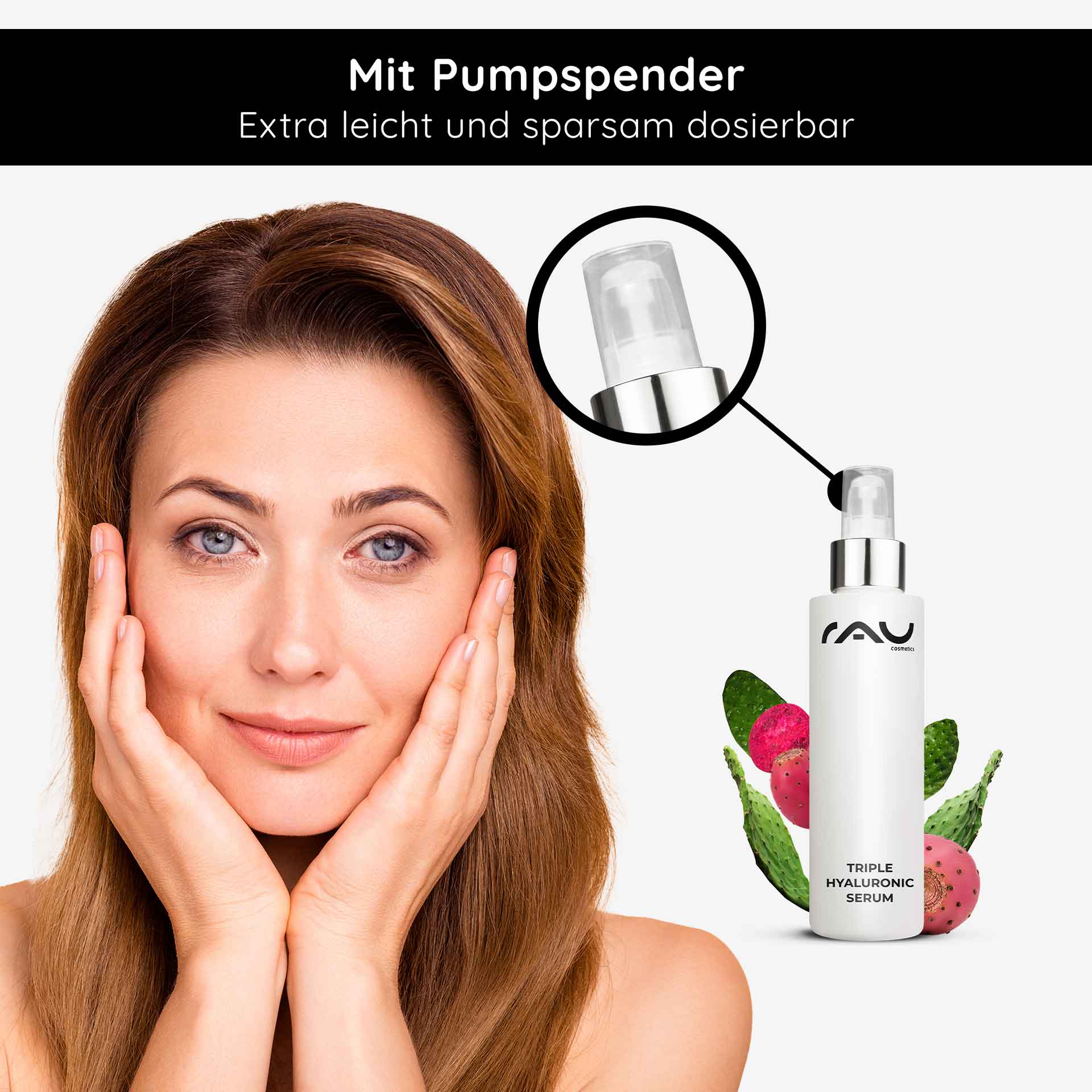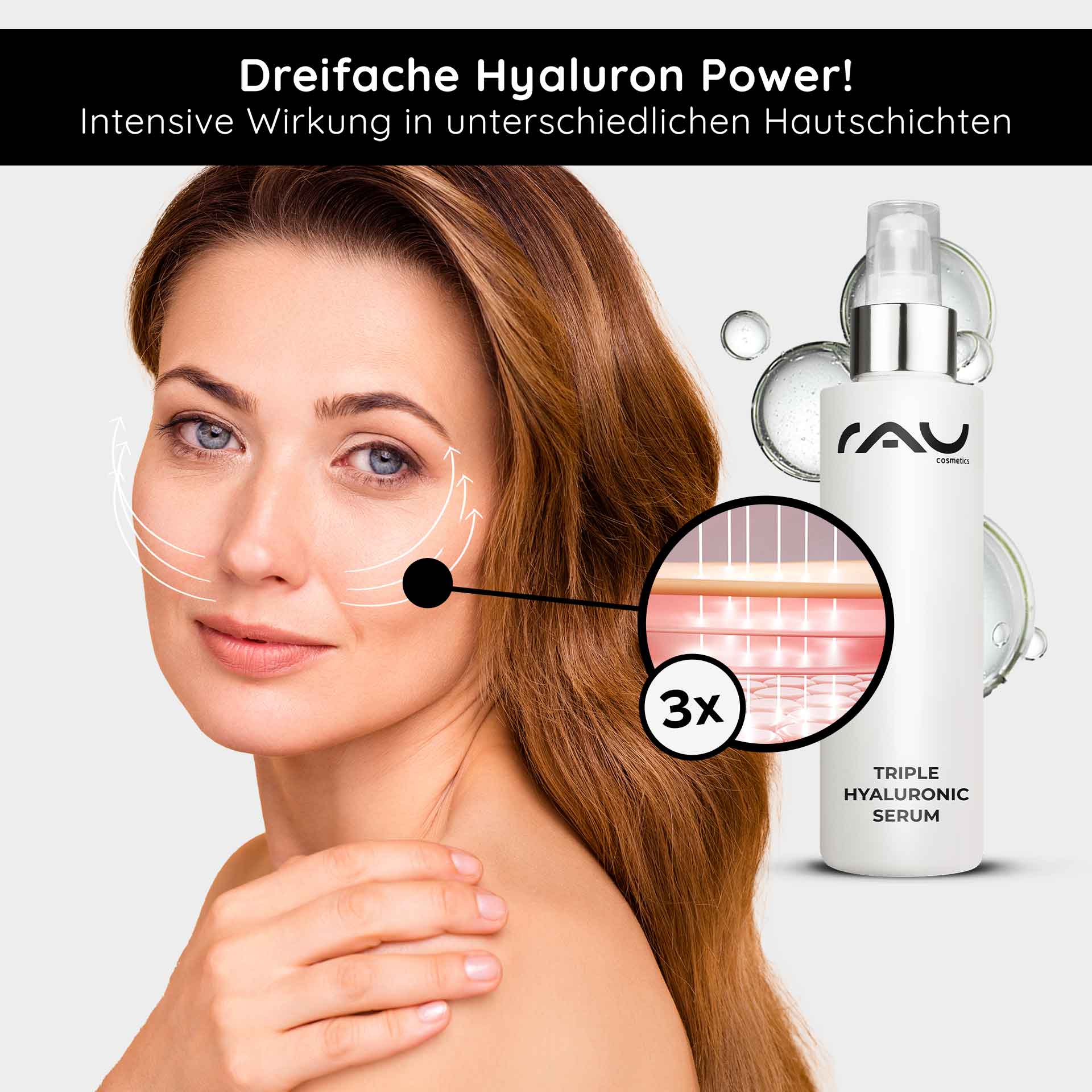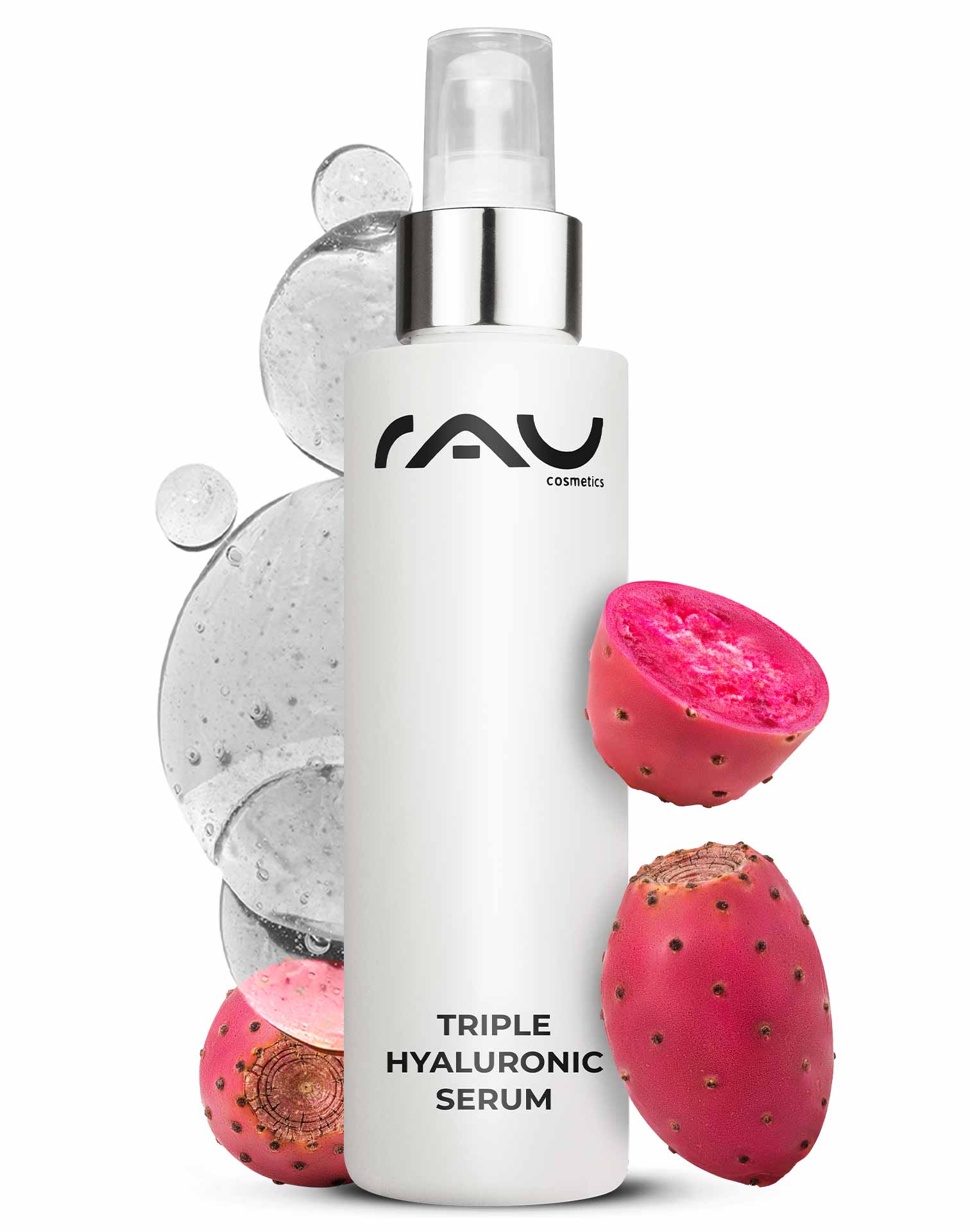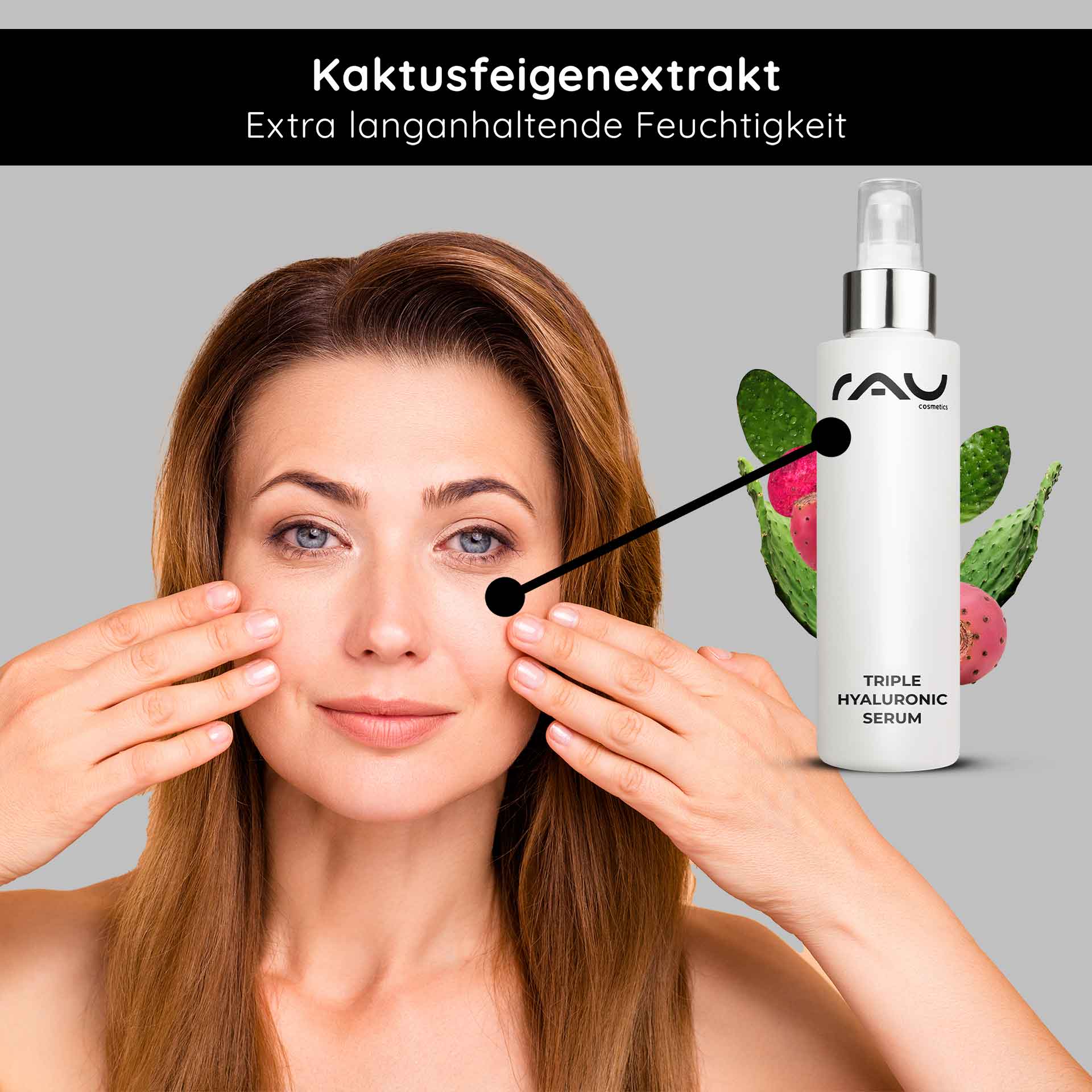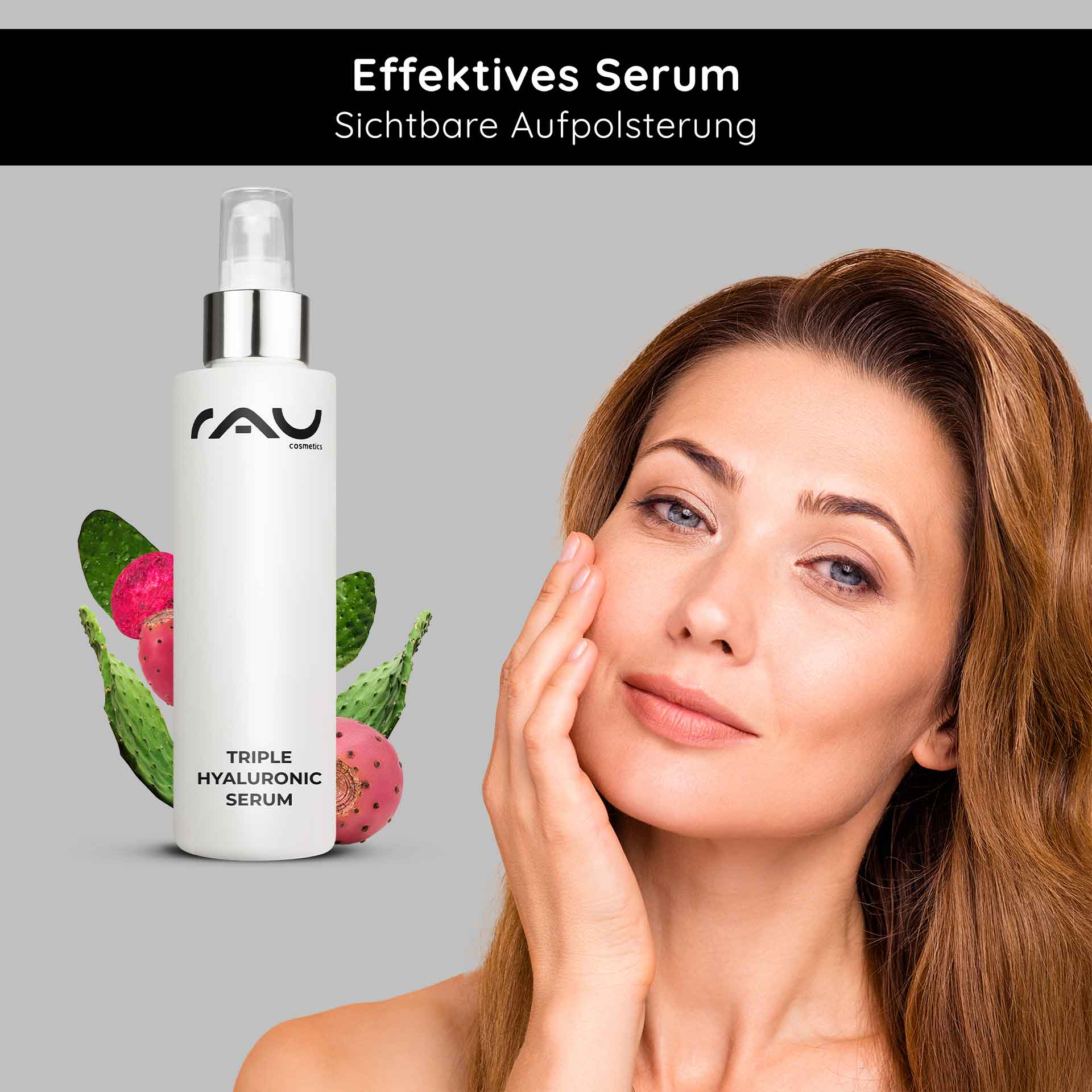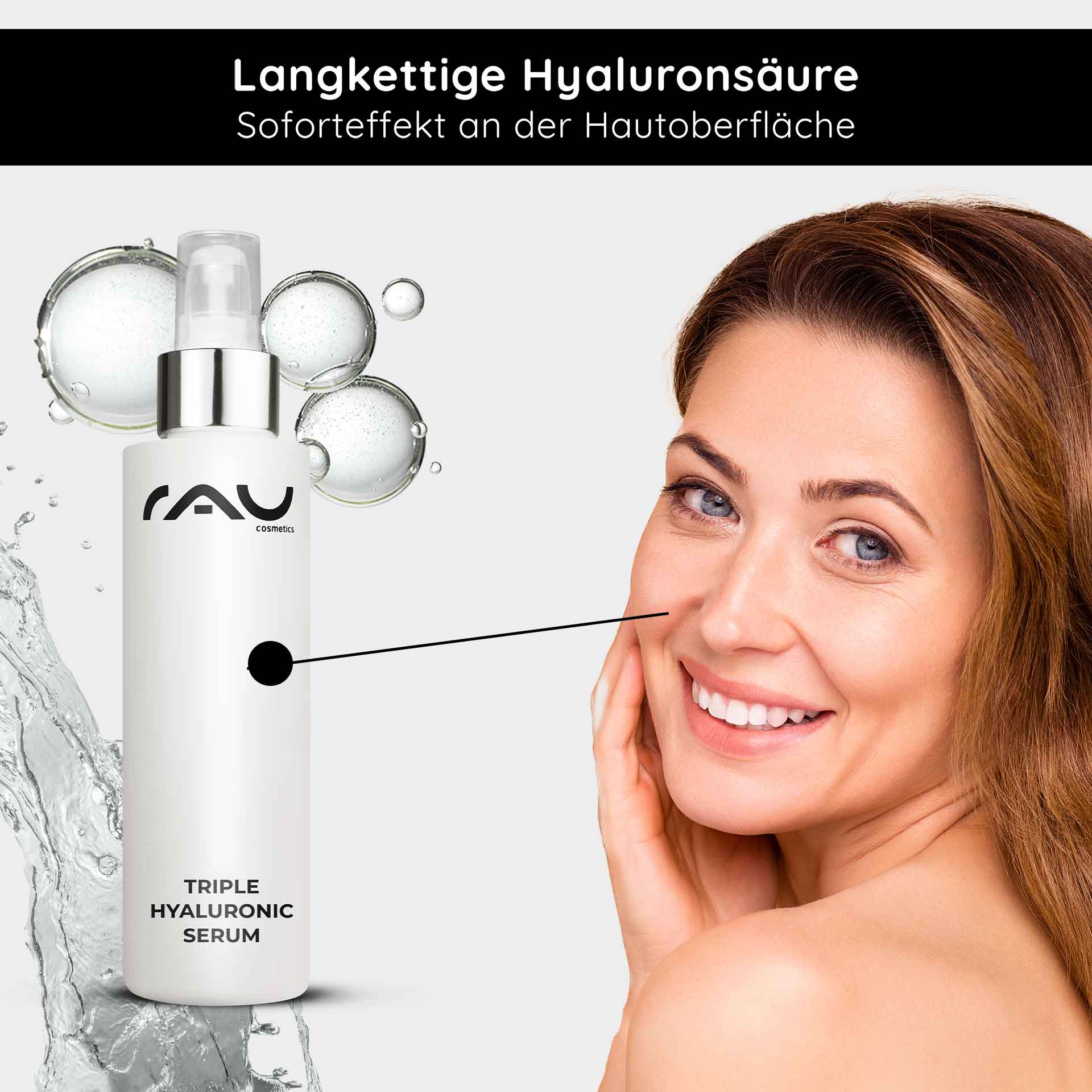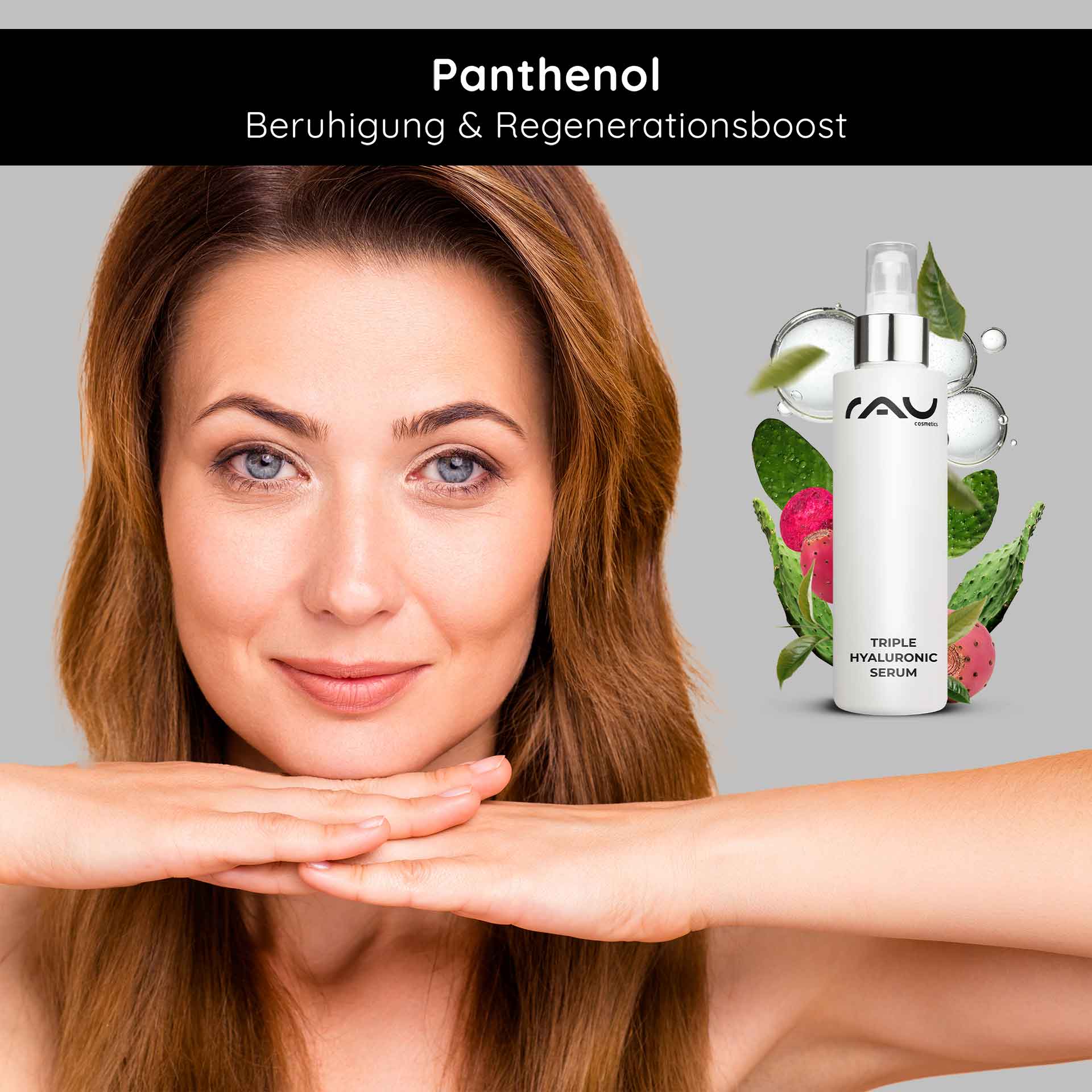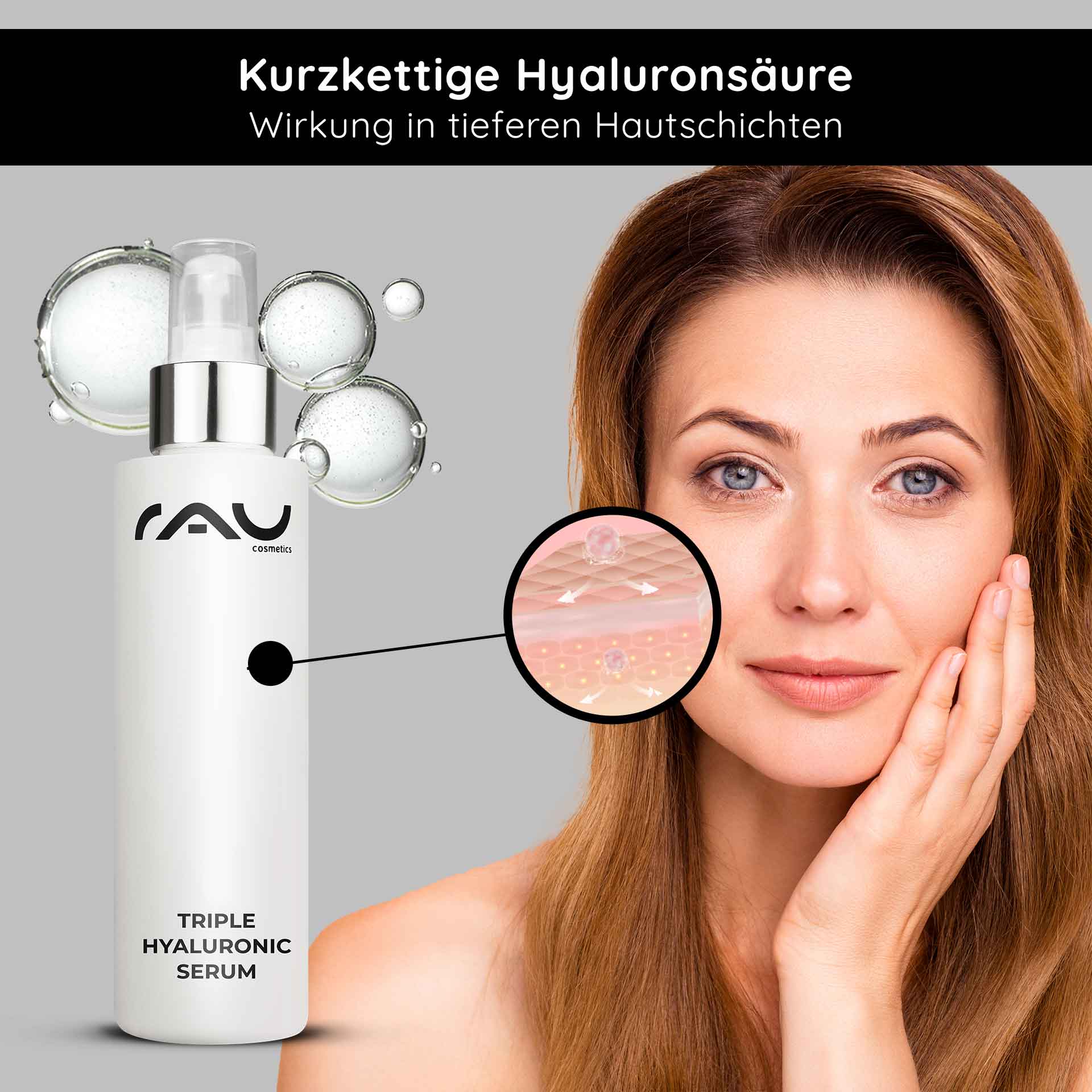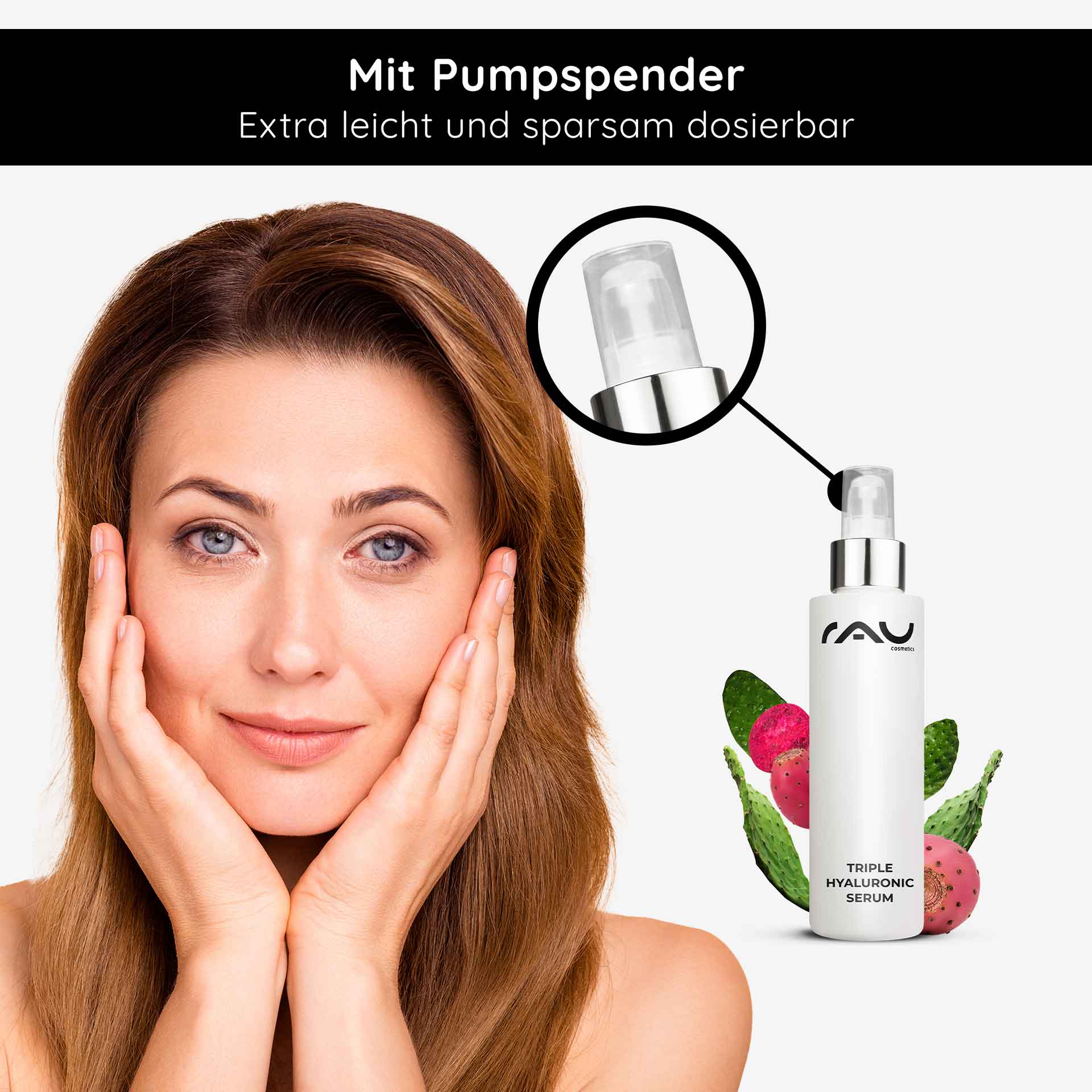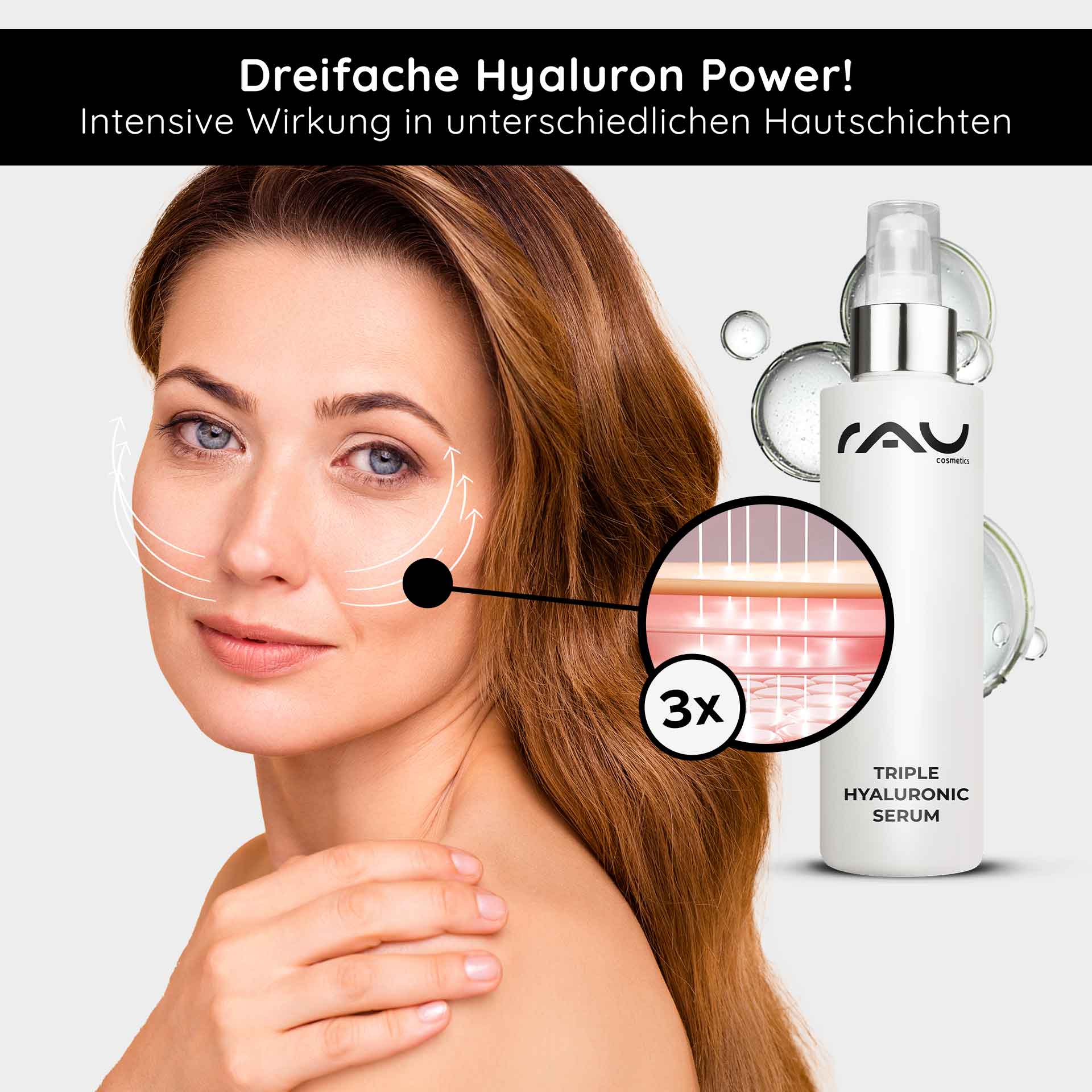 Triple Hyaluronic Serum 100 ml with Panthenol & Hyaluron
€69.80*
Content:
0.1 Liter
(€698.00* / 1 Liter)
Available, delivery time: 1-3 days
Manufacturer:
RAU Cosmetics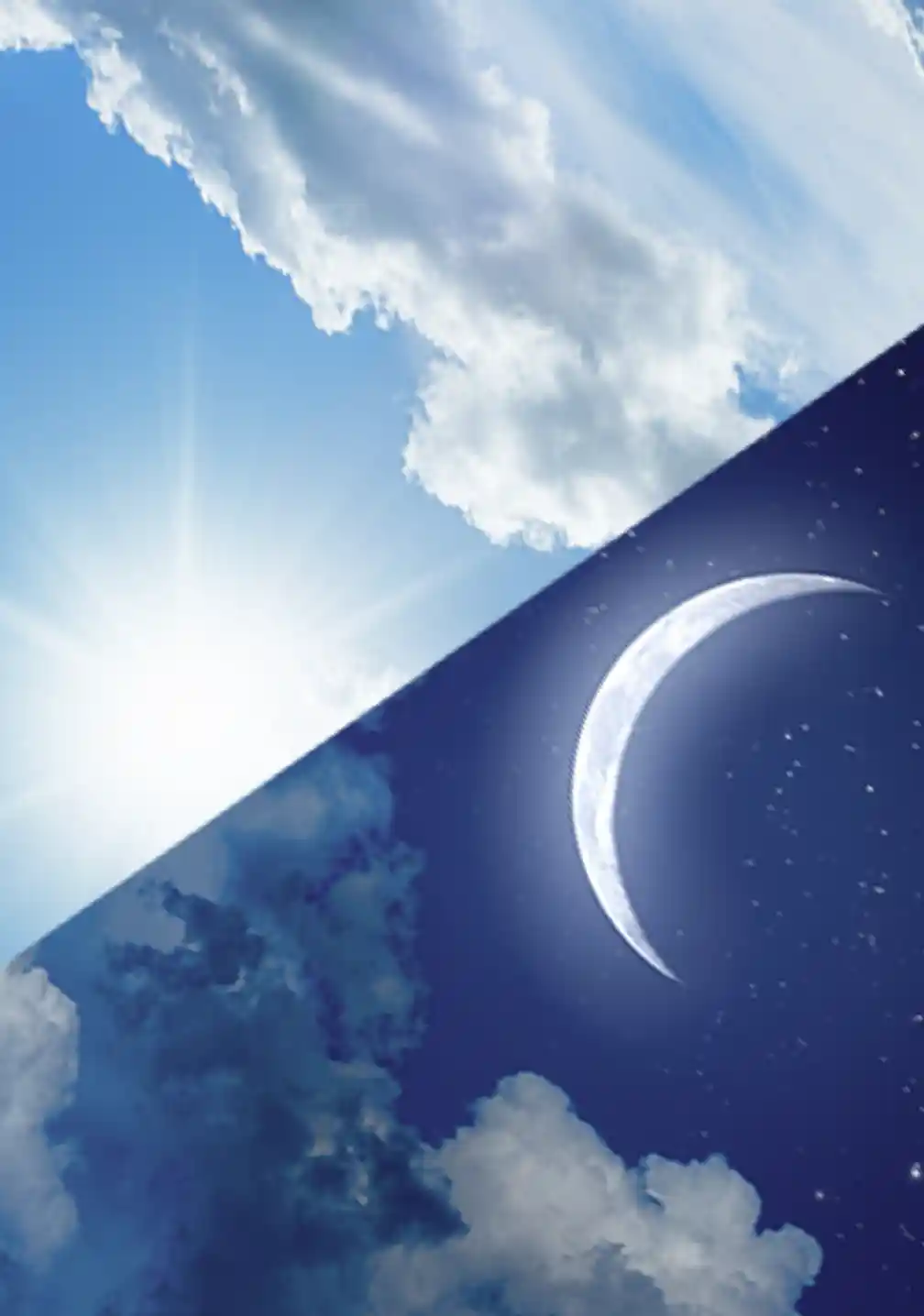 Tageszeit
Das Serum können Sie sowohl morgens als auch abends verwenden.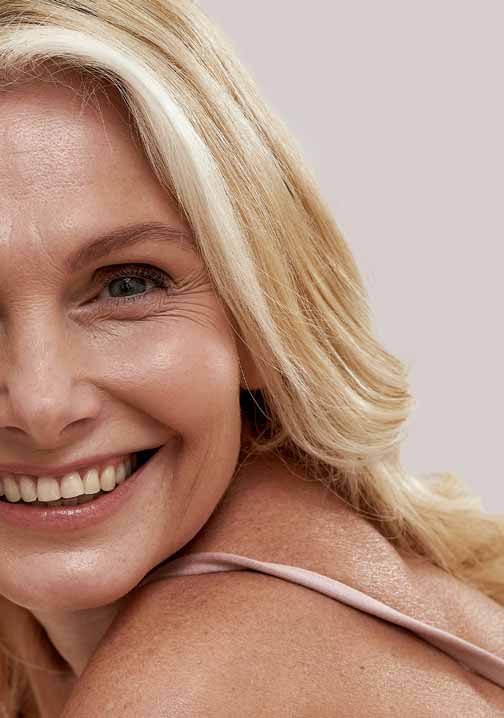 Hauttyp
trockene Haut
reife Haut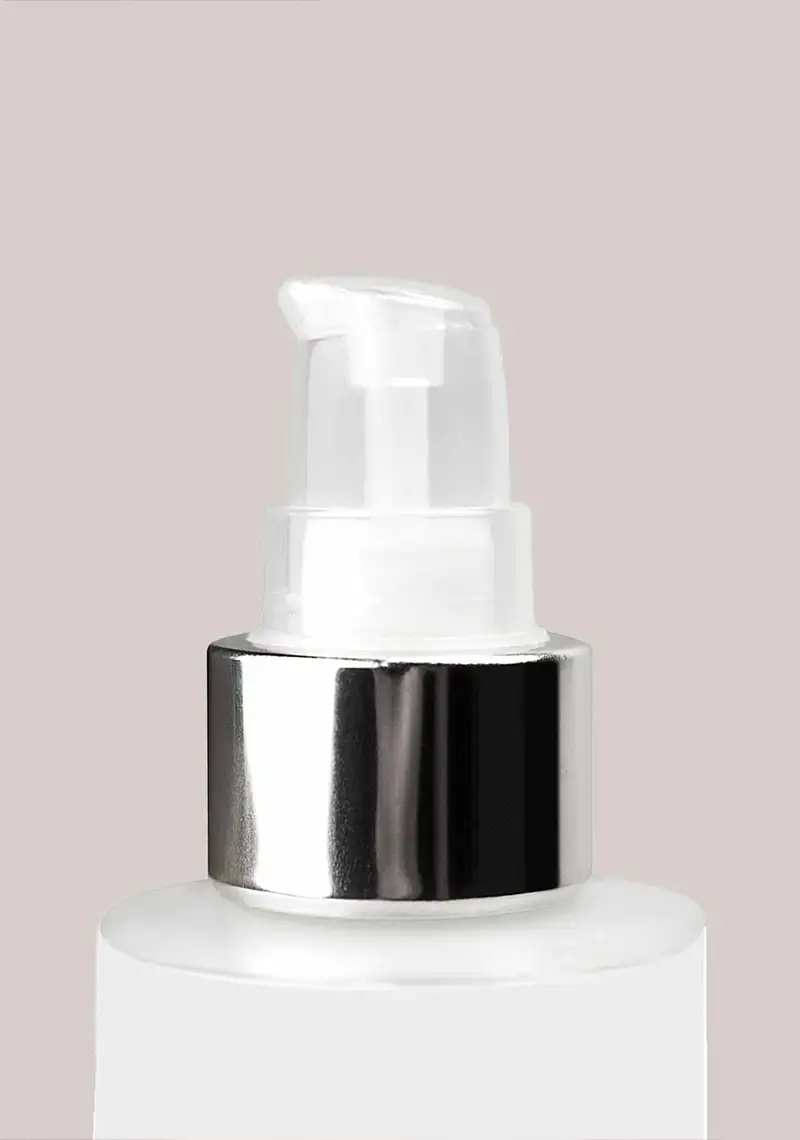 Hygienischer Spender
Durch den praktischen Airless-Spender können Sie das Serum richtig dosieren.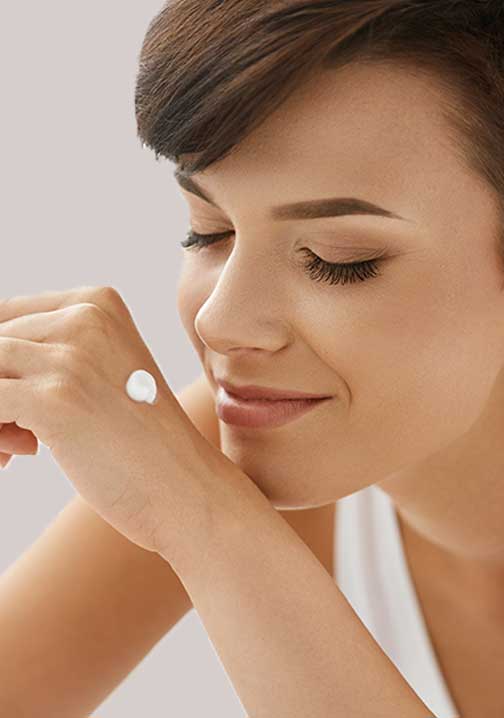 Geruch
Das Hyaluron Serum hat einen angenehmen seifigen Duft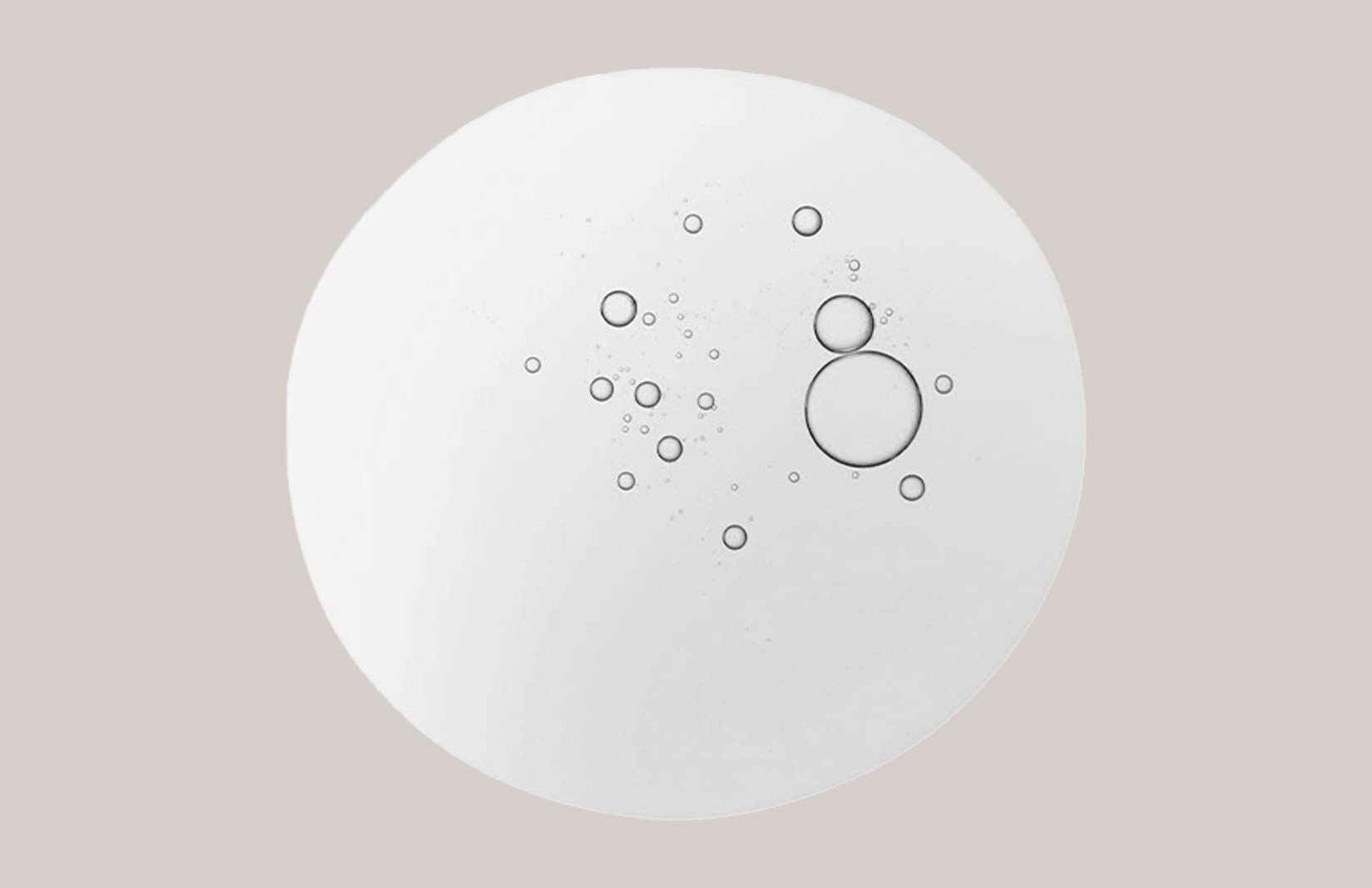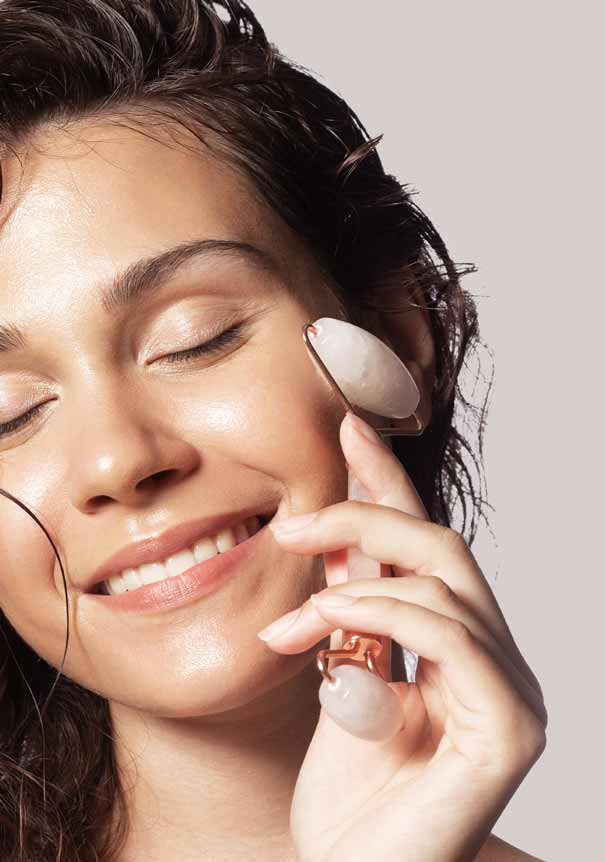 Anwendung
Auf die Gesichtshaut auftragen und sanft einmassieren.
Product information "Triple Hyaluronic Serum 100 ml with Panthenol & Hyaluron"
Triple Hyaluronic Serum

✔moisturizing concentrate
✔ with triple hyaluronic acids

✔preserves moisture in the skin
✔ anti-aging concentrate
✔ developed & produced in Germany
SKIN TYPE
The face serum is especially suitable for dry & mature skin.

APPLICATION
Apply to cleansed facial skin and gently massage.
HAZARD WARNINGS

Not suitable for children under 3 years.
Avoid contact with eyes.
Shake before use.
Triple Hyaluronic Serum contains an extract of prickly pear, as well as a combination of three highly dosed hyaluronic acids (high, medium and low molecular).
The active ingredient combination of the Hyaluron Serum:
The three different hyaluronic acids act in different ways.The high-molecular hyaluronic acid can form a tightening film on the skin surface. This allows moisture to be retained better and makes the skin look plumper and firmer.Low-molecular hyaluronic acid starts in deeper skin layers. It deeply moisturizes the skin, replenishes its moisture reserves and stores moisture in the skin for a long time. With regular and long-term use, the skin can not only become plumper and firmer from the inside out, lines and wrinkles can also be softened.
The contained prickly pear extract is particularly rich in minerals, vitamins, flavonoids and antioxidants. The plant extract supports hyaluronic acid in its moisture-binding properties. It also contains a carbohydrate complex (saccharide isomerate), which acts like a water magnet on the skin and can thus retain moisture in the skin.
The contained panthenol can soothe the skin and additionally support it in its regeneration.
CONTENTS



AQUA (WATER) - Water - Solvent, moisturizes
PROPANEDIOL - solvent - increases or decreases viscosity of the product
BUTYLENE GLYCOL - solvent - binds moisture, improves the smell of a product / perfumes the skin
GLYCERIN - Glycerin - moisturizes the skin, vegetable
PENTYLENE GLYCOL- Pentylene glycol- Moisturizes the skin.
PANTHENOL - Panthenol - Regeneration and renewal of damaged skin, Soothing and anti-inflammatory, Promotes cell growth
SODIUM HYALURONATE - Hyaluronic acid - moisturizing, skin caring
XANTHAN GUM - Xanthan Gum - Enables the formation of emulsions, increases the viscosity of cosmetic products
OPUNTIA FICUSINDICA STEM EXTRACT- prickly pear- skin nourishing
POLYGLYCERYL-10 LAURATE - polymerized glycerin- Keeps the skin in good condition
SACCHARIDE ISOMERATE - Isomerized saccharides - Binds moisture
SODIUM LACTATE - Sodium salt of lactic acid - Moisturizes, Helps remove dead skin cells from the skin surface
ETHYLHEXYLGLYCERIN -ethylhexylglycerin - skin nourishing
TETRASODIUM GLUTAMATE DIACETATE - stabilizer - influences stability and quality of the product
CITRIC ACID - citric acid - Reduction of horny skin areas, blackheads, acne scars, fine wrinkles, pore width/depth
PARFUM (FRAGRANCE) - fragrance
LACTIC ACID - lactic acid - moisturizing, skin caring, regulates / stabilizes the pH value of cosmetic products
SODIUM CITRATE - sodium salt of citric acid - perfuming
PHENOXYETHANOL - phenoxyethanol- antimicrobial, protects the product from spoilage
SODIUM HYDROXIDE - sodium hydroxide - stabilizer - influences stability and quality of the product
| | | |
| --- | --- | --- |
| INCI | Deutsche Bezeichnung | Erklärung |
| AQUA (WATER) | Wasser | Lösungsmittel, spendet Feuchtigkeit |
| PROPANEDIOL | Propanediol | erhöht oder verringert die Viskosität des Produkts |
| BUTYLENCE GLYCOL | Butylene Glycol | binder Feuchtigkeit, verbessert den Geruch des Produkts |
| GLYCERIN | Glycerin | Spendet der Haut Feuchtigkeit, pflanzlich |
| PENTYLENE GLYCOL | Pentyleneglykol | spendet der Haut Feuchtigkeit |
| PANTHENOL | Panthenol | Beruhigend und entzündungshemmend |
| SODIUM HYALURONATE | Hyaluronsäure | feuchthaltend, glättend |
| XANTHAN GUM | Xanthan Gum | ermöglicht die Bildung von Emulsionen |
| OPUNTIA FICUSINDICA SEM EXTRACT | Feigenkaktus | hautpflegend |
| POLYGLYCERYL-10 LAURATE | polymersiertes Glycerin | hält die Haut in einem guten Zustand |
| SACCHARIDE ISOMERATE | Isomersierte Saccharide | Bindet Feuchtigkeit |
| SODIUM LACTATE | Natriumsalz der Milchsäure | feuchthaltend, hilft bei der Entfernung abgestorbener Hautzellen |
| ETHYLHEXYLGLYCERIN | Ethylhexylglycerin | hautpflegend |
| TETRASODIUM GLUTAMATE DIACETATE | Tetrasodium Glutamate Diacetate | beeinflusst die Stabilität und Qualität des Produkts |
| CITRIC ACID | Zitronensäure | Reduktion von verhornten Hautstellen |
| PARFUM (FRAGRANCE) | Parfum | Duftstoff |
| LACTIC ACID | Milchsäure | feuchthaltend, hautpflegend |
| SODIUM CITRATE | Natriumsalz der Citronensäure | parfümierend |
| PHENOXYETHNOL | Phenoxyethanol | antimikrobiell |
| SODIUM HYDROXIDE | Natronlauge | beeinflusst die Stabilität des Produkts |