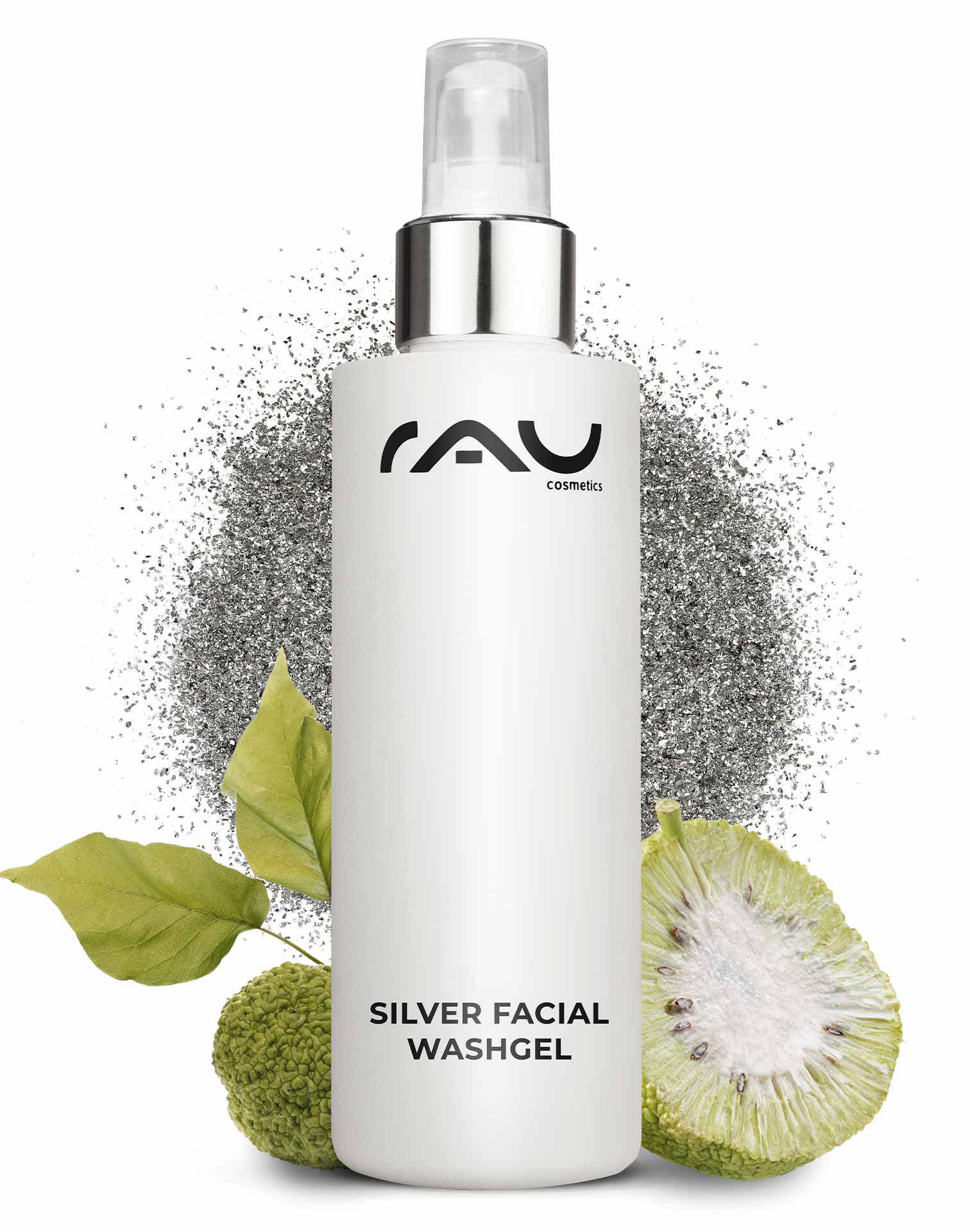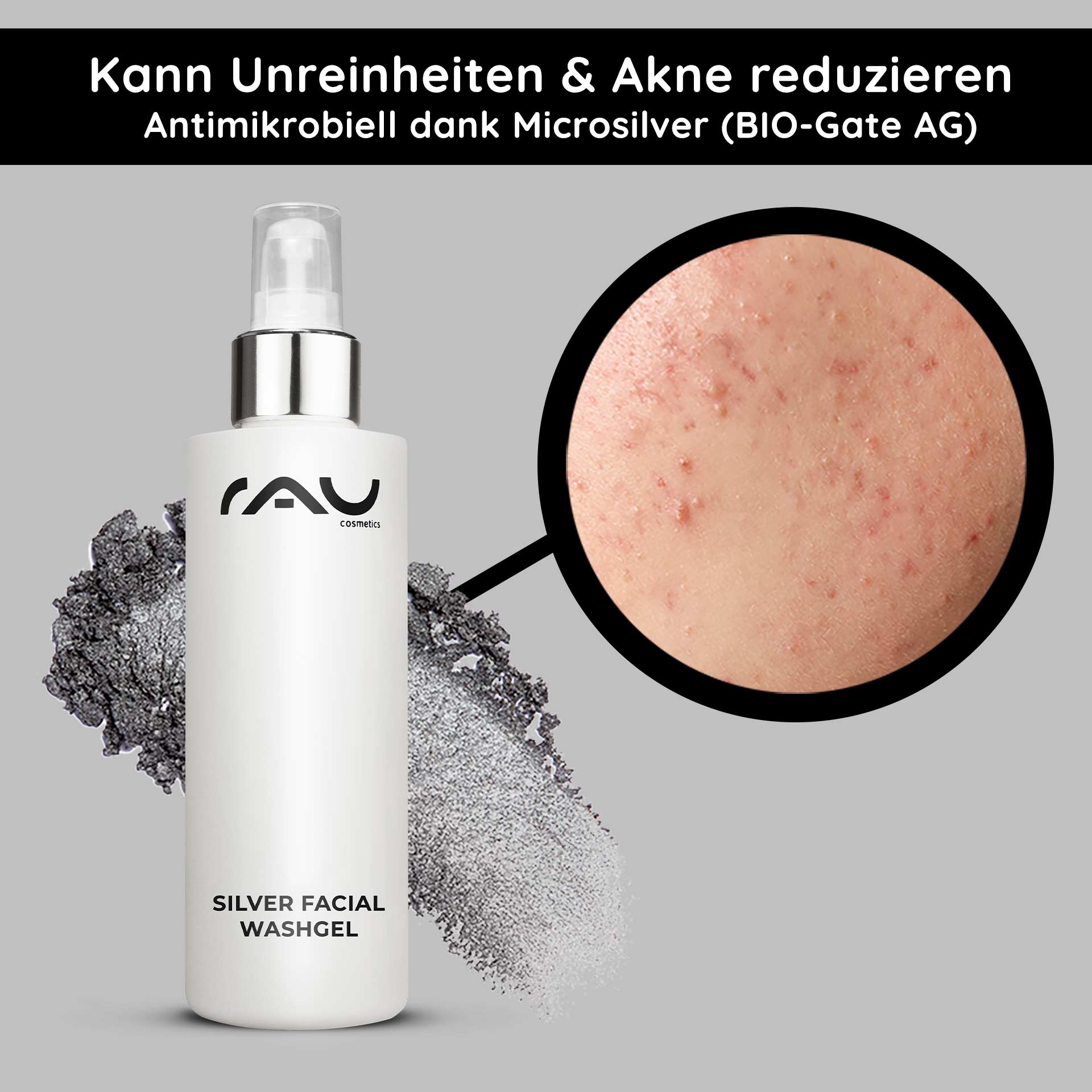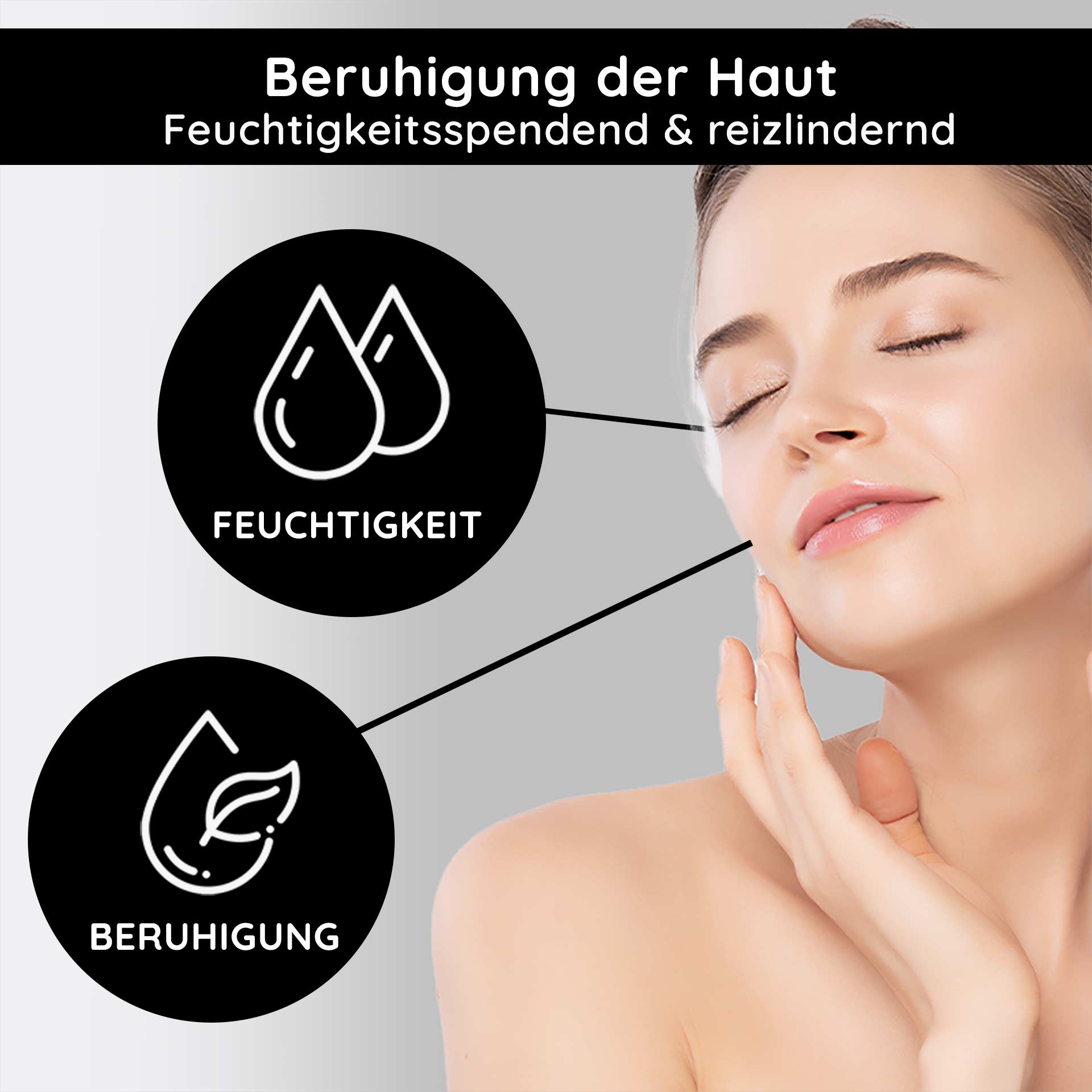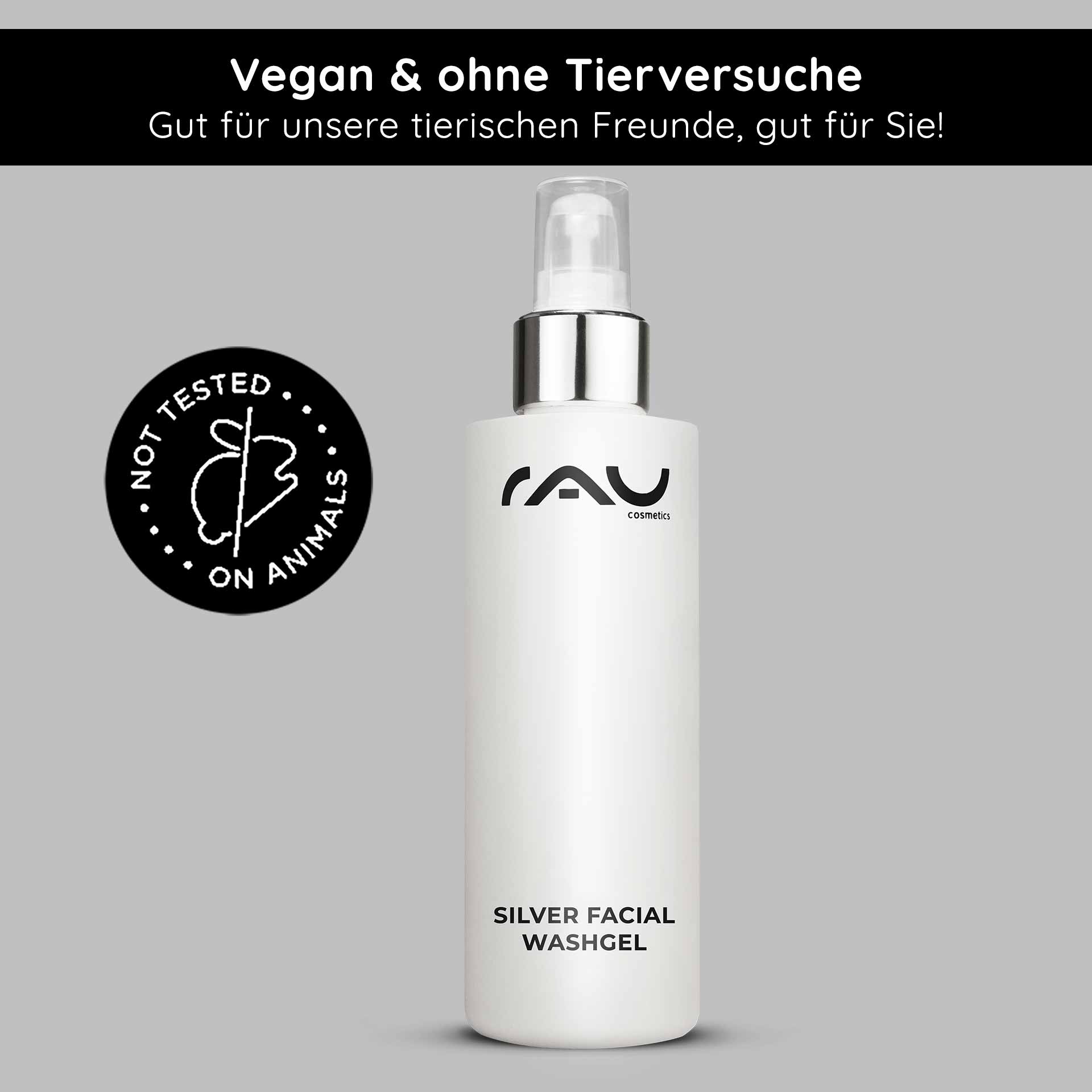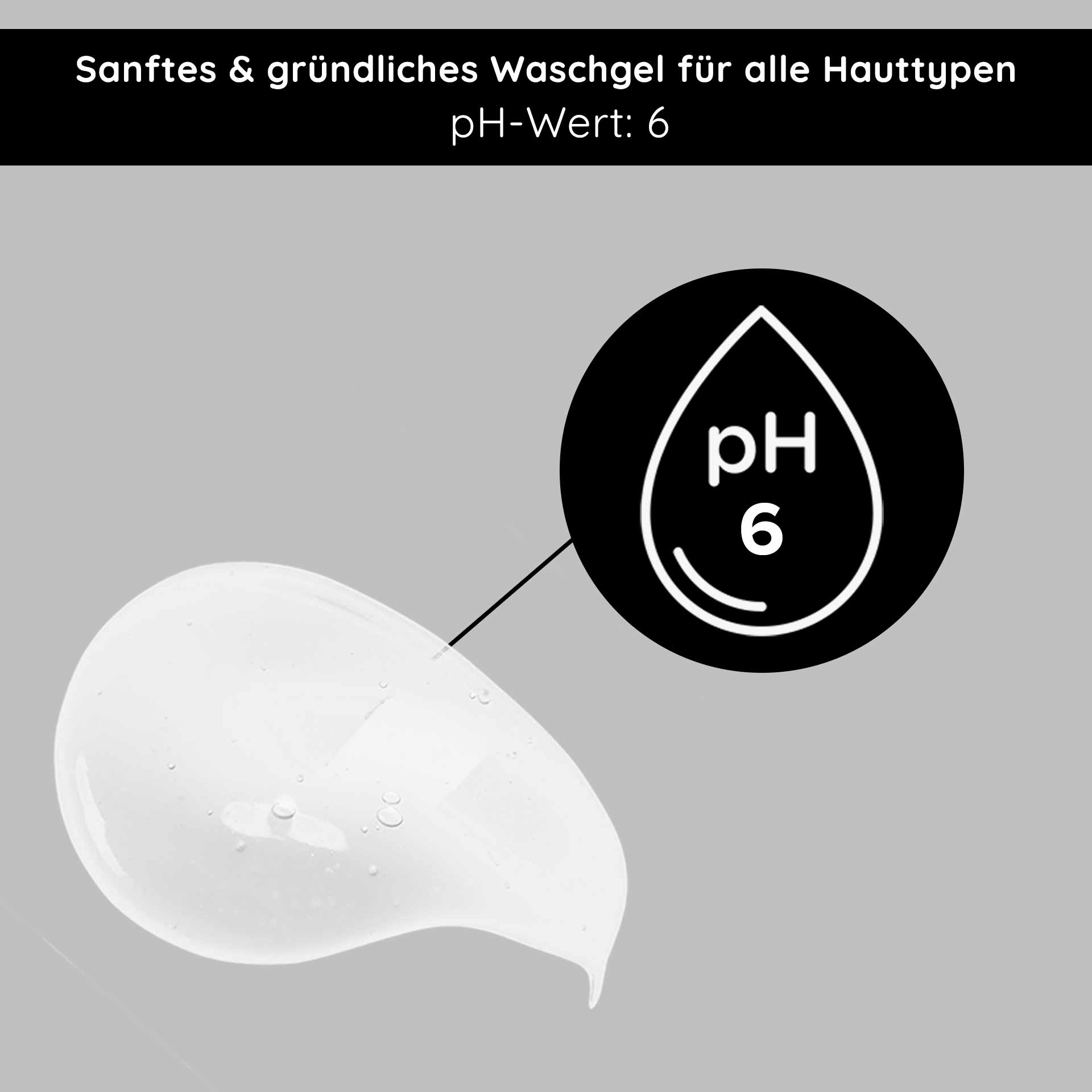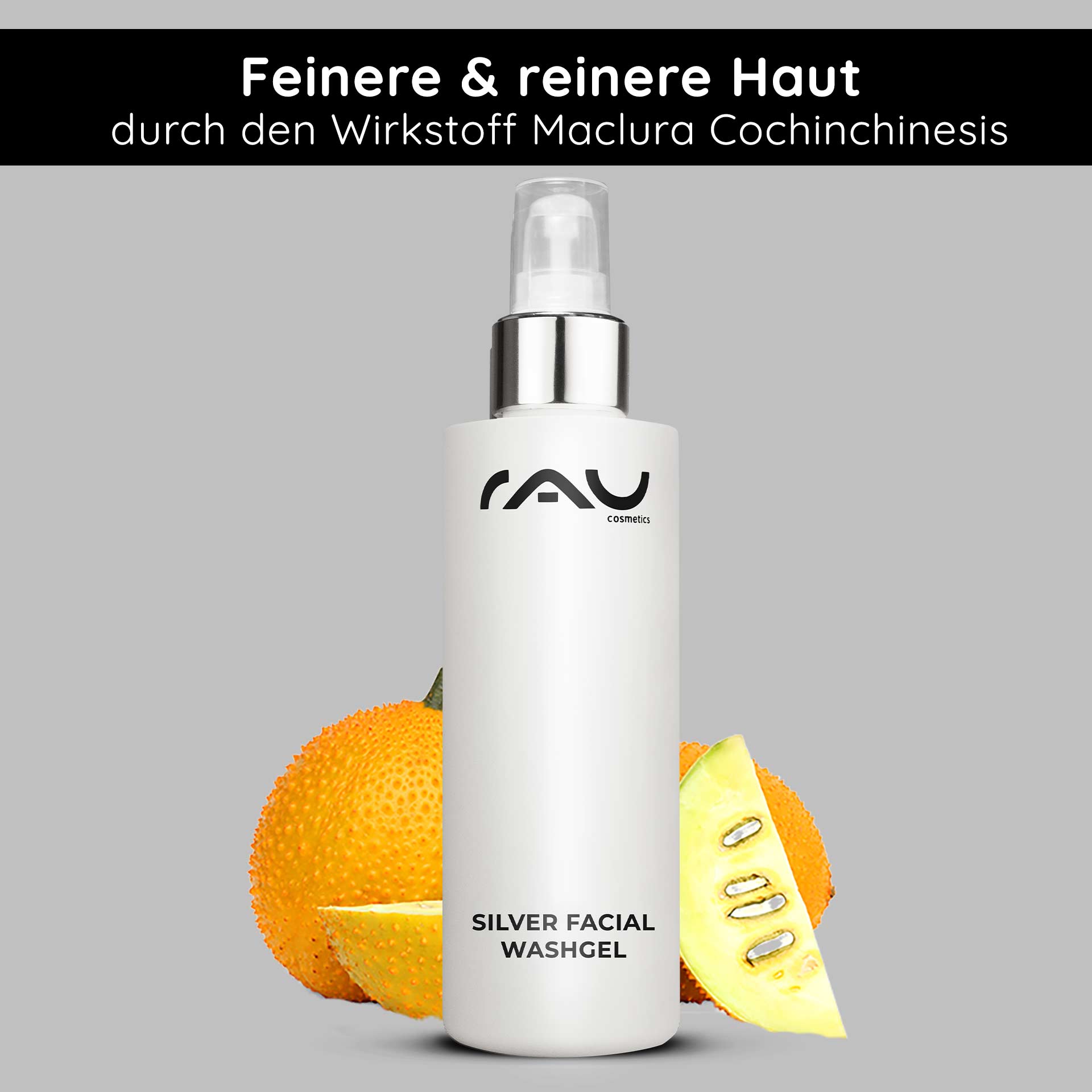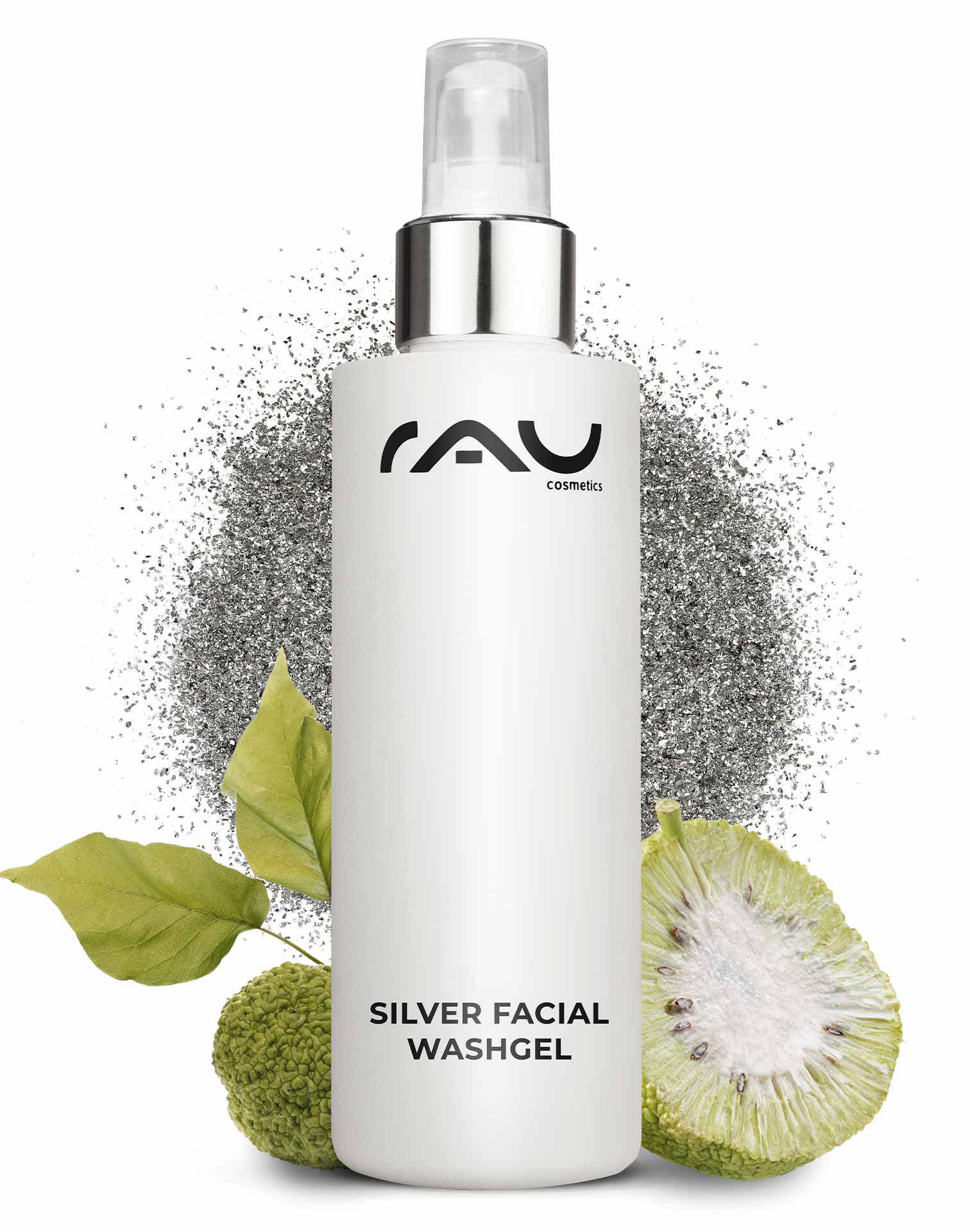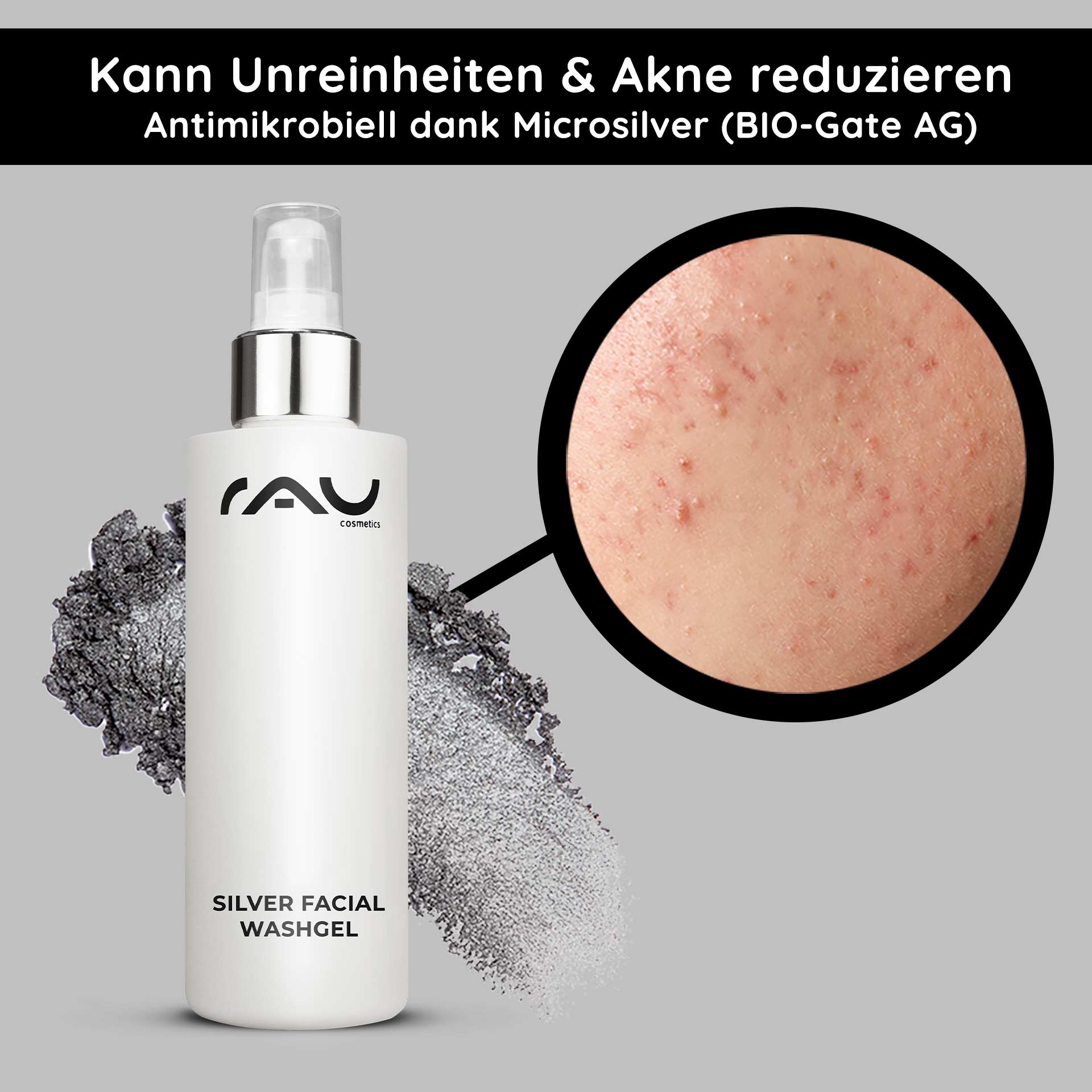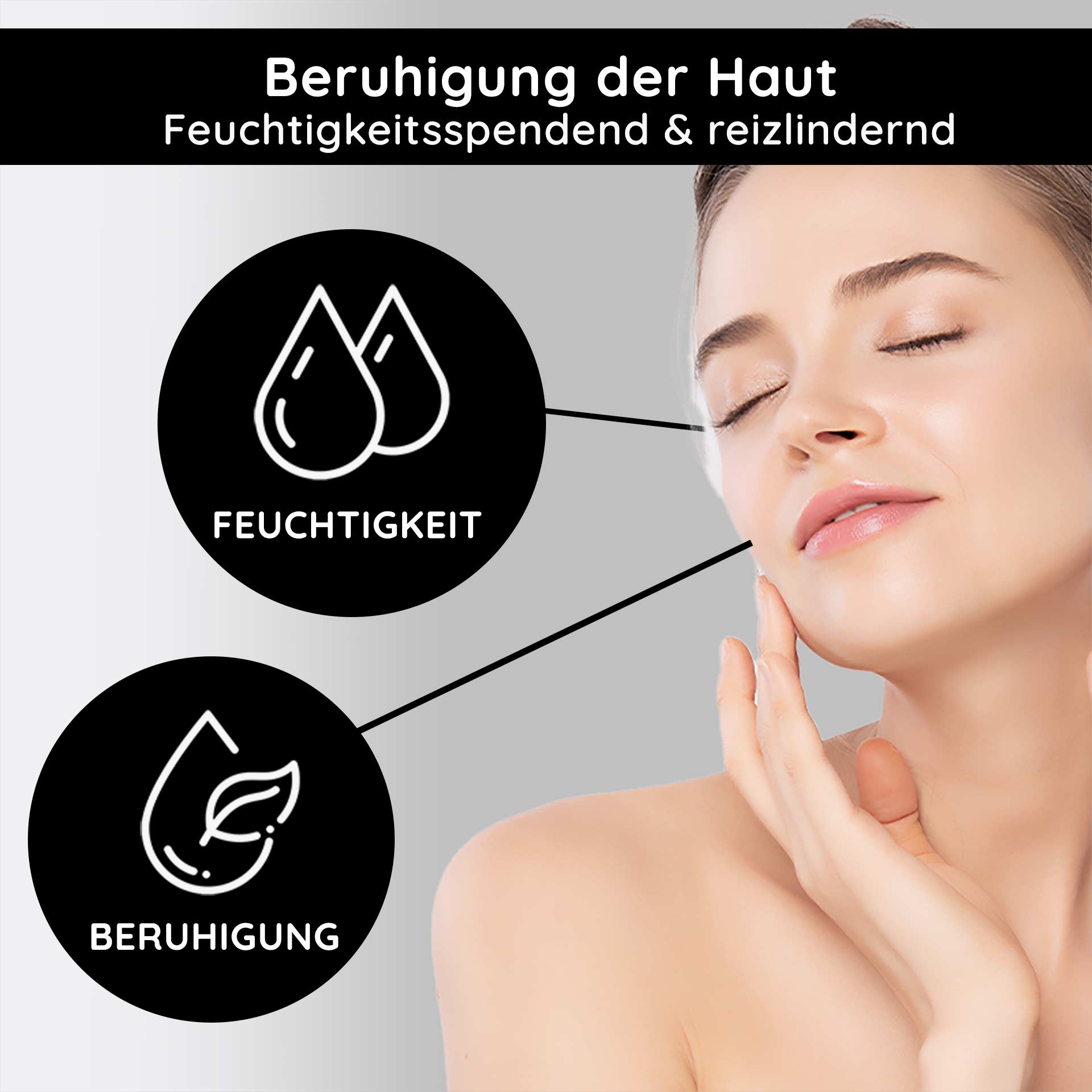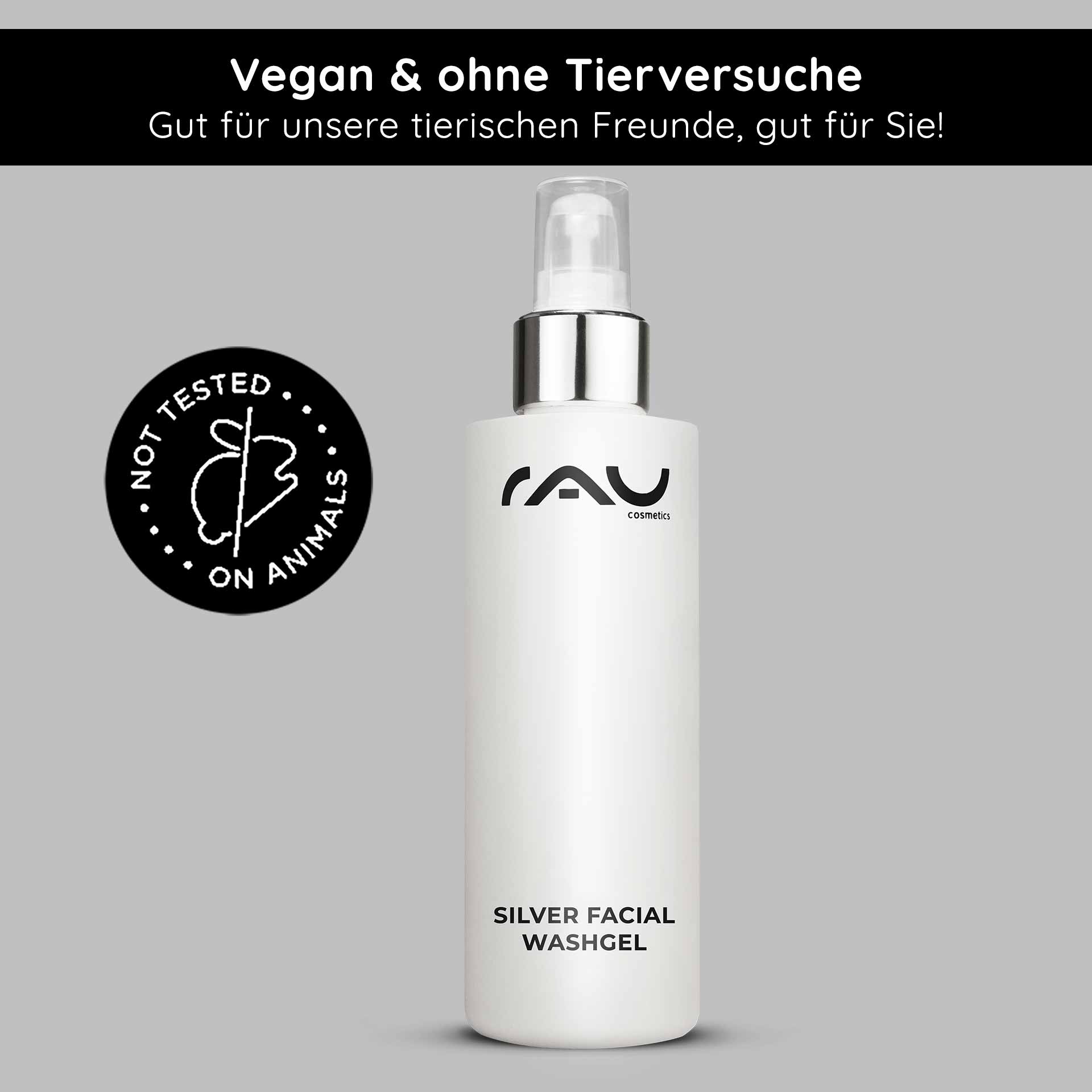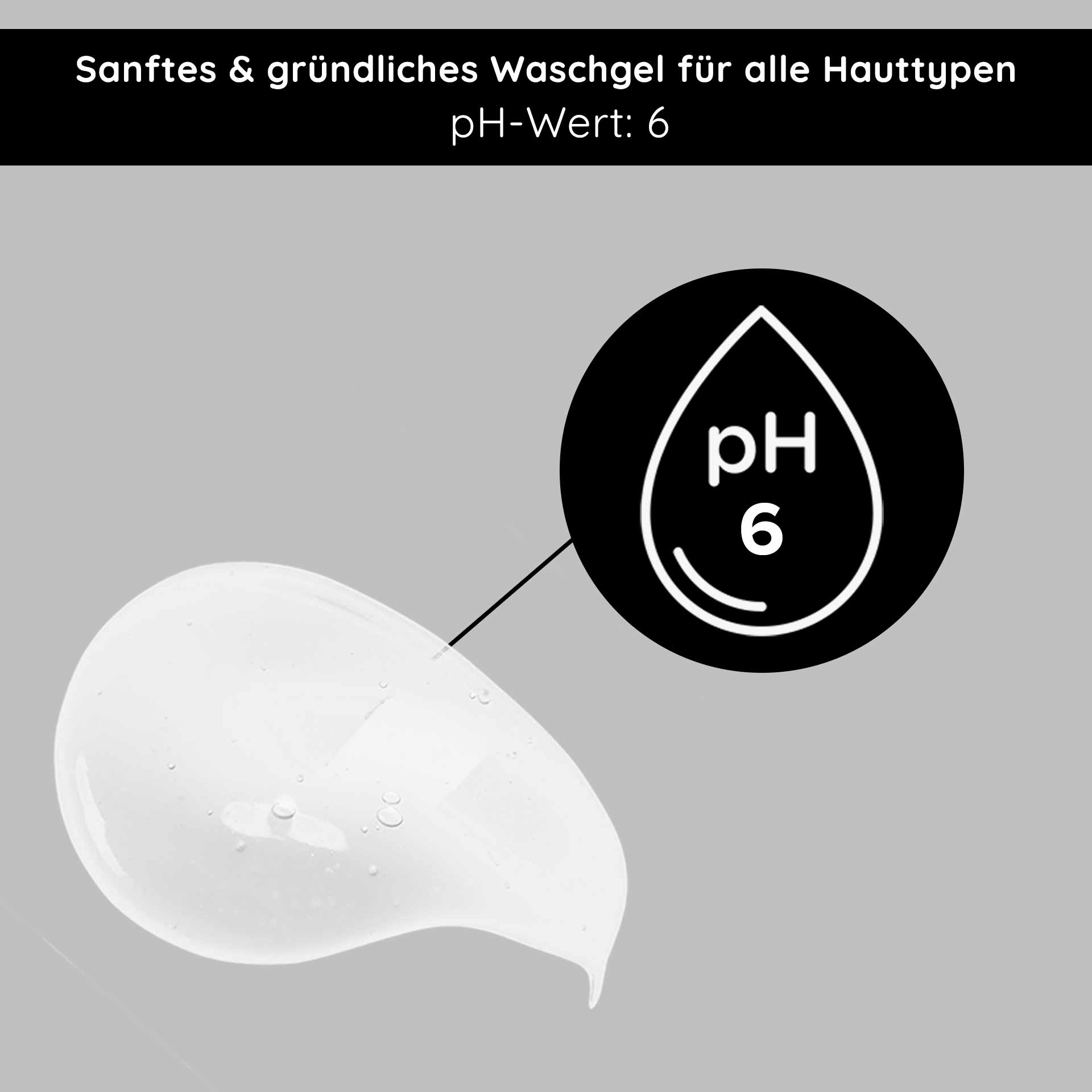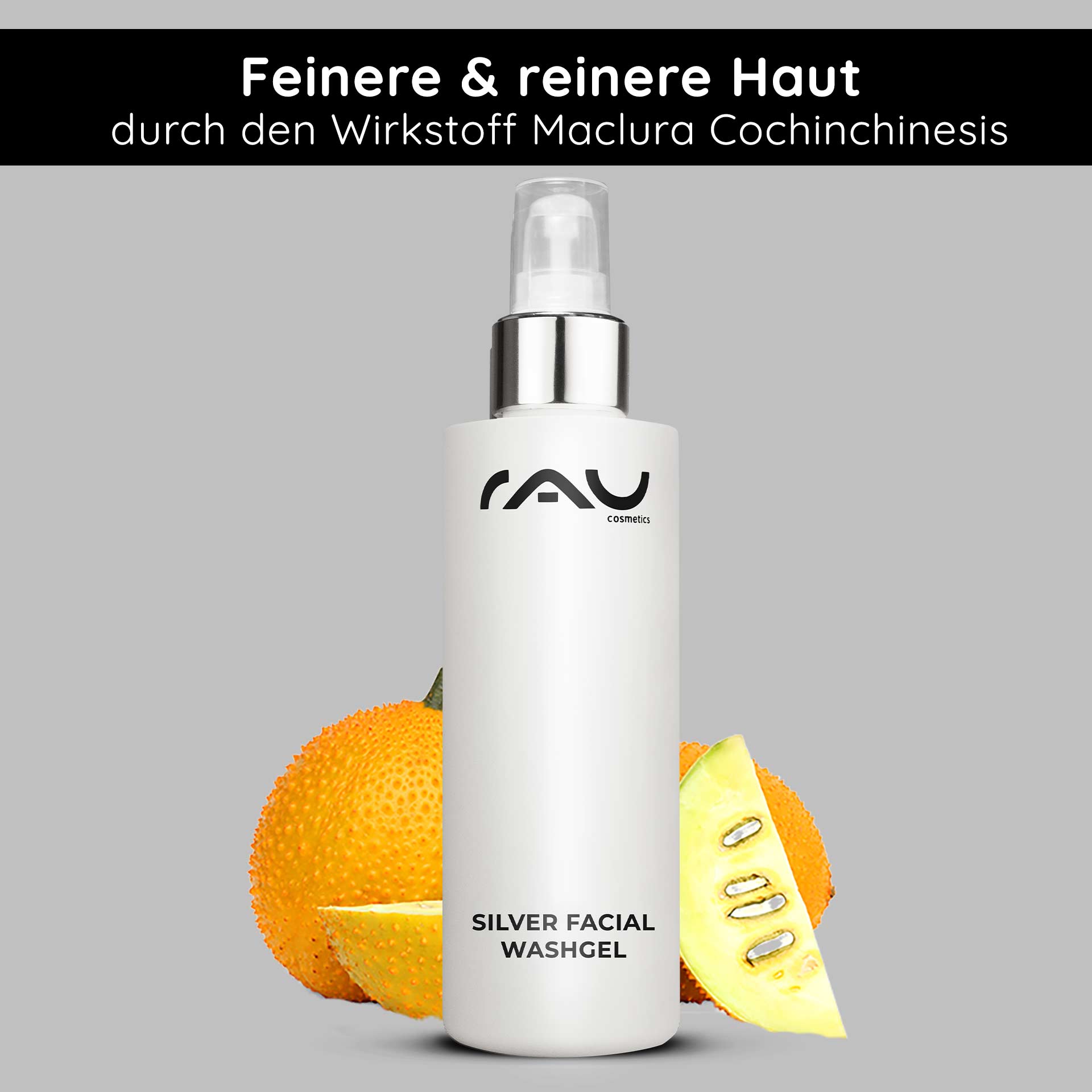 Silver Facial Washgel 200 ml - Face Cleansing with Microsilver
€24.80*
Content:
0.2 Liter
(€124.00* / 1 Liter)
Available, delivery time: 1-3 days
Manufacturer:
RAU Cosmetics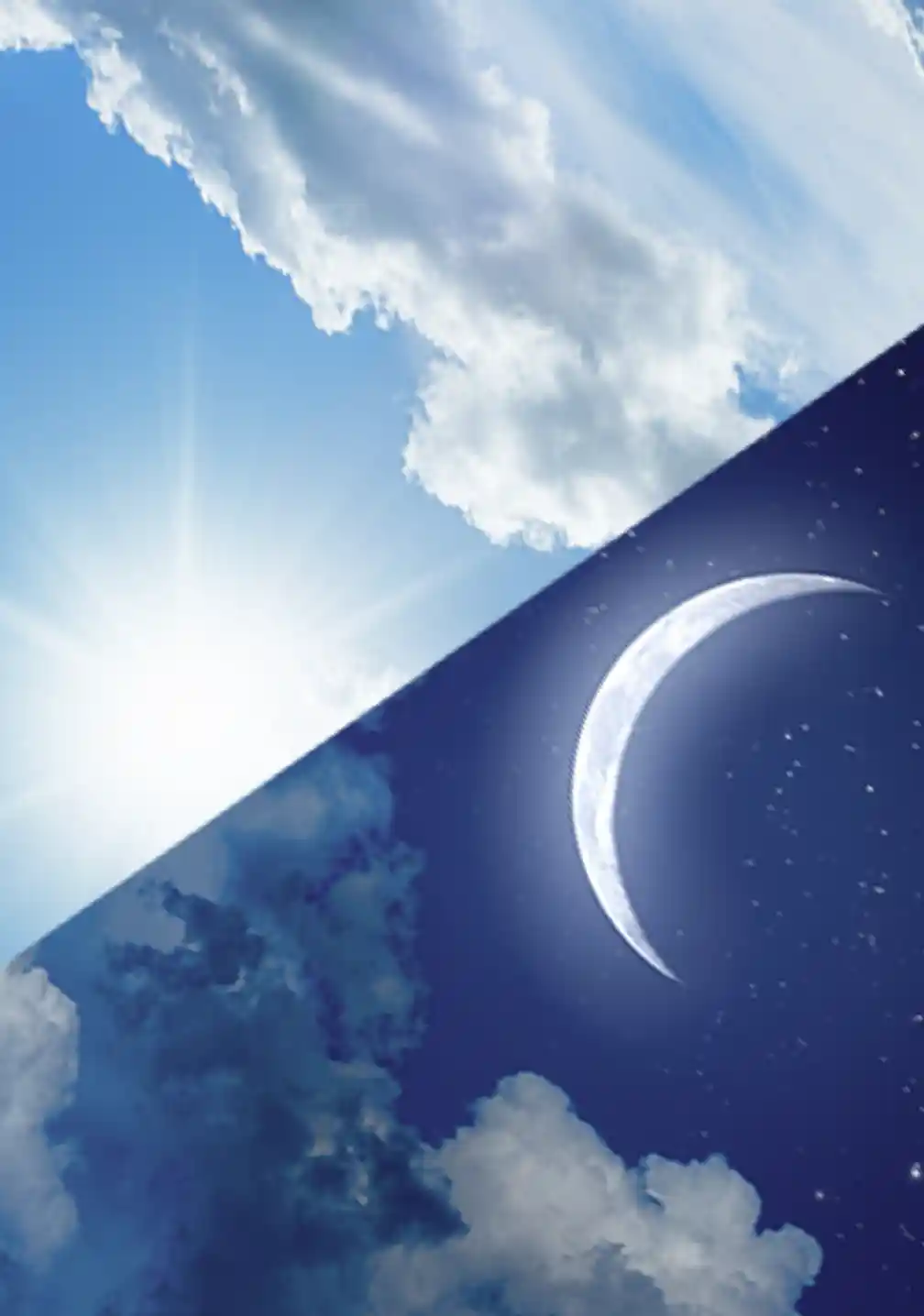 Tageszeit
Das Waschgel können Sie sowohl morgens als auch abends verwenden.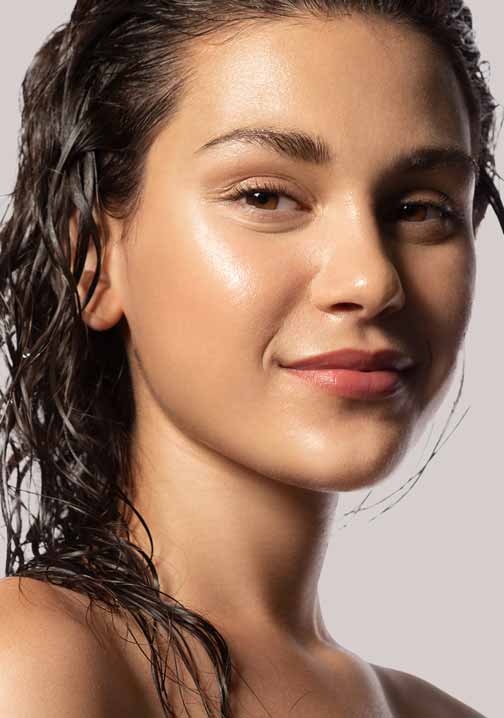 Hauttyp
alle Hauttypen
besonders jedoch bei unreiner Haut!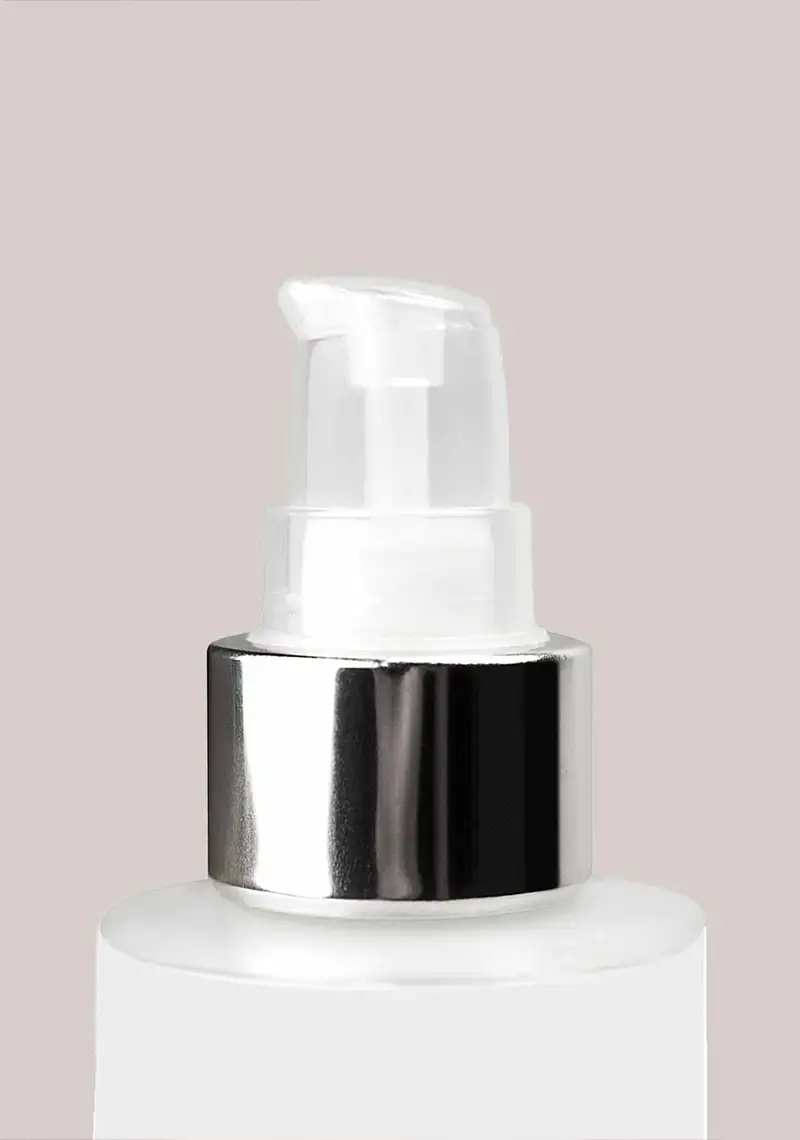 Hygienischer Spender
Durch den praktischen Spender können Sie das Waschgel richtig dosieren.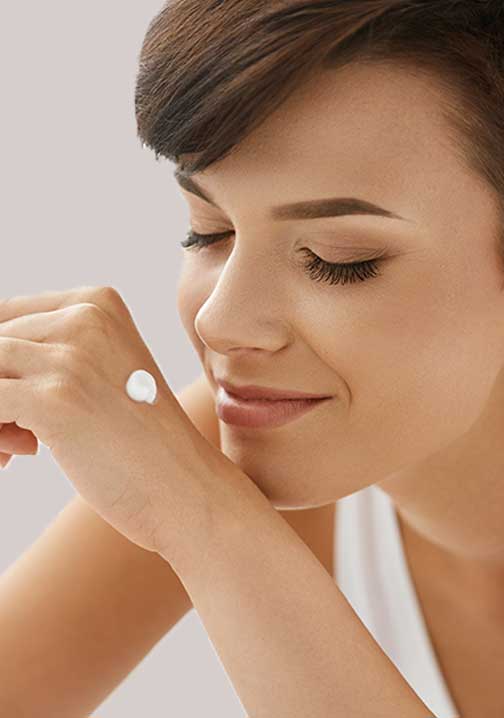 Geruch
Das Silver Facial Washgel hat einen angenehmen süßen, blumigen Duft.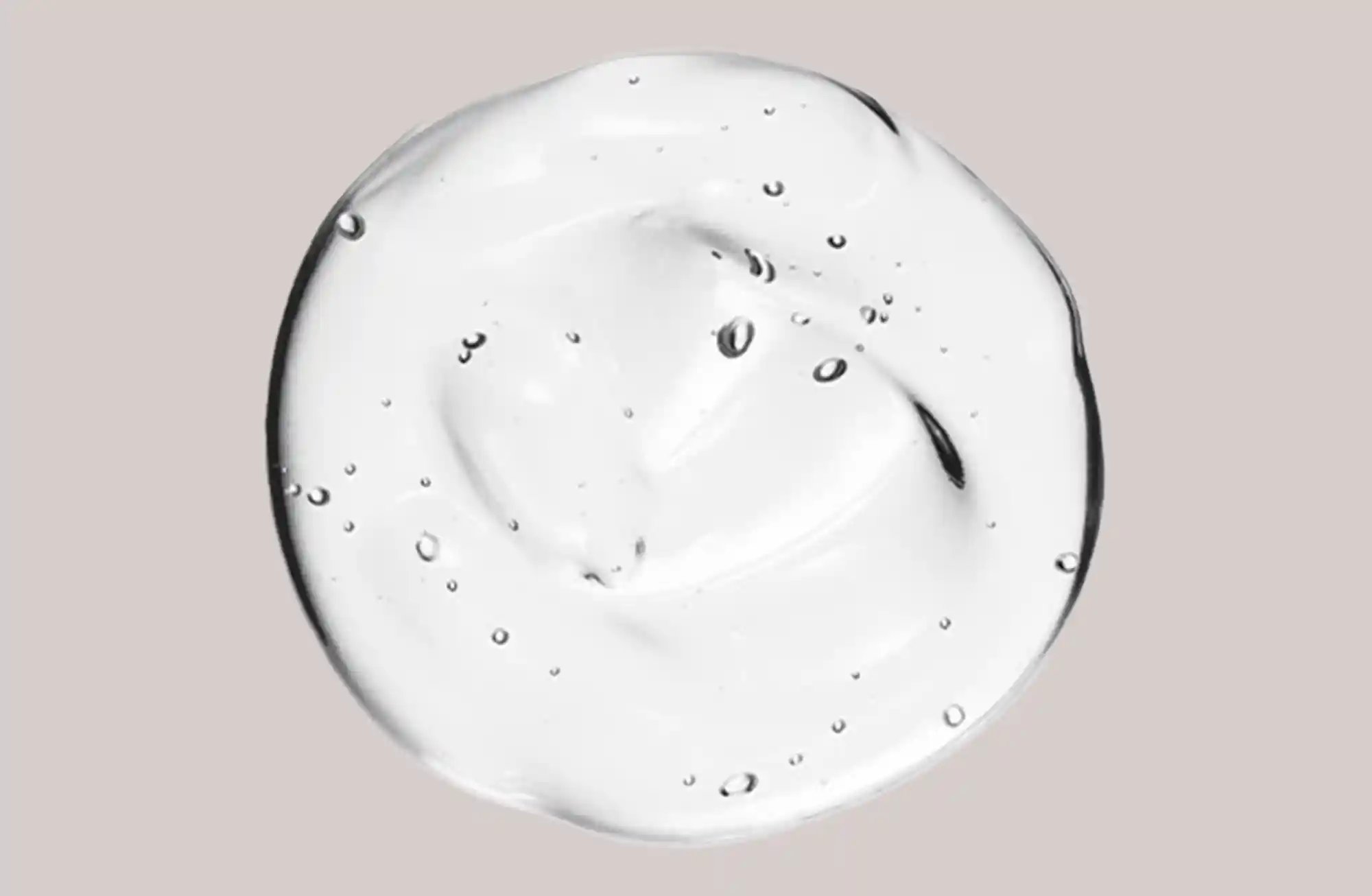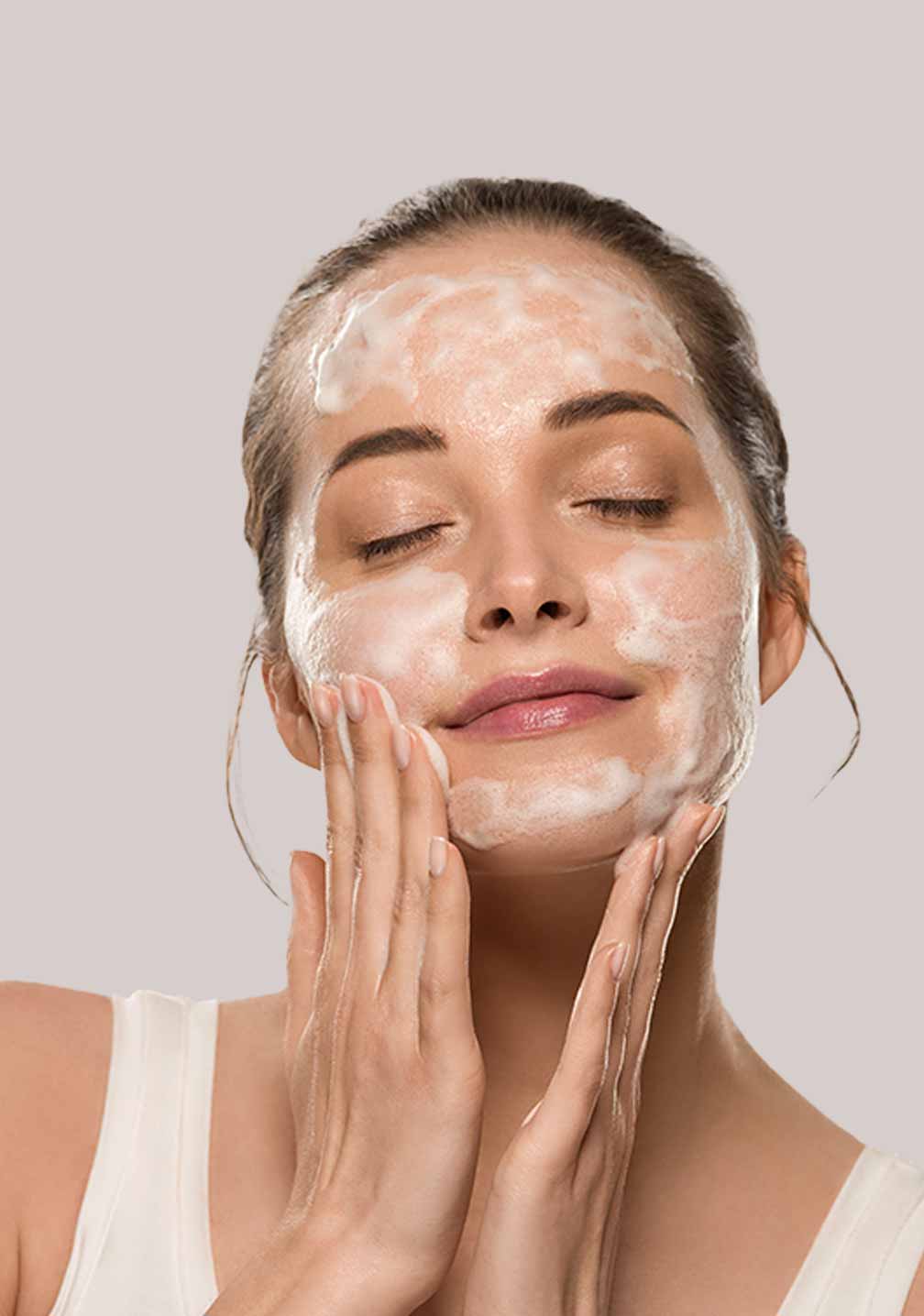 Anwendung
Vor Gebrauch gut schütteln, anschließend auf das Gesicht auftragen und ca. 1-2 Minuten einmassieren, um Verschmutzungen perfekt zu lösen.
Product information "Silver Facial Washgel 200 ml - Face Cleansing with Microsilver "

 Has an antimicrobial, moisturising and soothing effect
 Gentle cleansing for all skin types 
 pH value: 6
Get rid of your impurities!
Our "RAU Silver Facial Washgel" has an antimicrobial effect due to Microsilver BG, at the same time it has a moisturizing and soothing effect. Our wash gel against impure skin also contains a herbal active ingredient from the leaves of Maclura cochinchinesis. This has been scientifically proven to be able to reduce inflammatory reactions and alleviate the signs of acne and pimples. It can also reduce the production of sebum and thus shrink pores. The plant extract also has a retinoic acid-like effect, which means that it can contribute to a more even and youthful skin appearance.
Discover our thorough, antimicrobial wash gel for every skin type now! It ensures gentle and gentle cleansing of the facial skin and, especially in combination with our "RAU Silvercream", can actively combat skin impurities and significantly improve the skin's appearance. 
If you suffer from impurities on your whole body, you can also use it as a shower gel. 
Application: 
Shake well before using in order to distribute the microsilver! Then apply to the face and massage in for approx. 2 minutes to perfectly dissolve dirt. Then remove with warm water, tone the skin and apply the care product.
MicroSilver BG is a registered trademark of Bio-Gate AG.
Important Ingredients:
INGREDIENTS:
AQUA (WATER); COCAMIDOPROPYL BETAINE; GLYCERIN; PEG-18 GLYCERYL OLEATE/COCOATE; PEG-7 GLYCERYL COCOATE; SODIUM LAURETH SULFATE; PARFUM (FRAGRANCE); SILVER; MACLURA COCHINCHINENSIS LEAF PRENYLFLAVONOIDS; ETHYLHEXYLGLYCERIN; LACTIC ACID; LAURYL GLUCOSIDE; TETRASODIUM GLUTAMATE DIACETATE; SODIUM HYDROXIDE; PHENOXYETHANOL; PROPANEDIOL
---
Rau cosmetics: Silver Facial Washgel
Ich bin begeistert, ich verwende es jetzt schon seit 2 Monaten und habe mir direkt gestern ein neues bestellt. Es lässt sich gut Auftragen, die Haut ist sehr weich und fühlt sich richtig gut gereinigt an. Ich habe immer mit vielen pickel zu kämpfen gehabt, bin zu vielen Hautärzte gegangen und es hat nie was gebracht, deshalb wollte ich das washgel mal ausprobieren, und es ist tatsächlich der absoluten Wahnsinn, da ich es Frühs und abends verwende , hab ich keinen einzelnen pickel mehr & das Hautbild hat sich um 180 Grad ins positive verändert. aber einen kleiner Kritik Punkt habe ich allerdings, das Silber zu verteilen ist etwas schwierig, aber im Grunde und ganzen bin ich sehr begeistern und werde es mir immer wieder nachbestellen. Die Rau Silvercreme benutzte ich ebensfalls und bin auch total begeistert und zu Frieden. Vielen Dank.
meine Rettung - tolle Haut
Nach vielen Versuchen die richtige Reinigung für meine, hin und wieder zu Akne neigende, Haut zu finden bin ich über Umwege auf diese Seite gekommen. Habe mir das Silver Testset bestellt und war begeistert. Meine Haut sieht toll aus, die Unreinheiten werden immer weniger und sie fühlt sich auch noch gut an. Ich bin wirklich erleichterte endlich etwas gefunden zu haben was mir hilft.
(Quelle: <a href='https://www.shopvote.de/show-products.php?shopid=15529' target='_blank'>SHOPVOTE</a>)
Es reinigt das Gesicht sehr gründlich. Meine Mitesser sind schon nach ca. 1 Woche deutlich weniger geworden.
Das Gel ist sehr angenehm und reinigt sehr gut! Meine Haut ist deutlich zarter und weicher geworden. Werde es definitiv wieder bestellen!!
Ich bin total begeistert!!! Ich habe empfindliche Mischhaut und vertrage das Produkt super. In Verbindung mit dem Aha Tonic verschwinden meine kleinen Pickelchen innerhalb von 3-4 Tagen. Rötungen lassen nach und man merkt einfach von Tag zu Tag, das die Haut immer besser wird. Da ich schon Unmengen an Produkten ausprobiert habe war ich zuerst skeptisch. Aber nach diesem Ergebnis bleibe ich bei den Produkten. Also auf alle Fälle ein Nachkaufprodukt.
Das Silver Fashial Waschgel enthält den antimikrobiellen Wirkstoff MicroSilver BG. Um das kurz und bündig zu erklären, handelt es sich um hochporöses, extrem klein aufgelöstes Silber, dass nicht nur Pickel oberflächlich bekämpft und reinigt, sondern auch die Haut von Außen antimikrobiell reinigt. Das bedeutet, dass bestehenden Pickeln den Gar ausgemacht wird, während der Wirkstoff dafür sorgt, dass auch keine neuen entstehen. Dabei ist das Washgel extrem sanft zur Haut und löst weder Trockenheit, Rötungen oder Juckreiz aus. Das Washgel reinigt extrem porentief und lässt Pickel schon nach wenigen Anwendungen deutlich weniger wirken. Dieser Effekt bleibt dann auch gleich vorhanden. Seit meiner Anwendung ist kein neuer Pickel hinzugekommen und die meisten Pickel und Mitesser sind bereits entfernt. Dennoch habe ich weder Hautrötungen, noch fühlt sich die Haut unangenehm an. Im Gegenteil: Bereits nach der ersten Anwendung fühlt sich die Haut extrem geschmeidig und zart an und das obwohl darin ein sehr wirksamer und "aggressiver" Stoff enthalten ist. Das Washgel eignet sich perfekt zur zweimal täglichen Anwendung am Morgen und am Abend und sorgt schnell und einfach für ein feines, sichtlich gebessertes und schöneres Hautbild.
Sehr gut zu verwenden. Sehr hy
Sehr gut zu verwenden. Sehr hygienische Entnahme
Kann mich den positiven Meinungen nur anschließen !! Schnuppergröße zum testen bestellt.In wenigen Tagen feinere Poren und reinere Haut. Bin begeistert ! Wird definitiv wieder gekauft :)