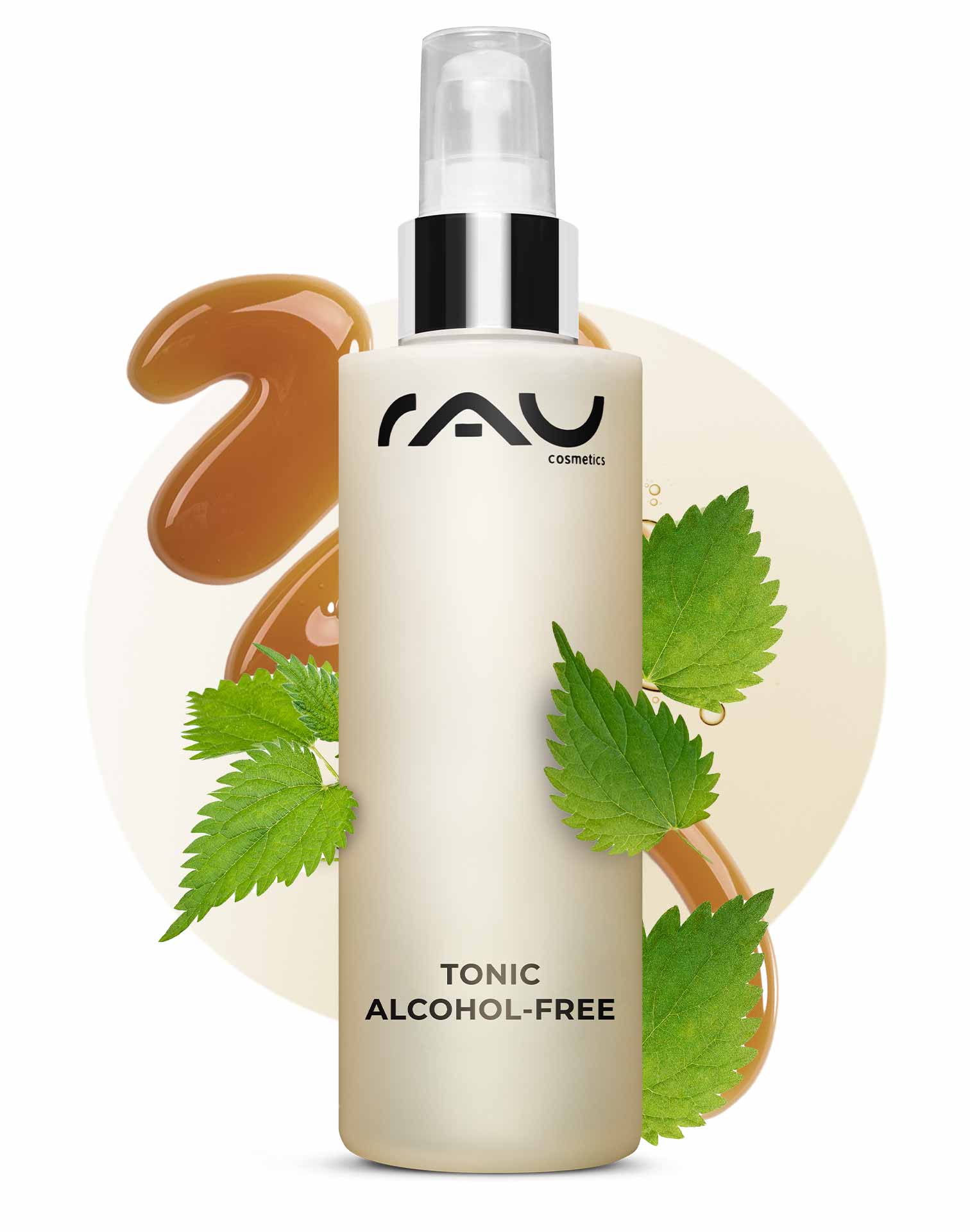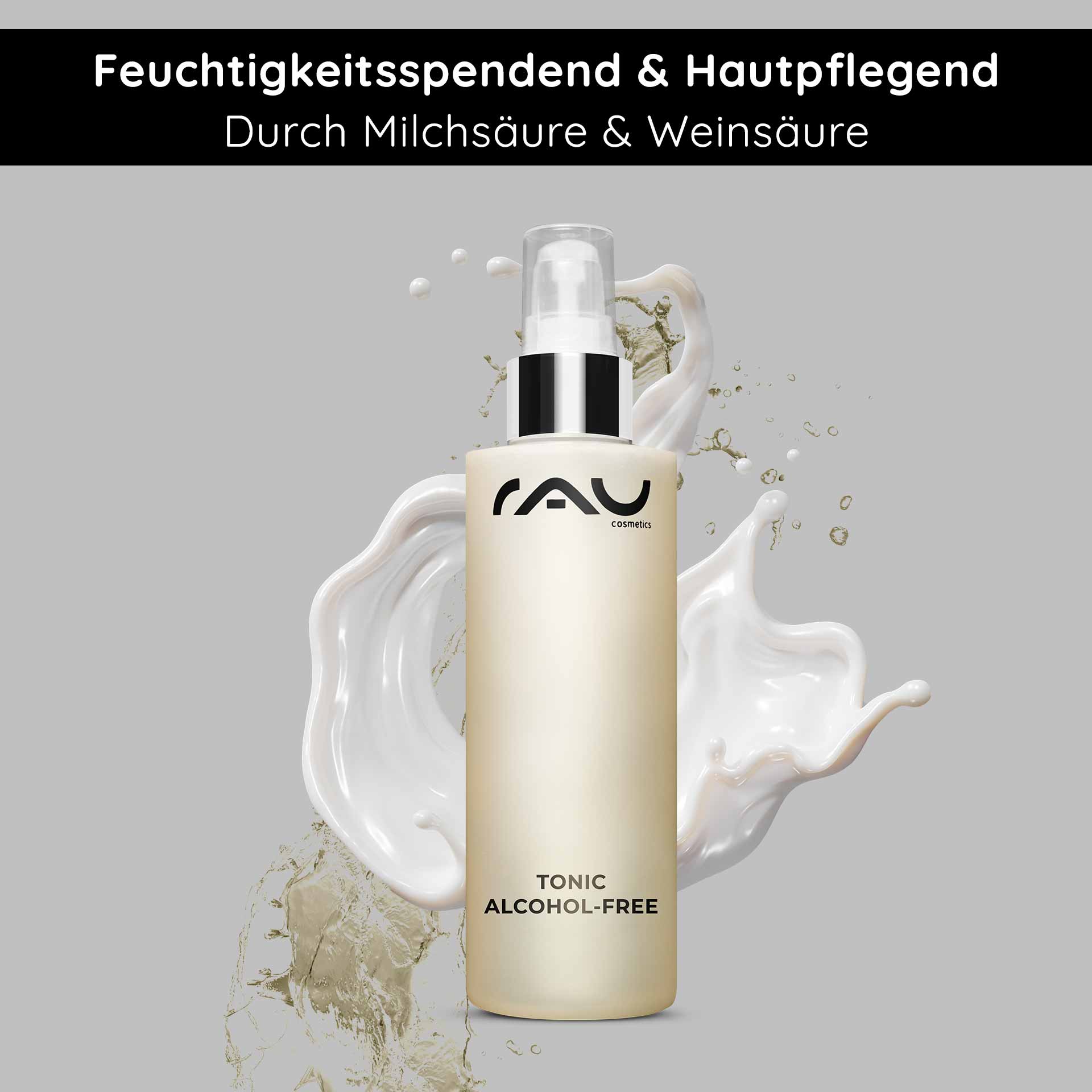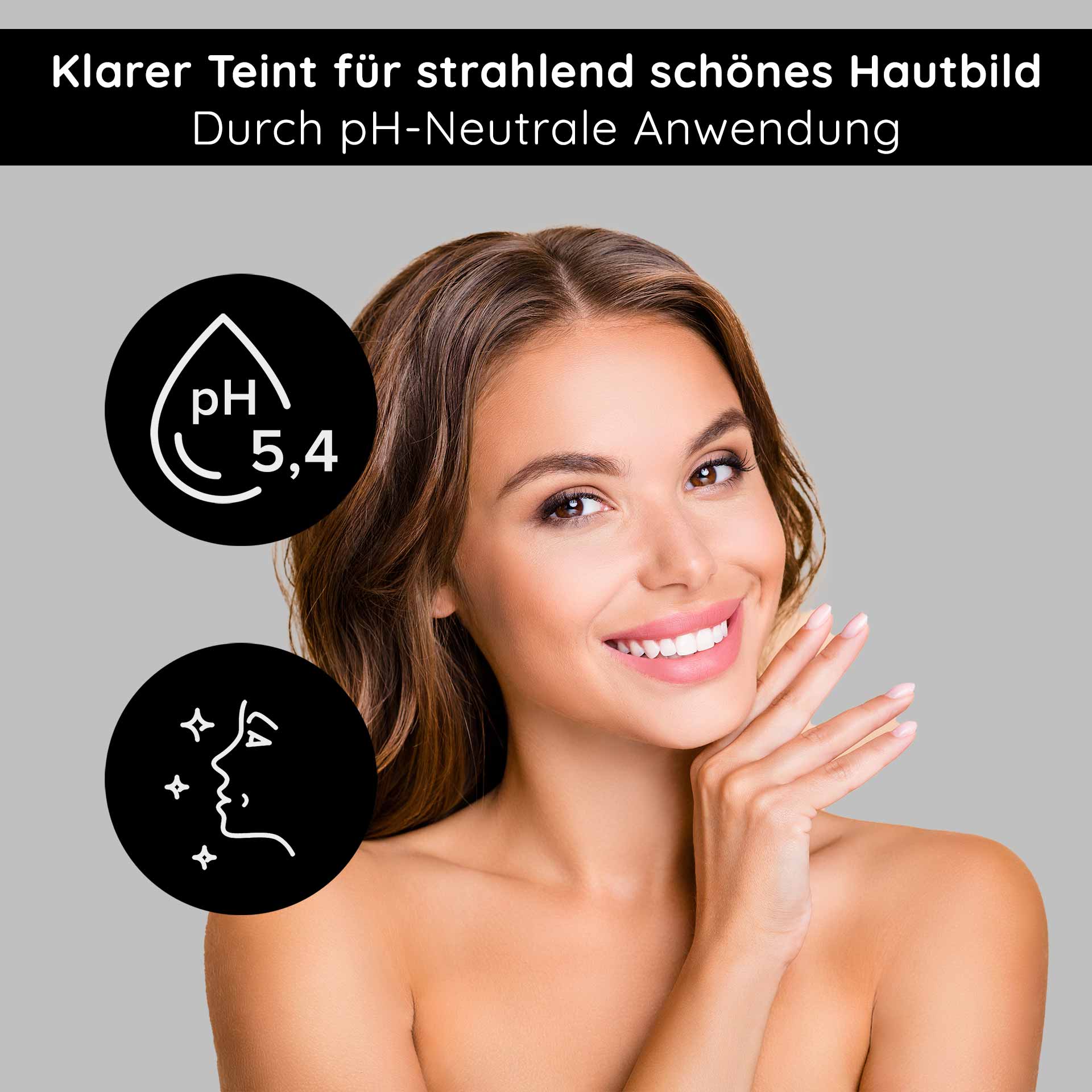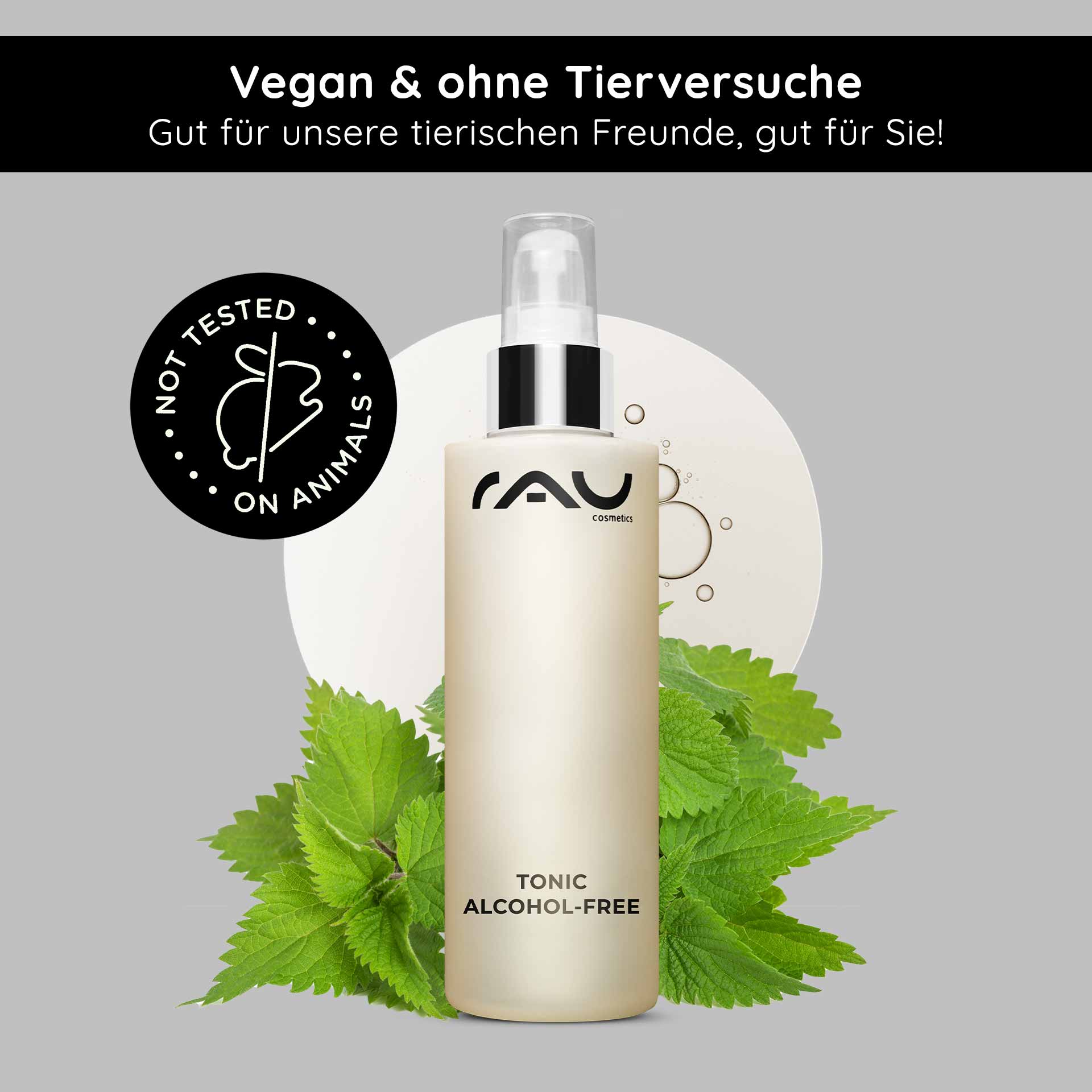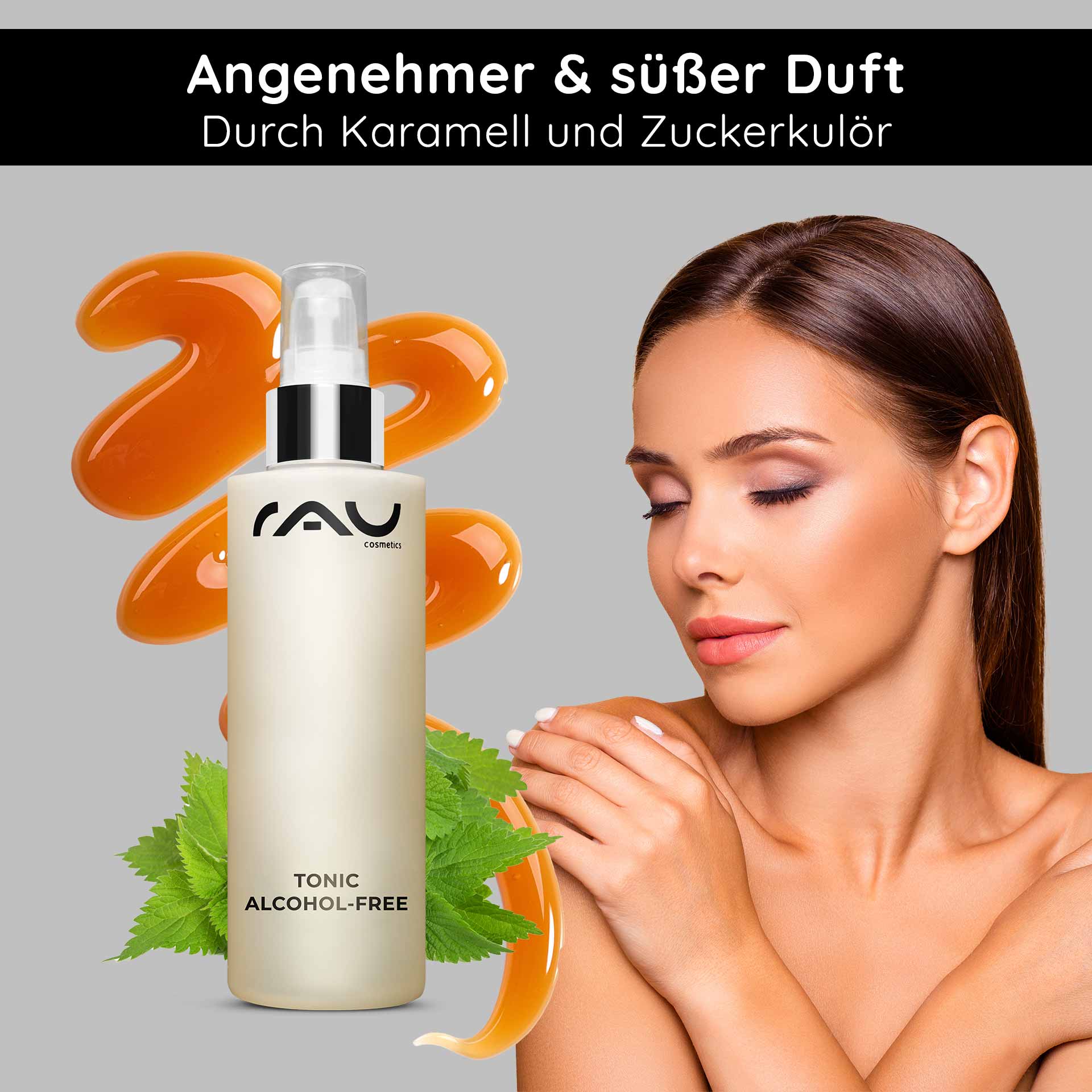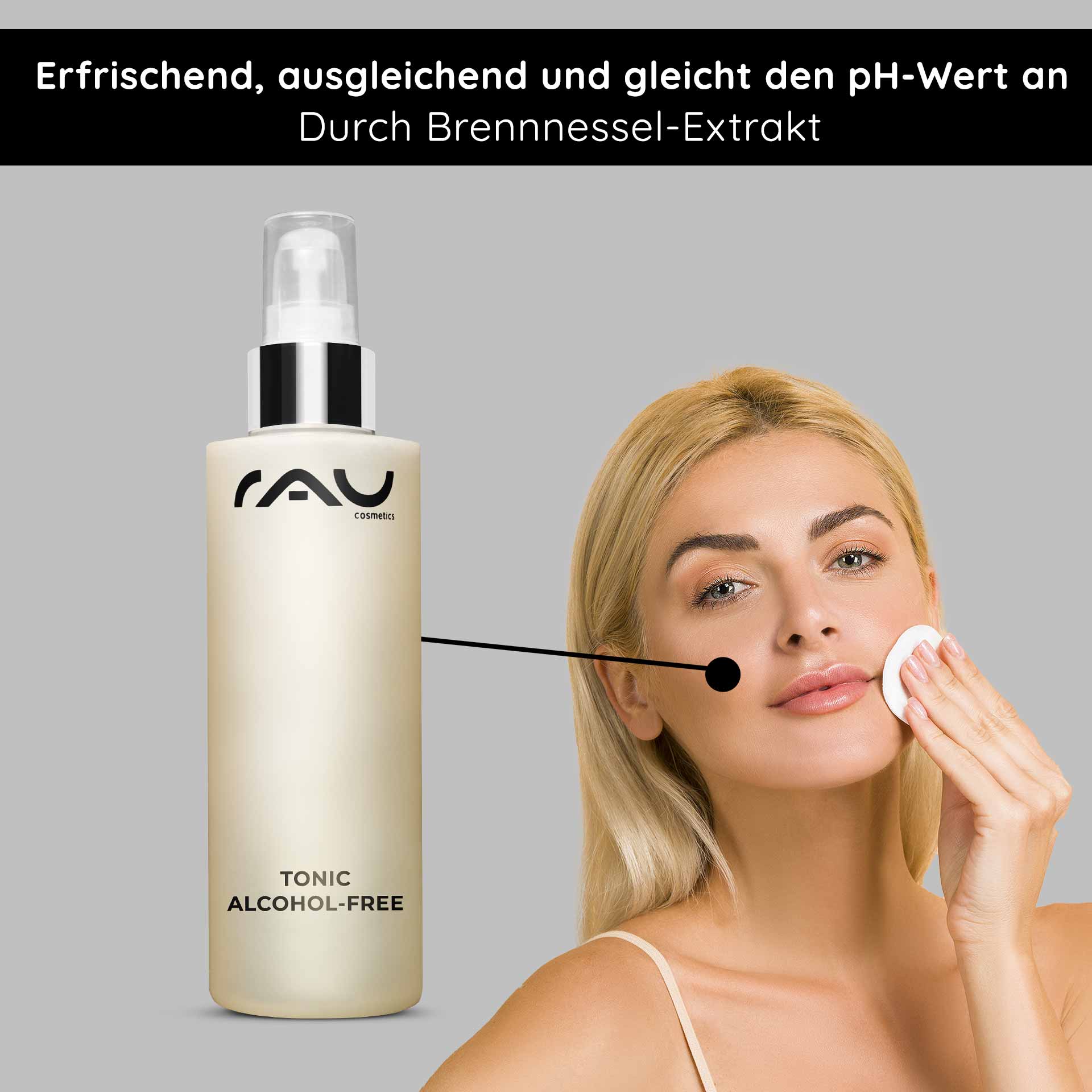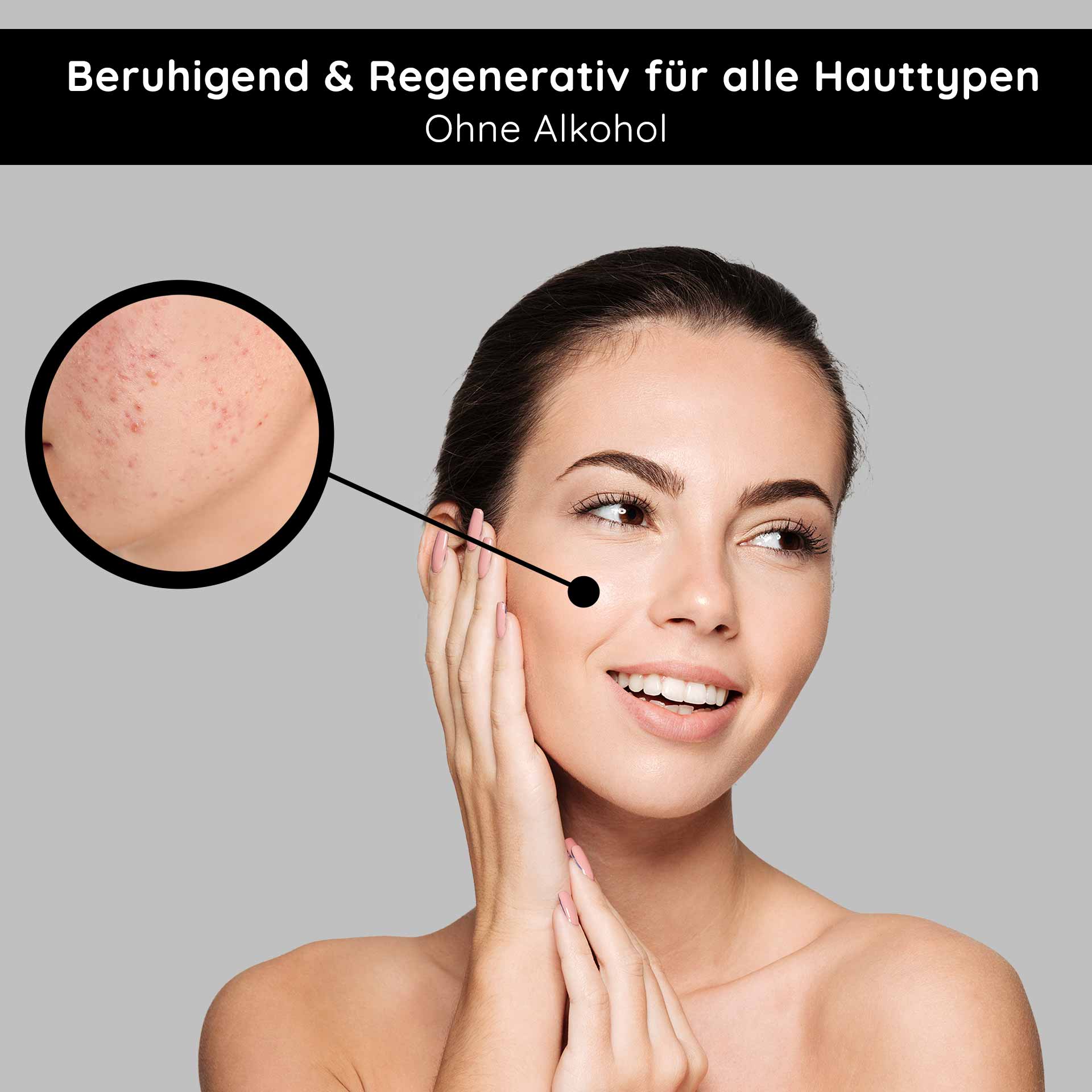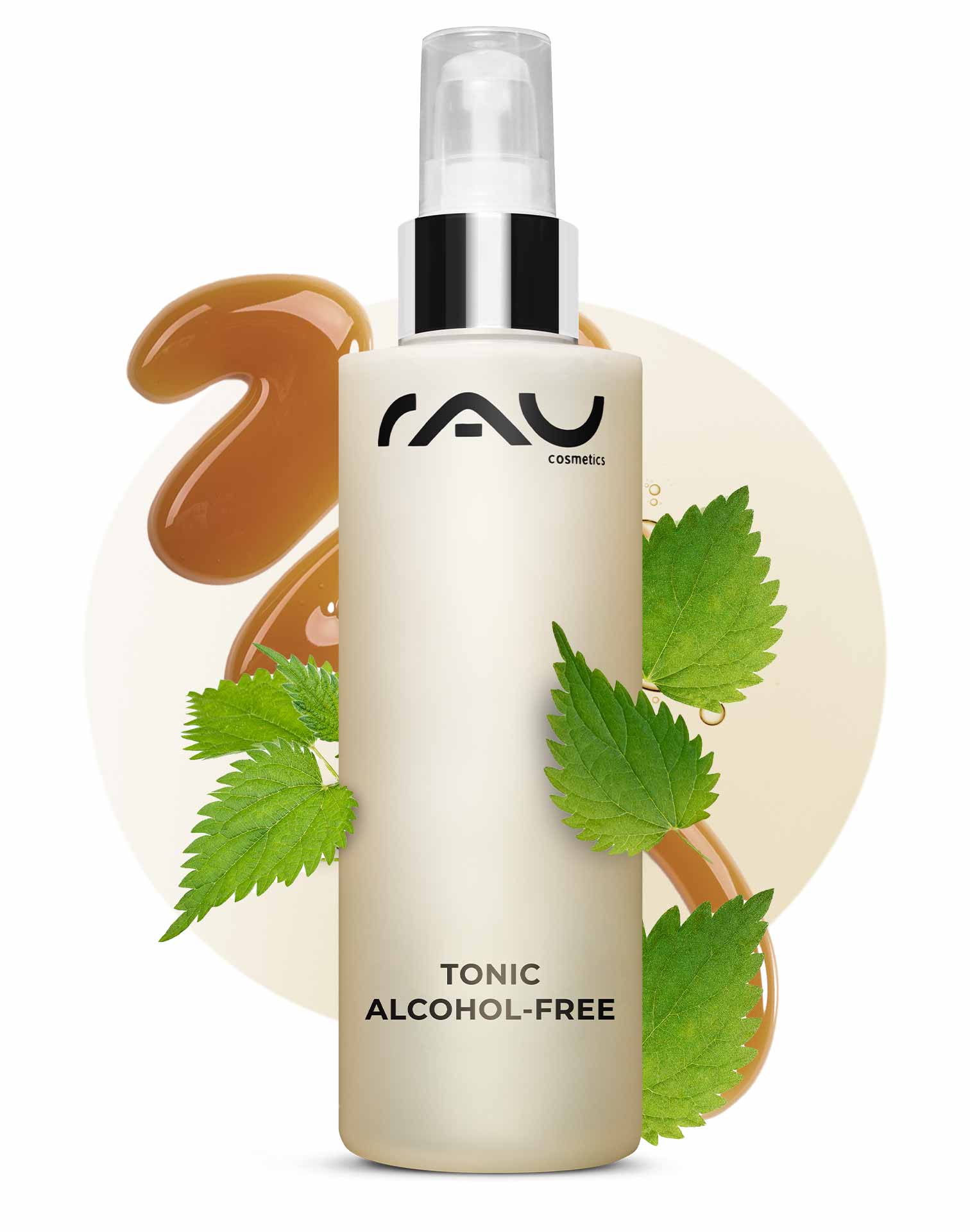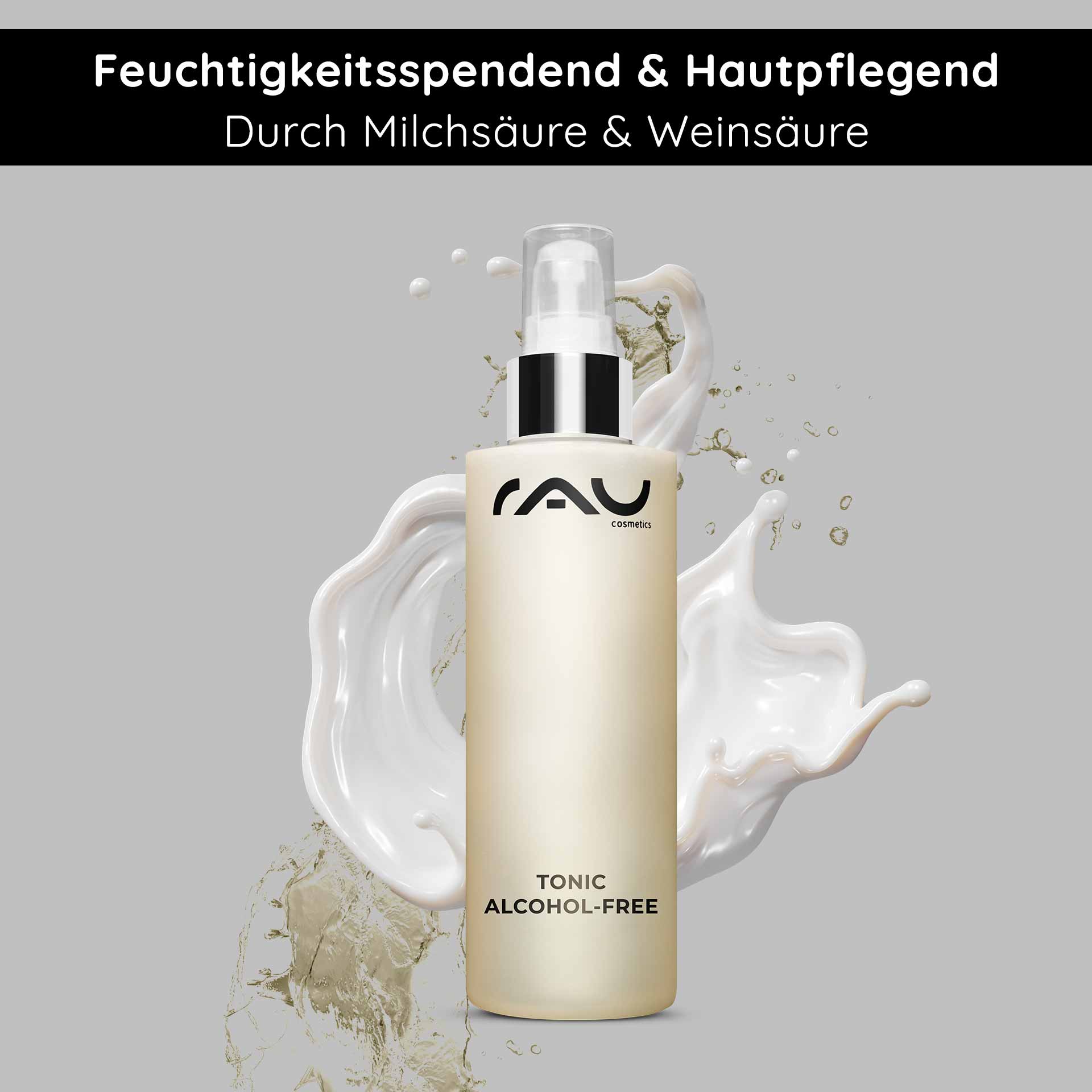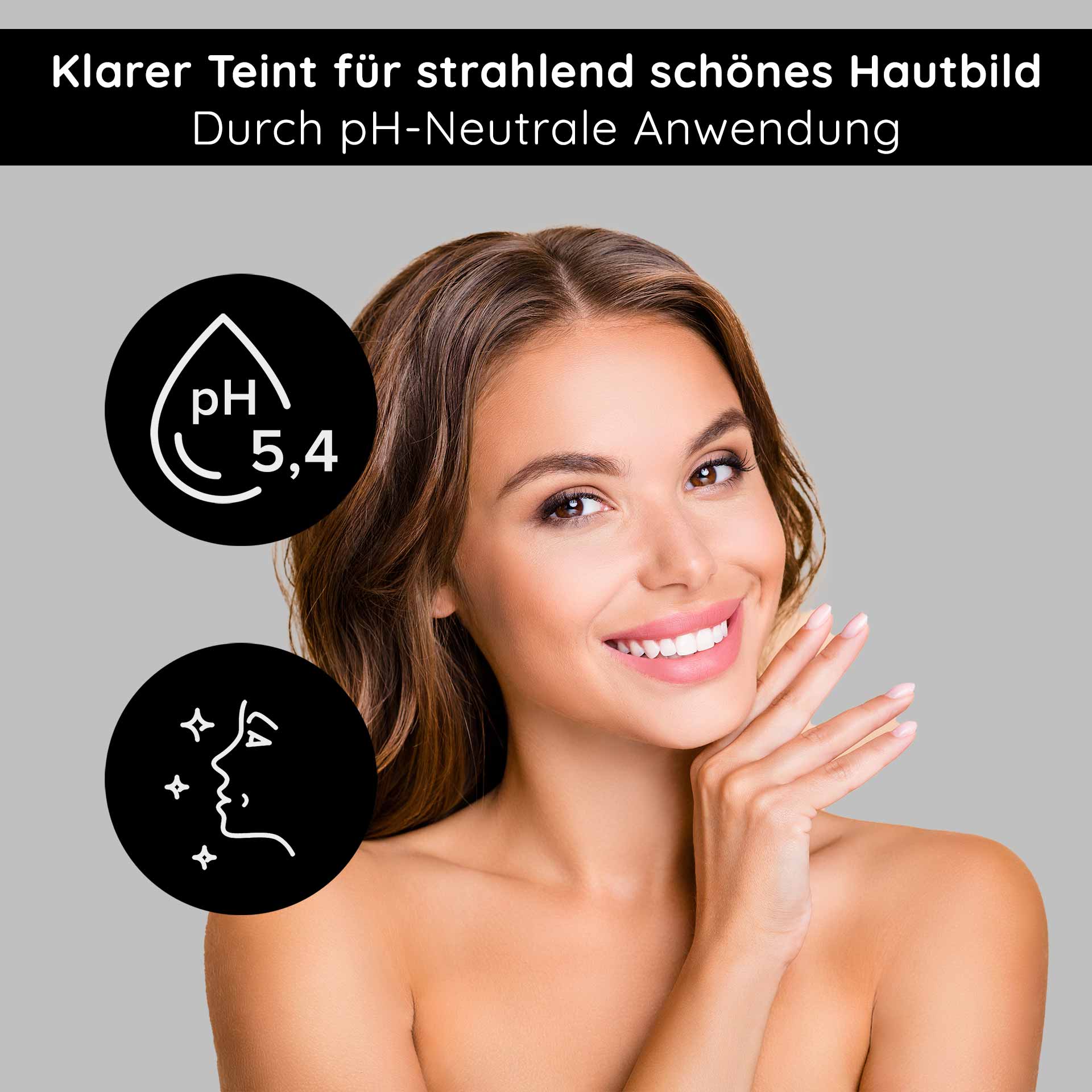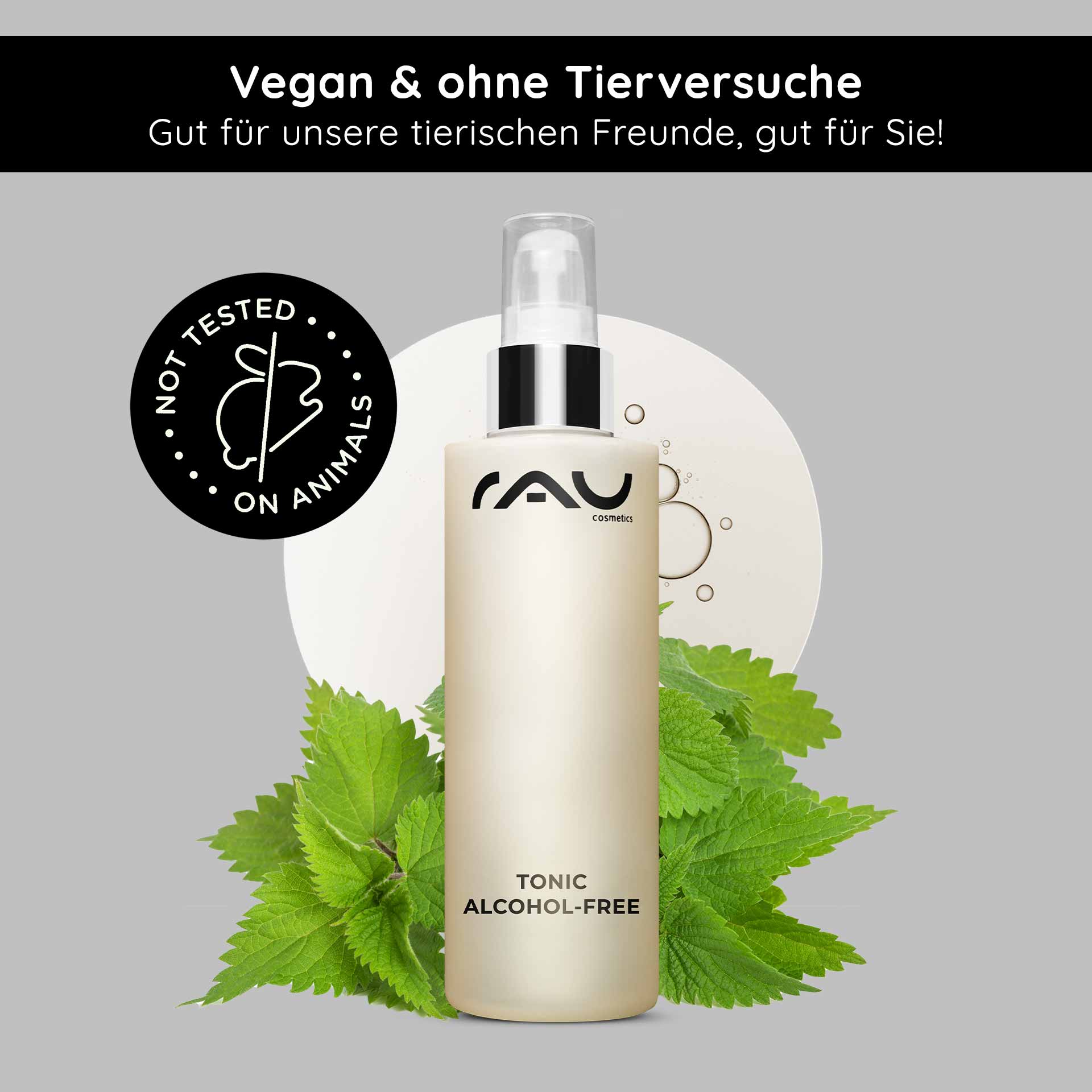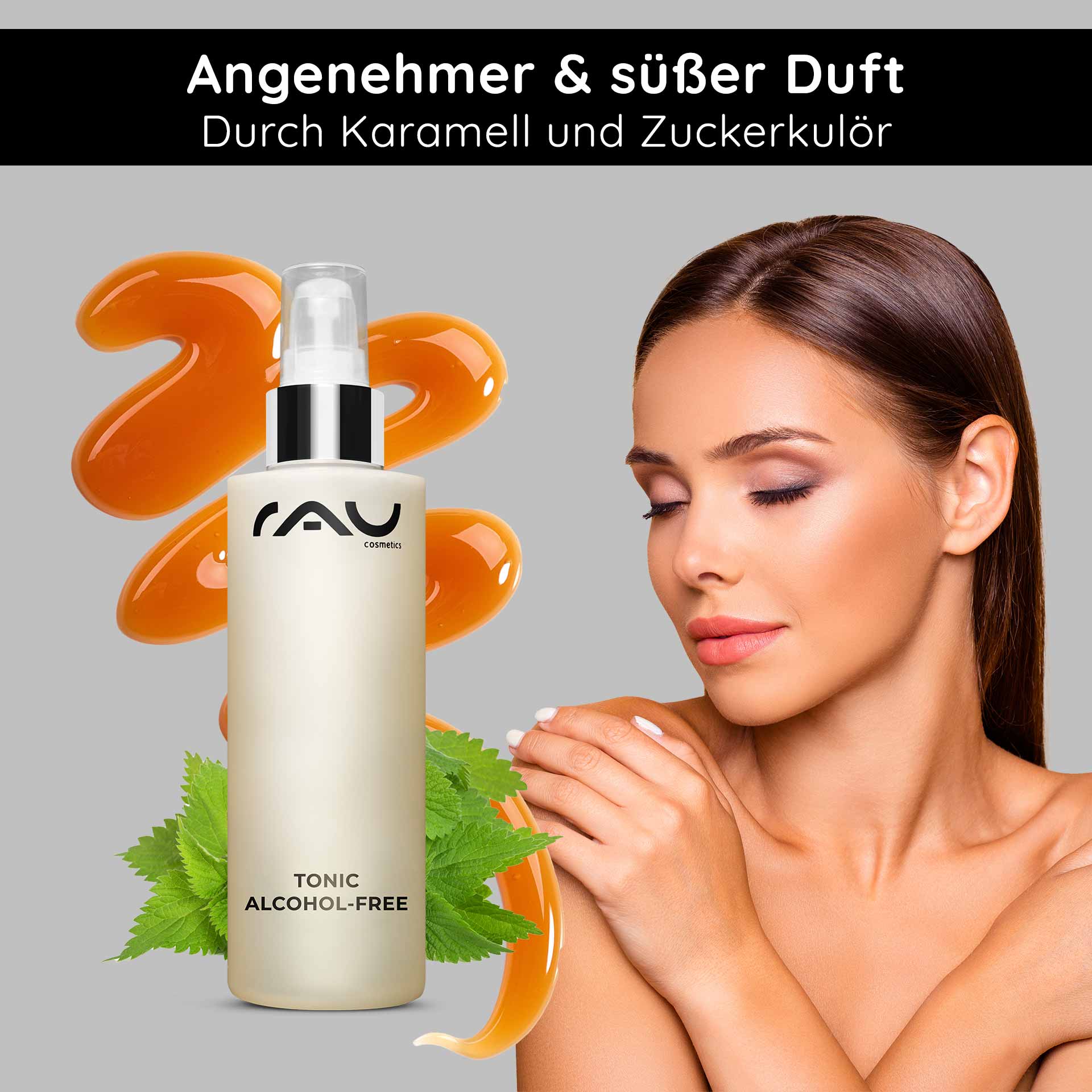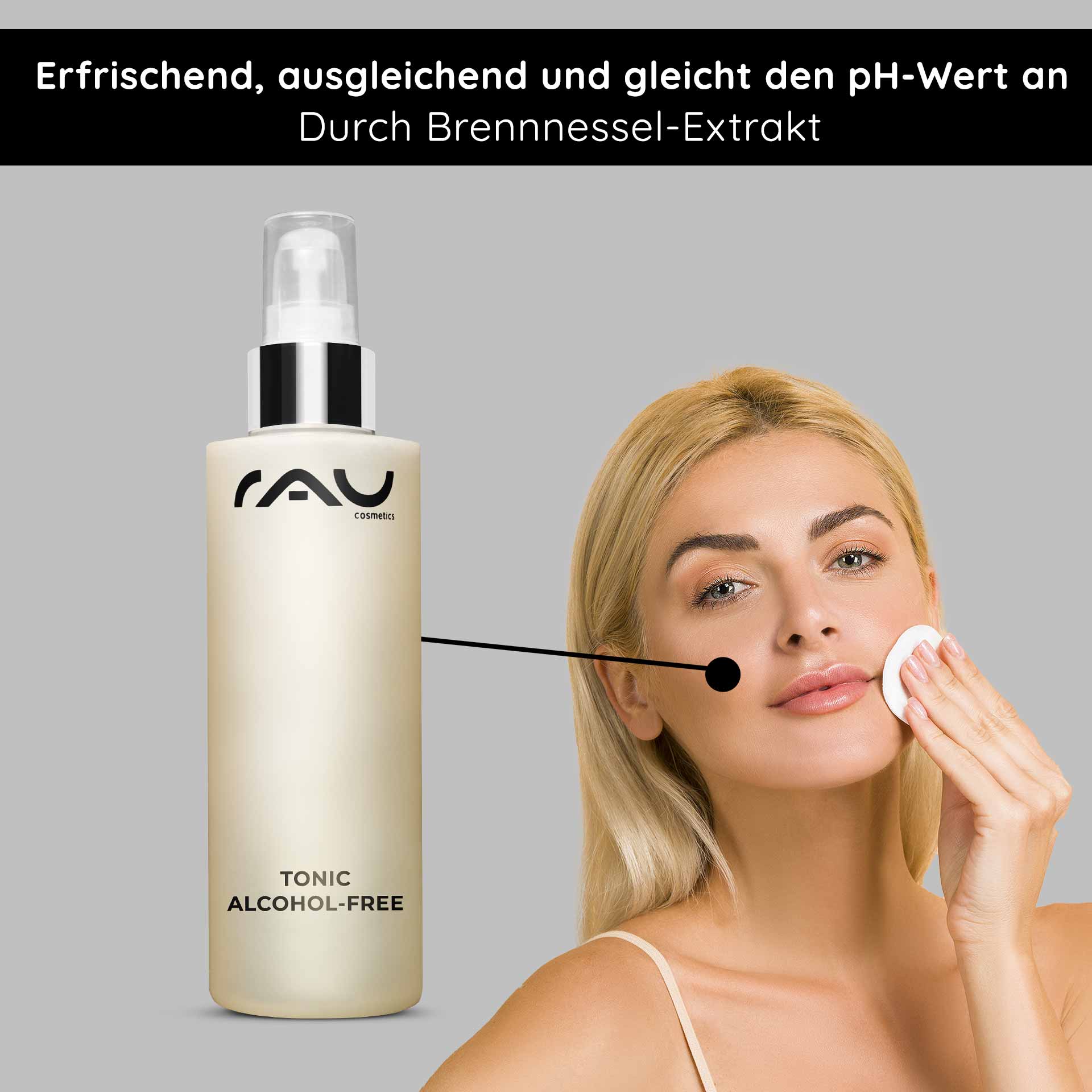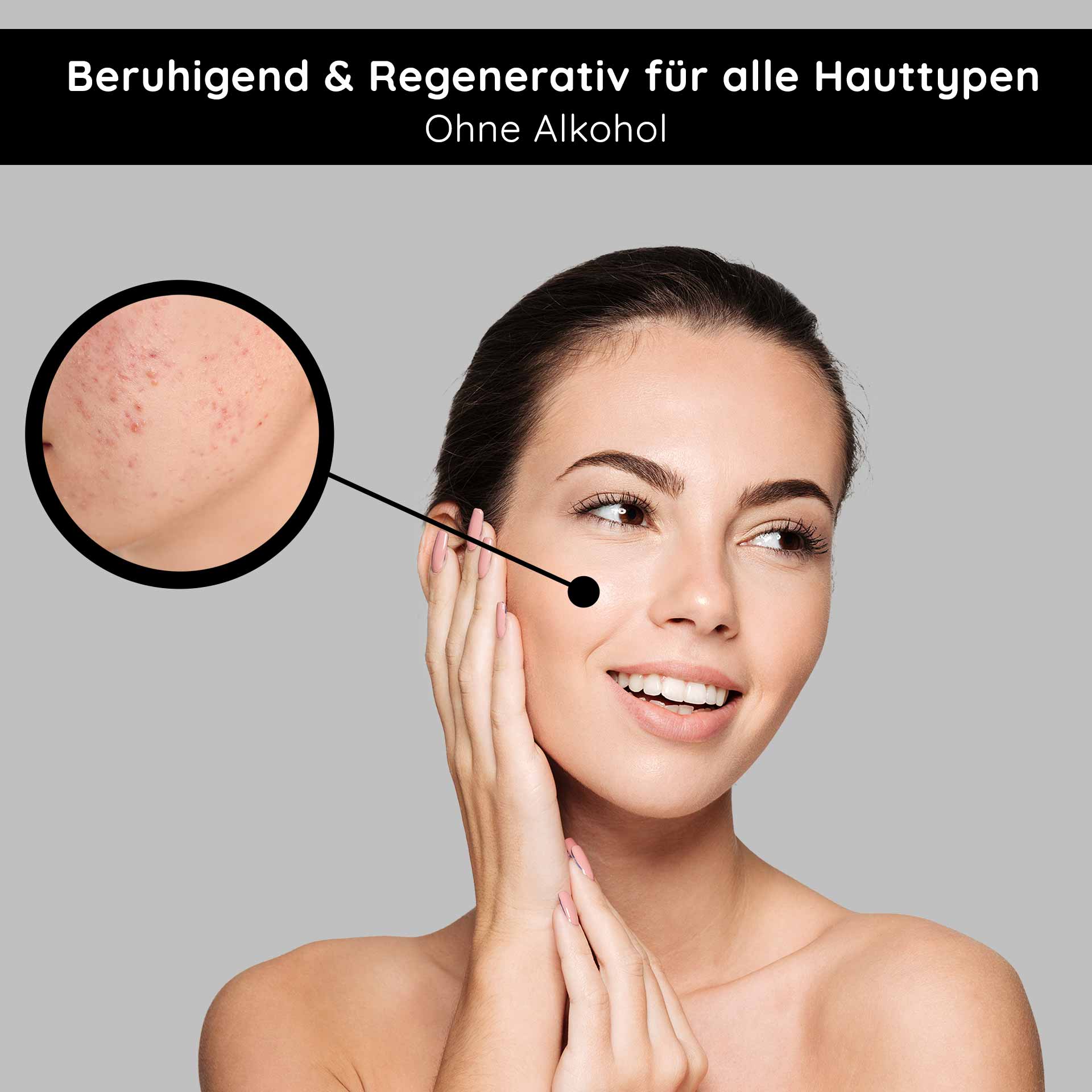 Tonic alcohol-free 200 ml with nettle extract
€23.40*
Content:
0.2 Liter
(€117.00* / 1 Liter)
Available, delivery time: 1-3 days
Product number:
115210275
Manufacturer:
RAU Cosmetics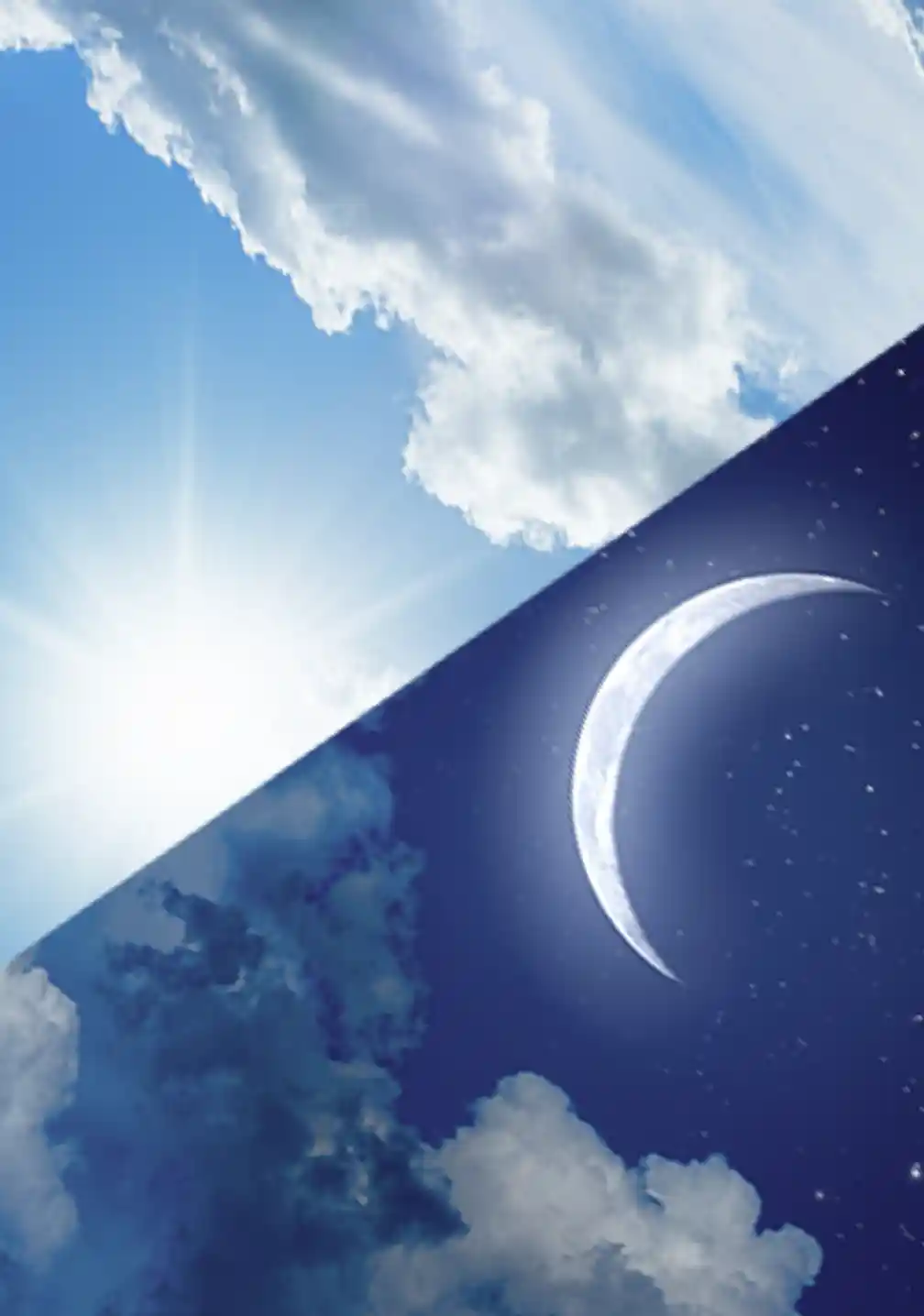 Tageszeit
Das Gesichtstonic können Sie sowohl morgens als auch abends verwenden.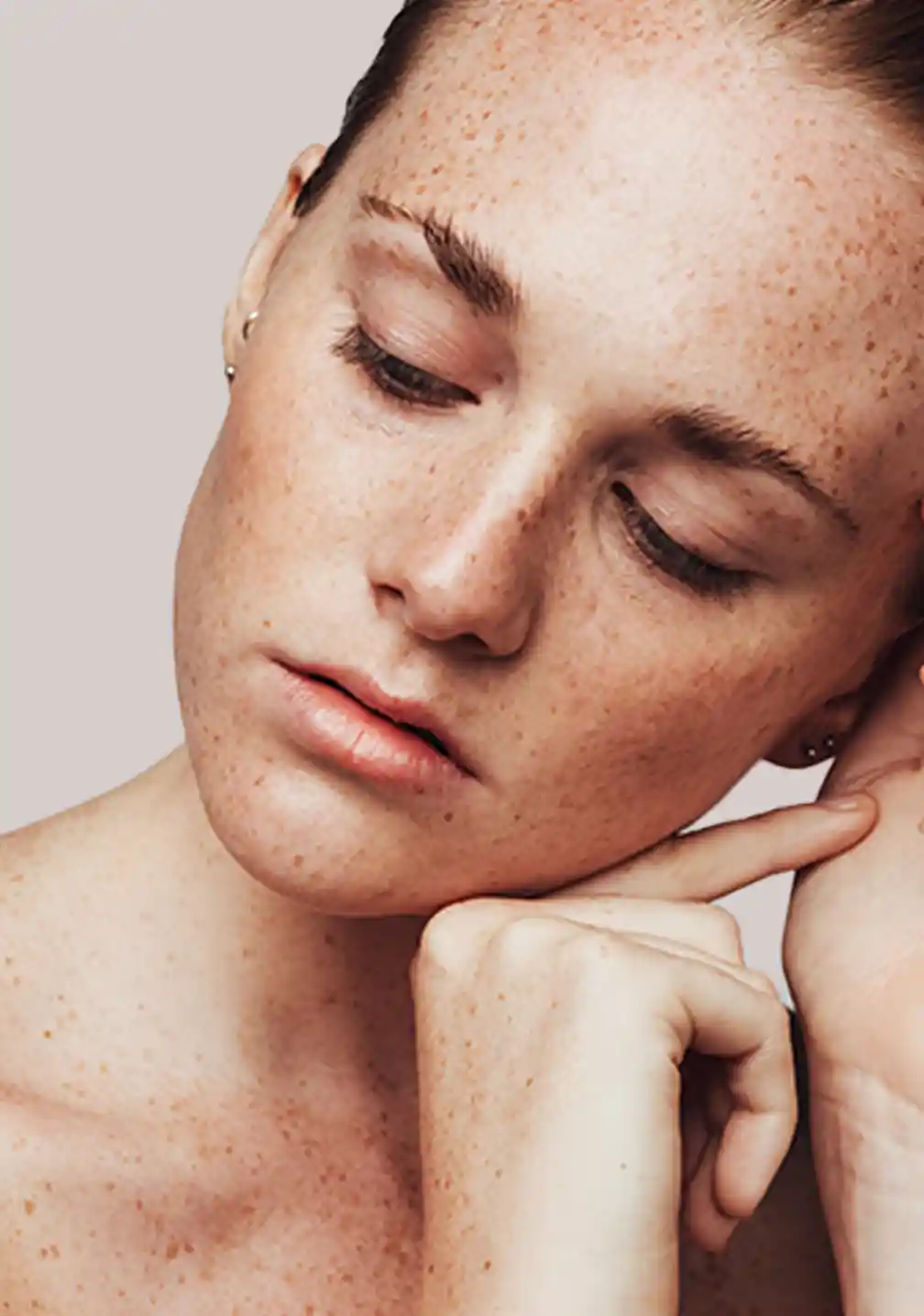 Hauttyp
sensible Haut
empfindliche Haut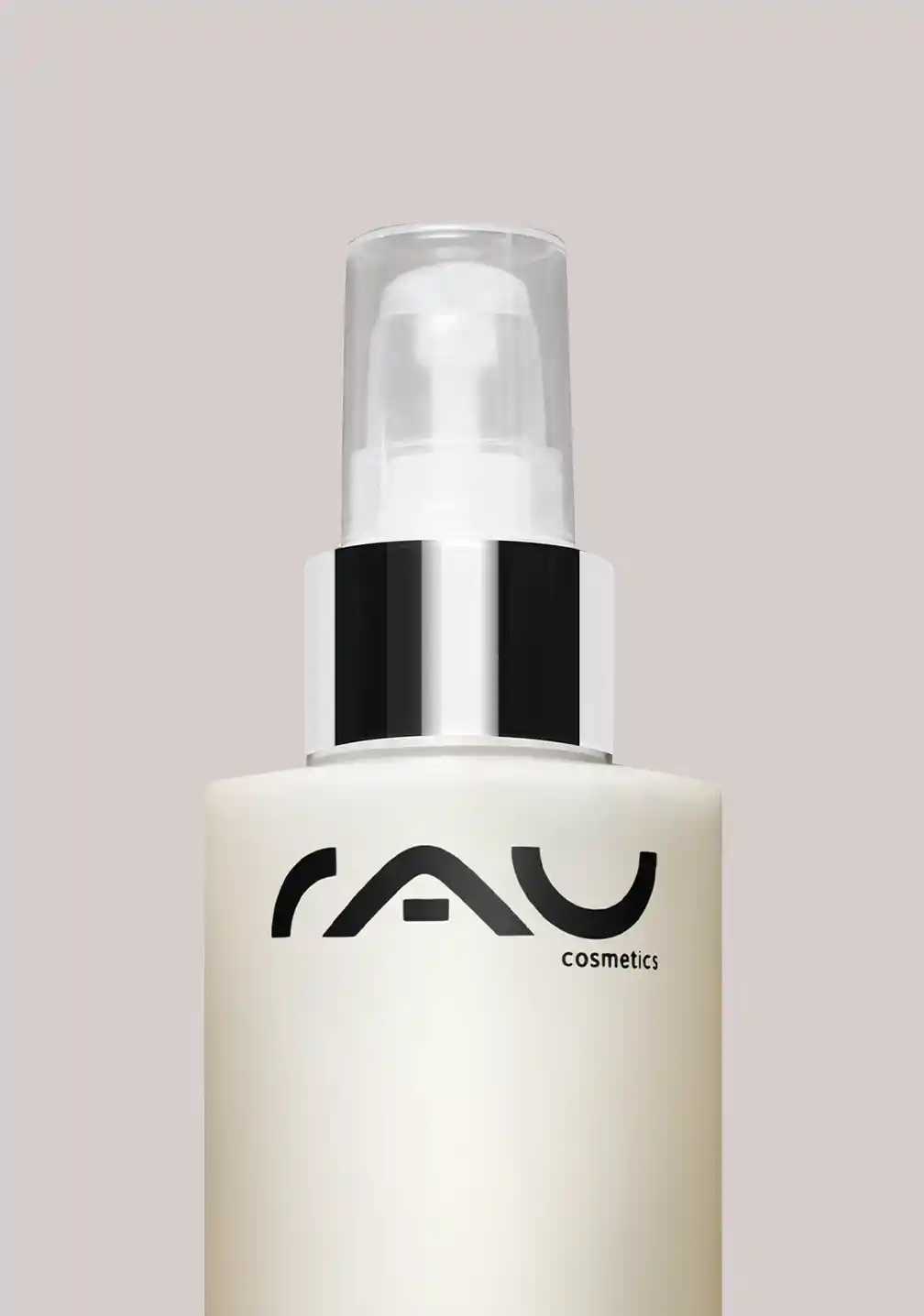 Hygienischer Spender
Durch den praktischen Spender können Sie das Tonic richtig dosieren.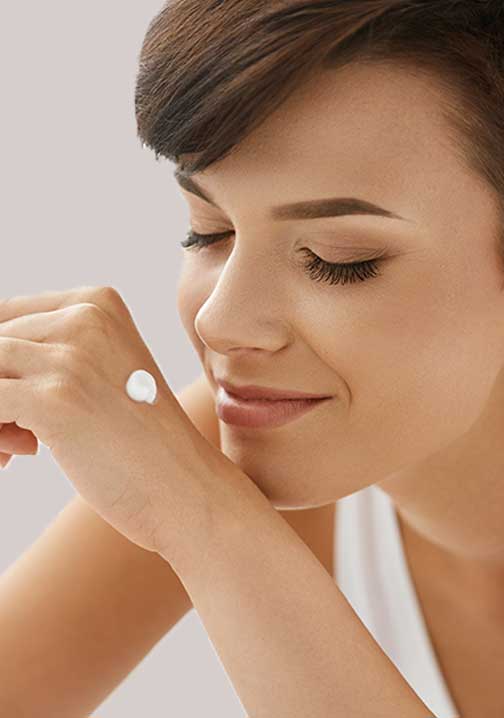 Geruch
Das Tonic hat einen frischen, leicht blumigen Duft.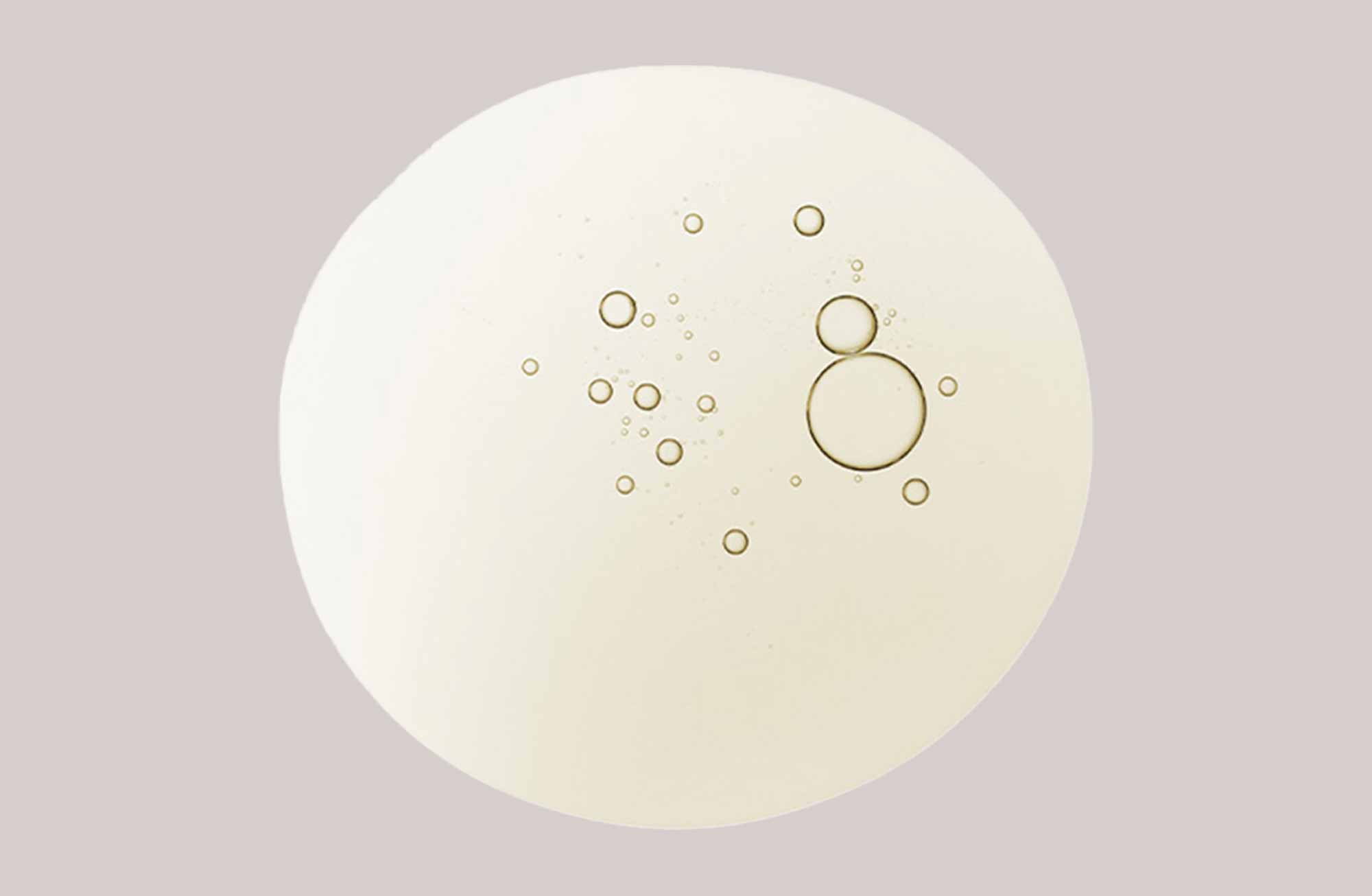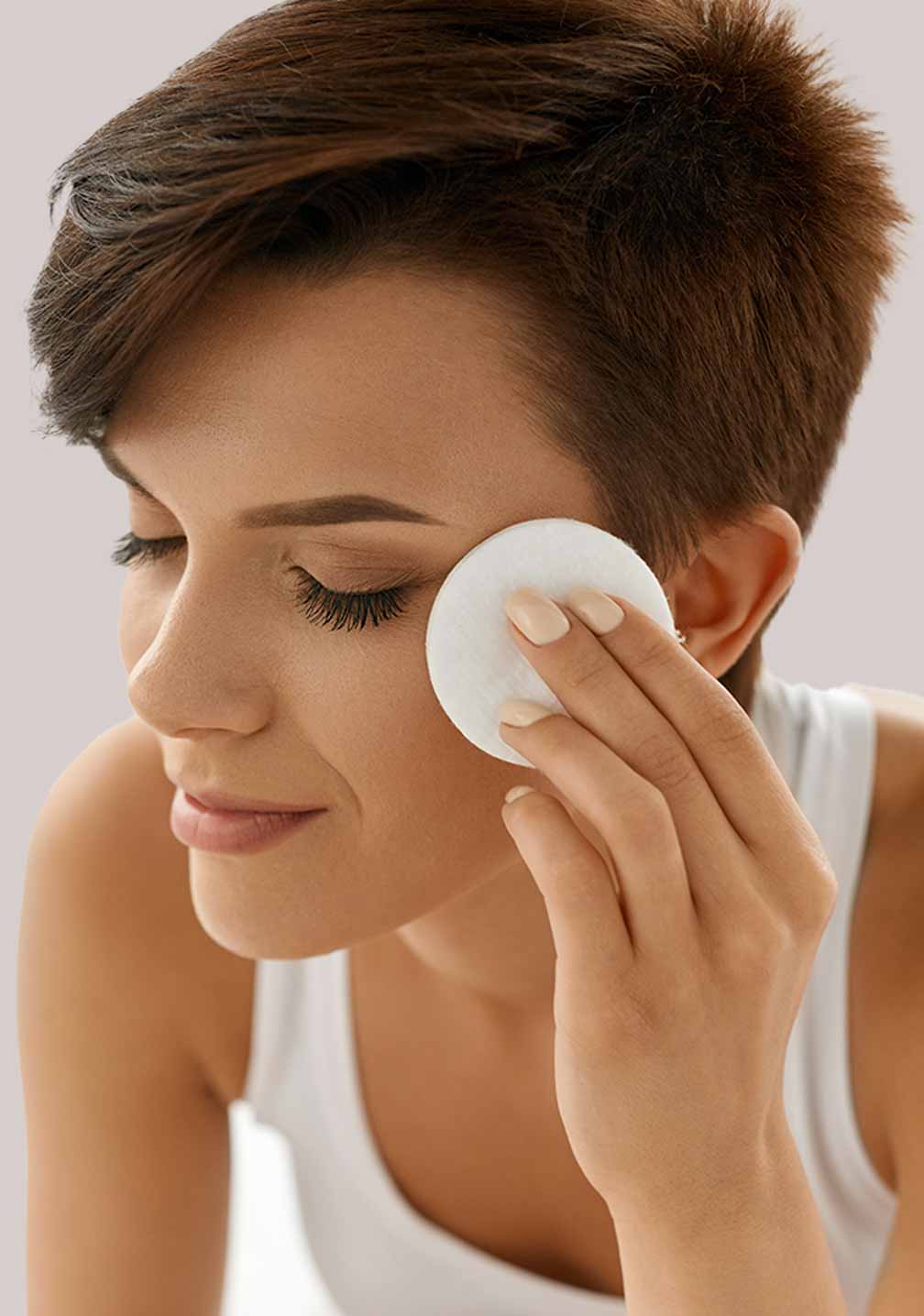 Anwendung
Nach der Gesichtsreinigung Wattepad mit Tonic tränken und über Gesicht, Hals und Dekolleté streichen.
Product information "Tonic alcohol-free 200 ml with nettle extract"
TONIC ALCOHOL-FREE
✔ gentle yet thorough cleaning
✔ without alcohol
✔ pH value: approx. 5.5
✔ has a refreshing & balancing effect
✔ developed & produced in Germany
SKIN TYPE
The facial toner is particularly suitable for sensitive / delicate and dry skin.
APPLICATION
Soak a cotton pad with the toner and rub thoroughly over the face, neck and décolleté.
CAN
- cleanse the skin
- provide a clear complexion
HAZARD WARNINGS
Do not get in eyes & mucous membranes.
Not suitable for children under 3 years.
Perfect for sensitive and very dry skin: our Tonic alcohol-free is a gentle special care, a tonic without alcohol.

The combination of active ingredients of the tonic without alcohol:
Due to the main active ingredient nettle extract, the tonic has a refreshing, balancing effect and rebalances the pH of the skin. The skin feels smoother and more even. Lactic acid and other active ingredients ensure that the skin is also moisturized during cleansing. Although the tonic is without alcohol, it thoroughly cleanses the pores and optimally prepares the skin for the subsequent care. Toning is part of a balanced facial care regimen and should be performed before any application of a skin care cream. The result is a clear, finely structured complexion.
CONTENT MATERIALS
AQUA (WATER) - Water - Solvent, moisturizes
POLYSORBATE 20 - Surfactant - Washing active substance for cleaning the skin
PROPYLENE GLYCOL - solvent- moisturizing, skin nourishing, viscosity regulating
URTICA DIOICA (NETTLE) LEAF EXTRACT - Nettle extract- Increases blood circulation, toning. Invigorating, purifying
ETHYLHEXYLGLYCERIN - ethylheylglycerin - keeps the skin in good condition
LACTIC ACID - Lactic acid - moisturizing, skin nourishing, regulates / stabilizes the pH of cosmetic products
GLUCOSE - Dextrose - Binds moisture in cosmetic products
SODIUM BENZOATE - Sodium Benzonate - preservative, protects the product from microbial spoilage and provides a pleasant fragrance
POTASSIUM SORBATE - potassium salt - protects the product from microbial spoilage and gives the product a pleasant smell
TARTARIC ACID - Tartaric acid - perfuming, regulates and stabilizes the pH of cosmetic products
PHENOXYETHANOL - Phenoxylethanol - antimicrobial , protects the product from microbial spoilage
PARFUM (FRAGRANCE) - fragrance
BENZYL SALICYLATE - salicylic acid benzyl ester - fragrance and UV absorber, protects the cosmetic product from damage by UV light
COUMARIN - fragrance
CARAMEL - caramel, sugar caramel - dye, perfuming
LINALOOL - fragrance
HEXYL CINNAMAL - Fragrance
Hautbedürfnis:

Hydration

, Radiance

Hauttyp:

Combination Skin

, Dry Skin

, Impure Skin

, Mature Skin

, Normal Skin

, Sensitive Skin

Inhalt:

200 ml

Produkt-Typ:

Facial Cleansing

, Toner

Sonstige Eigenschaften:

vegan

Textur:

Liquid

Wirkstoff:

stinging nettle
---
Ich bin wirklich äußerst zufrieden mit diesem Toner. Da ich schon diverse Toner aus Drogerien und Parfumerien probiert habe, kann ich aus meiner Erfahrung ganz klar sagen, bei meiner anspruchsvollen Haut (trocken, sensiebel & z.T. unrein, Mischhaut) das Beste was ich für meine Haut finden konnte. Der Duft ist toll und es gibt kein Spannungsgefühl, bereitet die Haut optimal auf den nächsten Pflegeschritt vor. Vorher benutze ich das Silver Facial Washgel und aus meiner Sicht ergibt die Kombi eine hervorragende Gesichtsreinigung!
Tolle sanfte Lotion/Tonic zum
Tolle sanfte Lotion/Tonic zum Abschluss einer jeden Reinigung. Hinterlässt ein sanftes Gefühl auf der Haut.
Gute Reinigung sehr mild auch für die Augen
Da Wasser oft mein Gesicht austrocknet reinige ich öfters nur mit dem tonic Sogar über die Augen ist es kein Problem Und entfernt selbst Mascara Ich liebe es meine Haut ist danach frisch und bereit für eine Rau Pflegecreme Gerade erst wieder in Reserve bestellt:) Es ist jedoch sehr ergiebig und daher unbedingt ein Versuch wert
Tolle sanfte Lotion/Tonic zum...
Tolle sanfte Lotion/Tonic zum Abschluss einer jeden Reinigung. Hinterlässt ein sanftes Gefühl auf der Haut. (Quelle: <a href='https://www.shopvote.de/show-products.php?shopid=15529' target='_blank'>SHOPVOTE</a>)
Verwende das Tonic jetzt schon mehrere Wochen und bin sehr zufrieden. Es ist sehr angenehm und meine Haut fühlt sich danach immer so wunderbar frisch an.
Das Tonic ist sehr erfrischend und fühlt sich egal ob morgens oder abends wirklich gut an! Morgens als Wachmacher und Abends ein Gefühl von Klarheit.
Das Tonic verwende ich zweimal täglich und vertrage es sehr gut. Es ist wirklich sehr mild und trocknet meine Gesichtshaut nicht aus. Meine Tochter (16) ist auch begeistert.
(Quelle: <a href='https://www.shopvote.de/show-products.php?shopid=15529' target='_blank'>SHOPVOTE</a>)
(Quelle: <a href='https://www.shopvote.de/show-products.php?shopid=15529' target='_blank'>SHOPVOTE</a>)
Ich habe mich für dieses Tonic entschieden, da ich empfindliche Couperosehaut habe, nebenbei aber auch noch ein paar Unreinheiten im Gesicht - für meine Haut hat es sich als optimale Pflegevorbereitung erwiesen: Es reinigt und erfrischt die Haut nach dem waschen, das typische leicht auf der Haut spannende "sauber" Gefühl stellt sich danach ein. Es ist aber so mild, dass ich damit sogar die Partie unter meinen Augen reinigen kann ohne dass es brennt. Der Geruch ist sehr angenehm. Rundum ein sehr empfehlenswertes Tonic für empfindliche Hauttypen. Nebenbei: mein Mann benutzt es auch, der ist auch zufrieden. 1 Stern Abzug allerdings für die Verpackung, der Flaschendeckel (Gewicht/Verschraubung) treibt mich in den Wahnsinn. Ich benötige immer 2 Hände diesen ordentlich zu schließen, was mit einem Tonic-getränkten Wattepad in der Hand nicht so einfach ist.