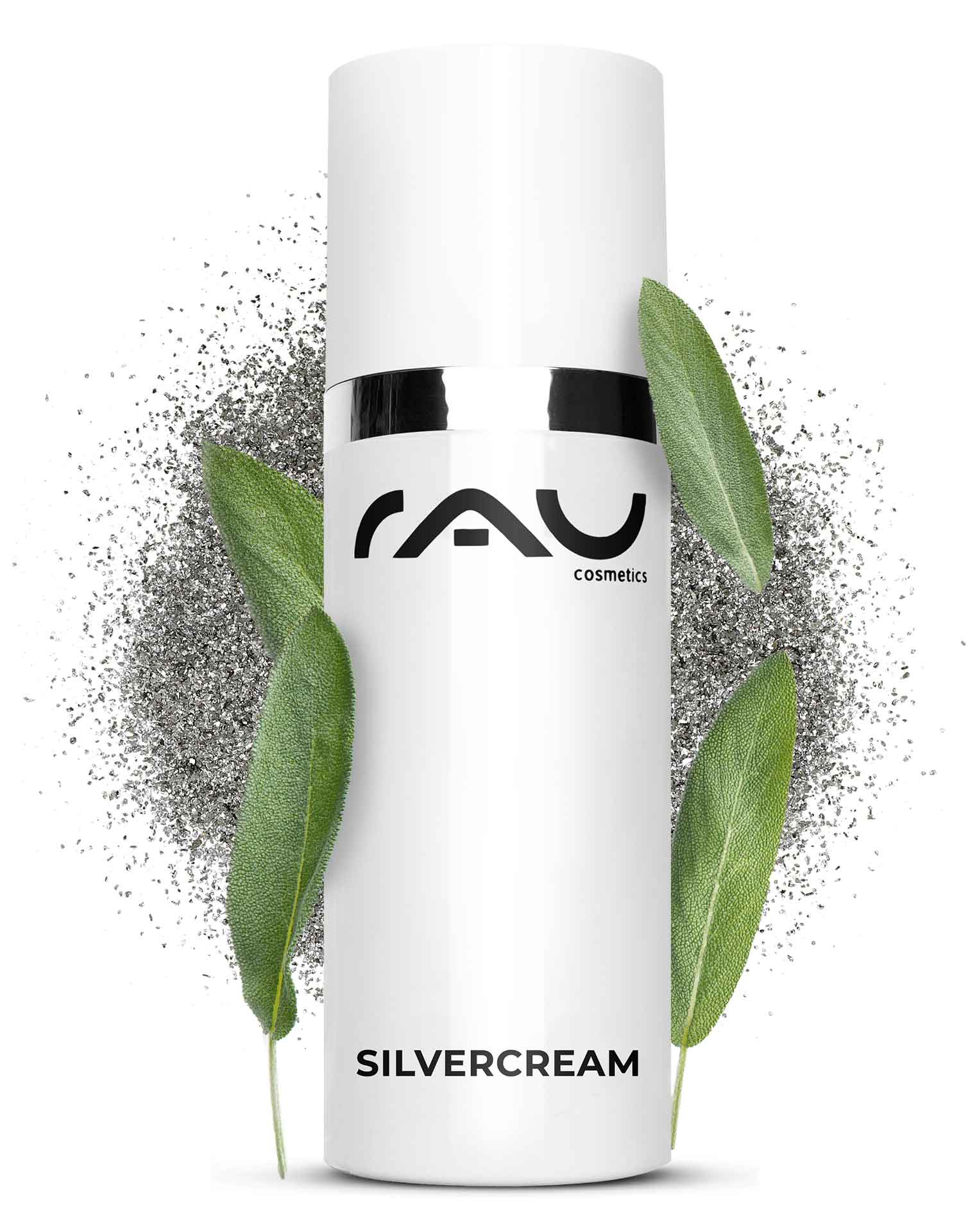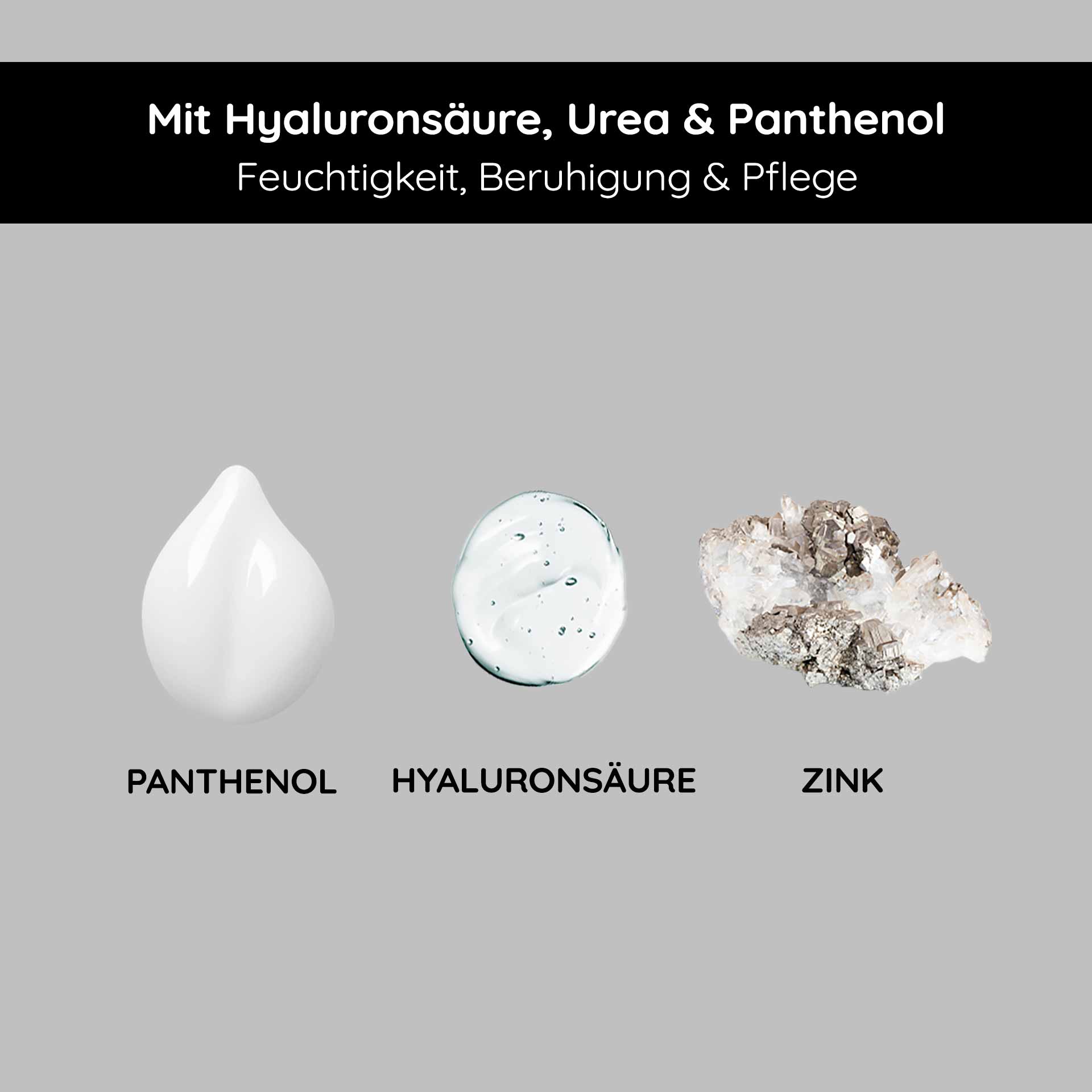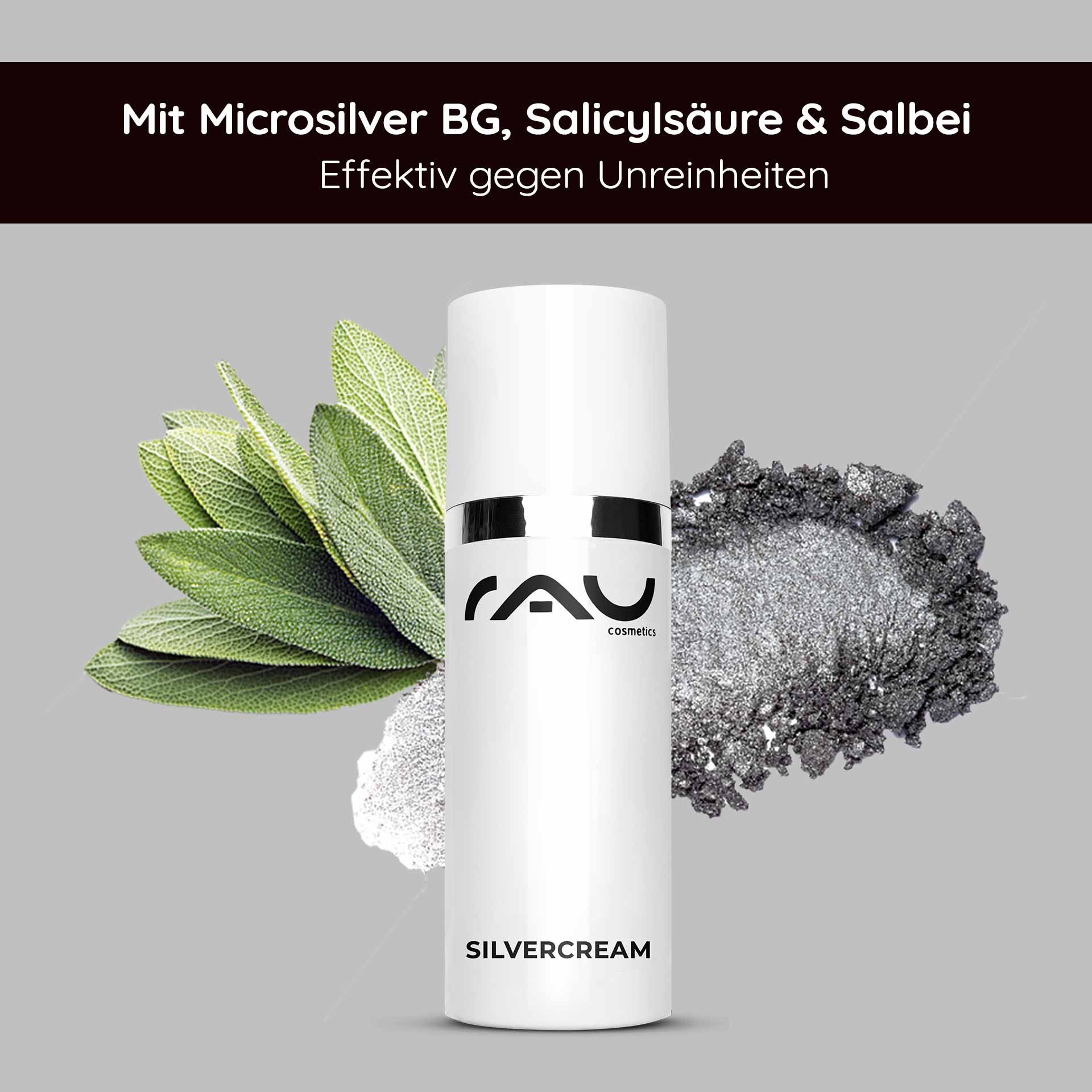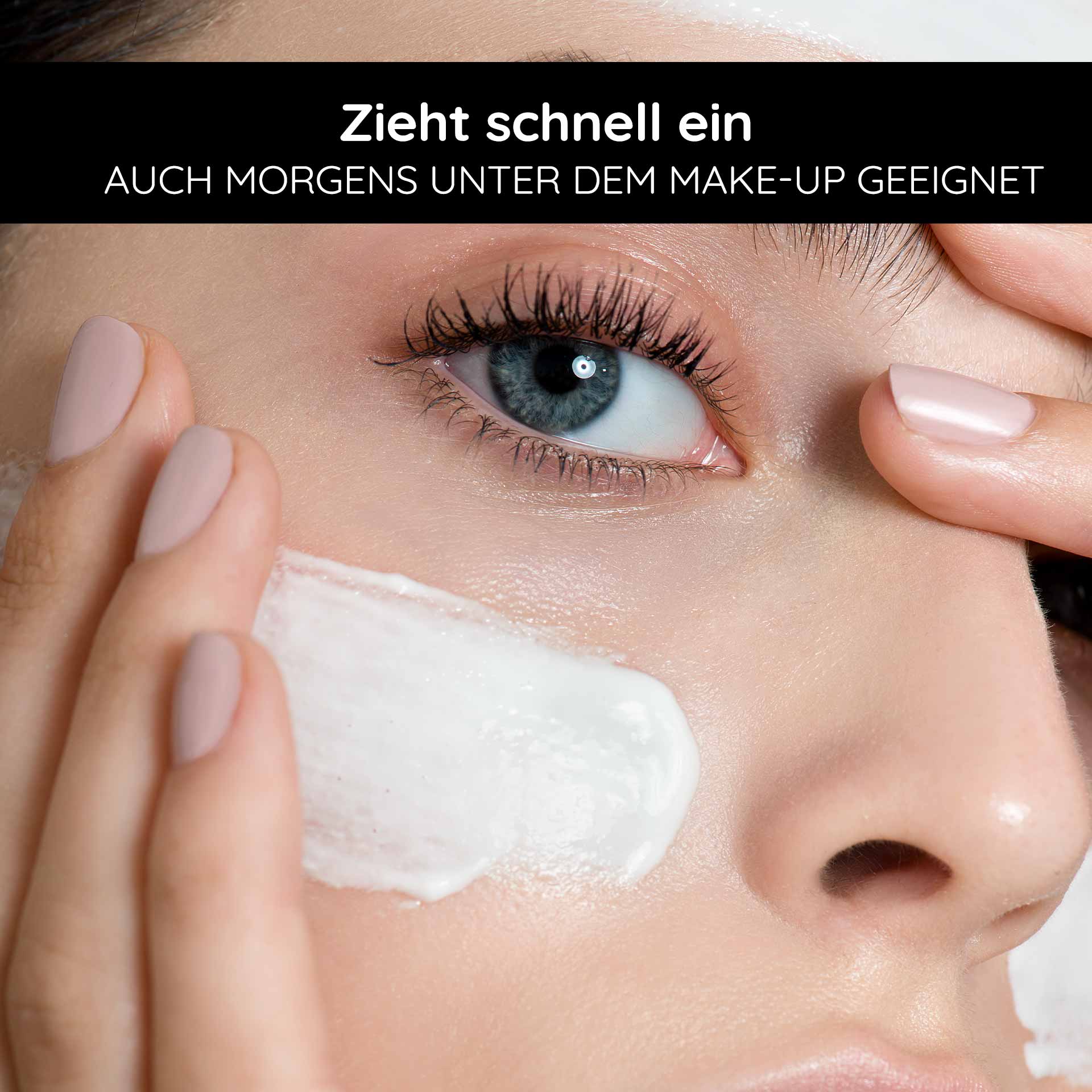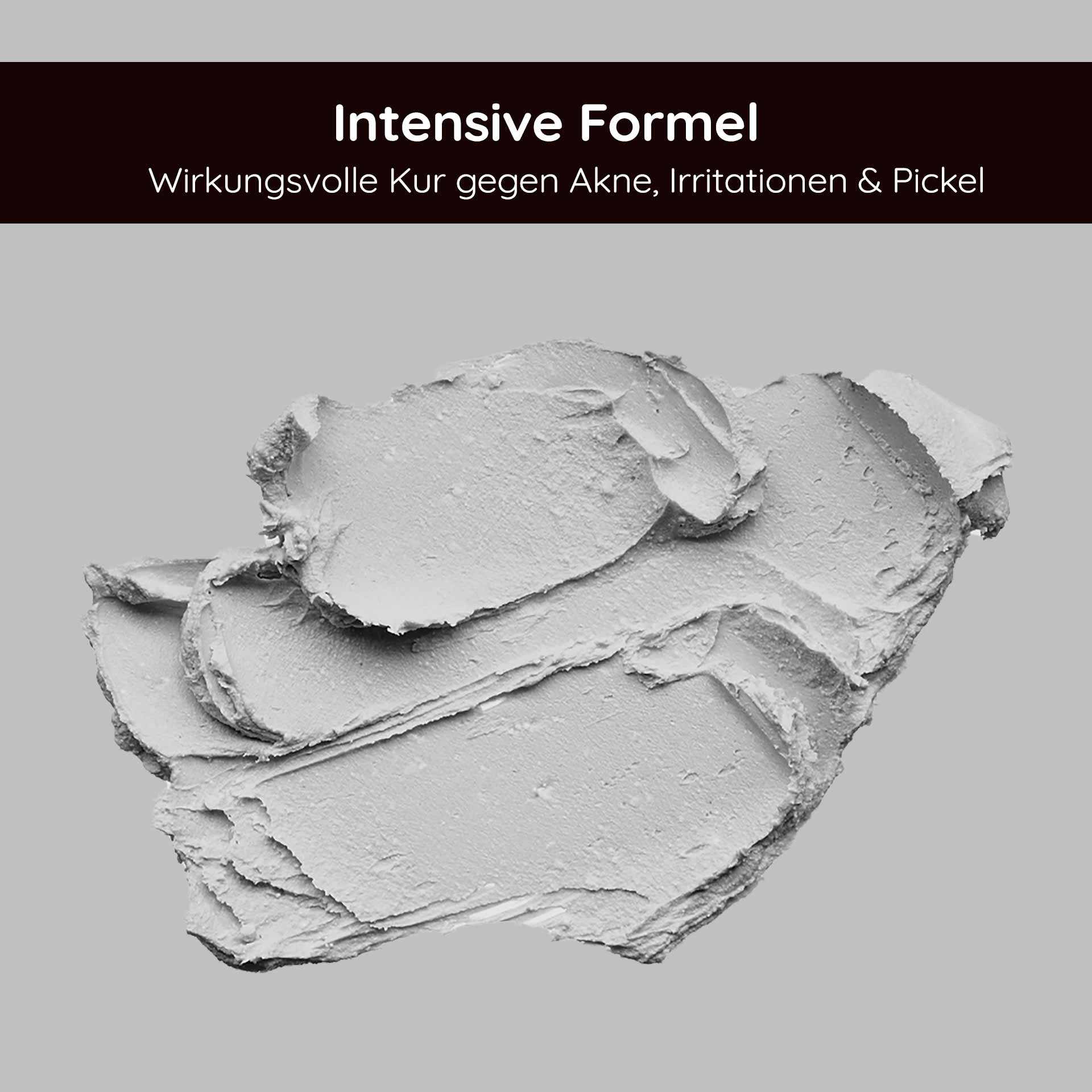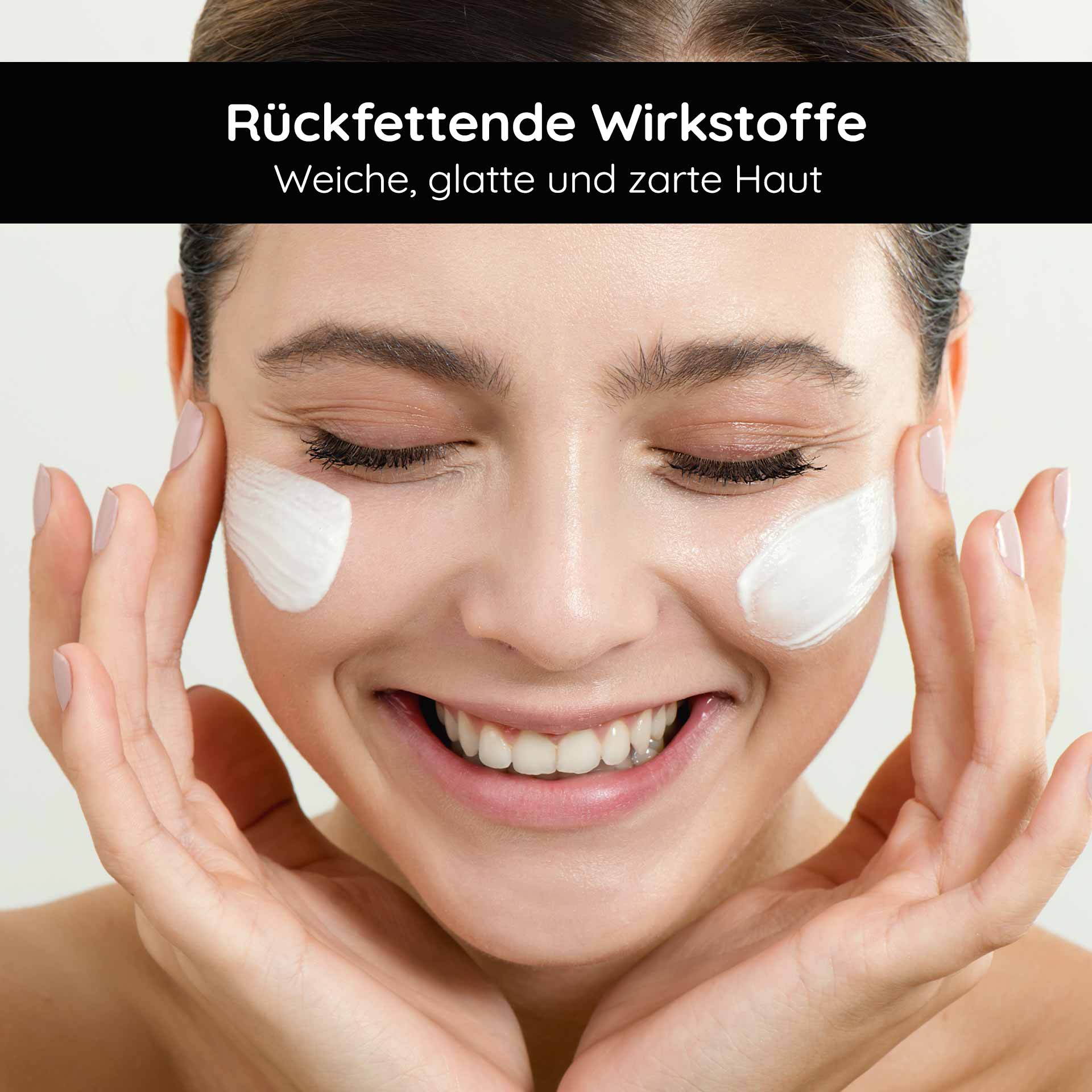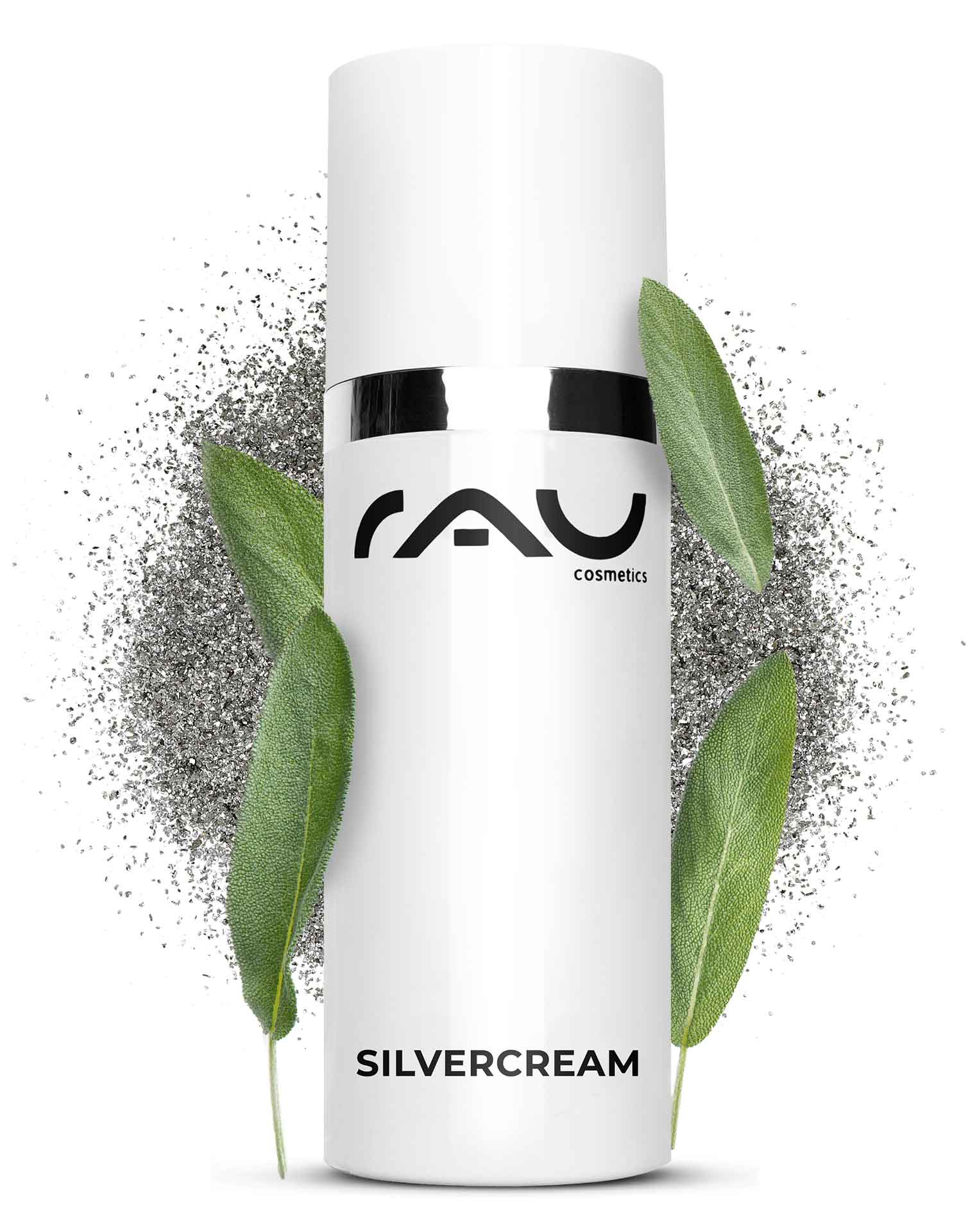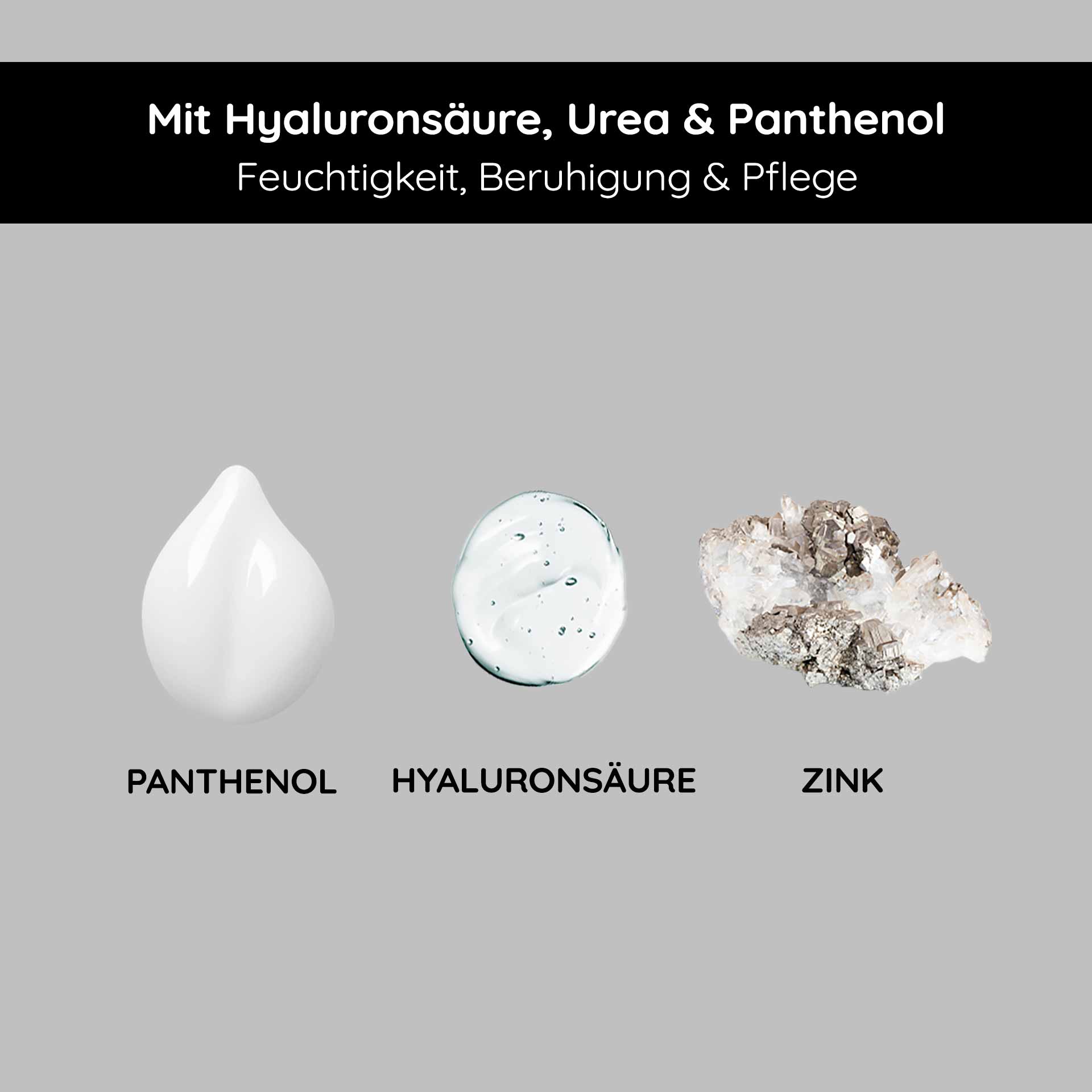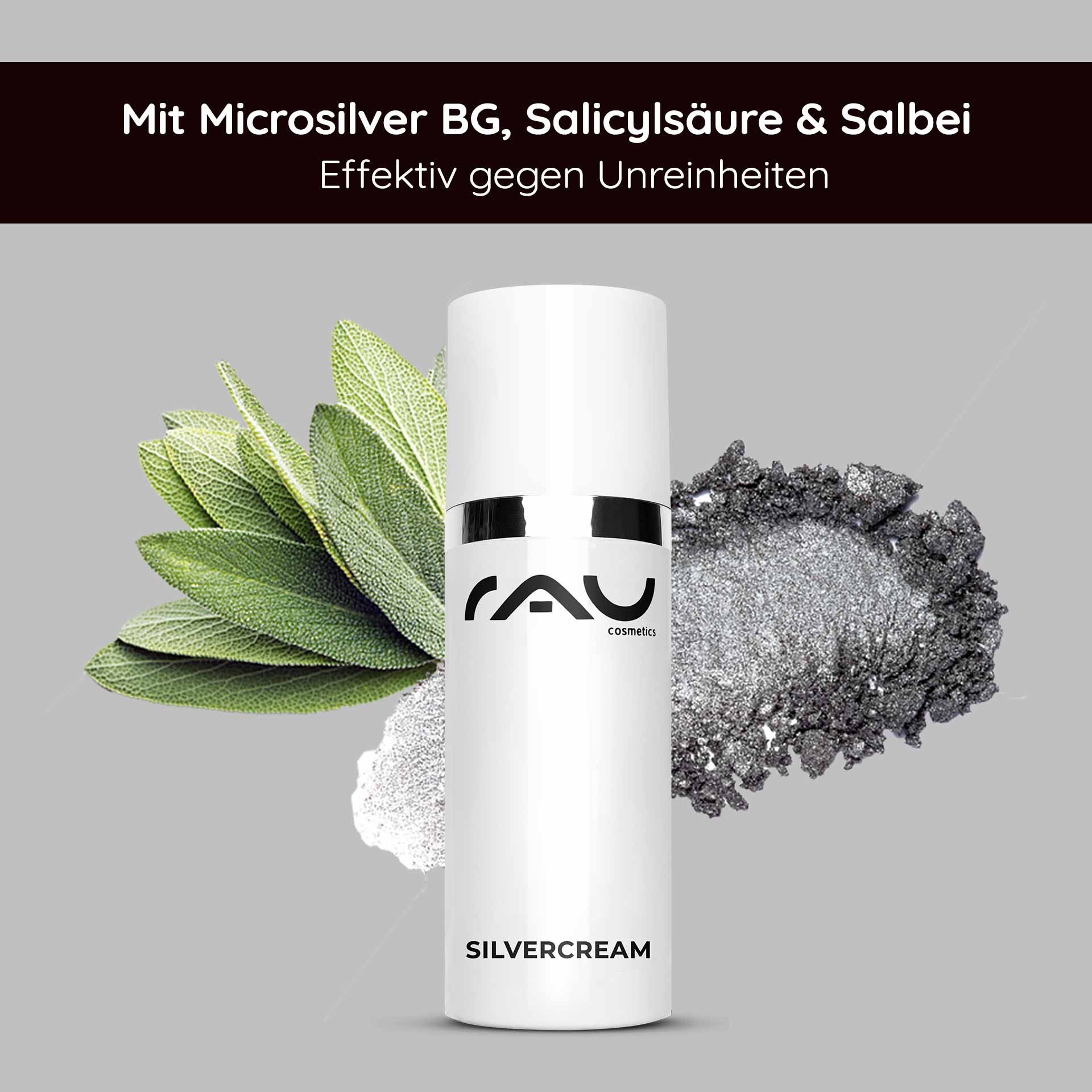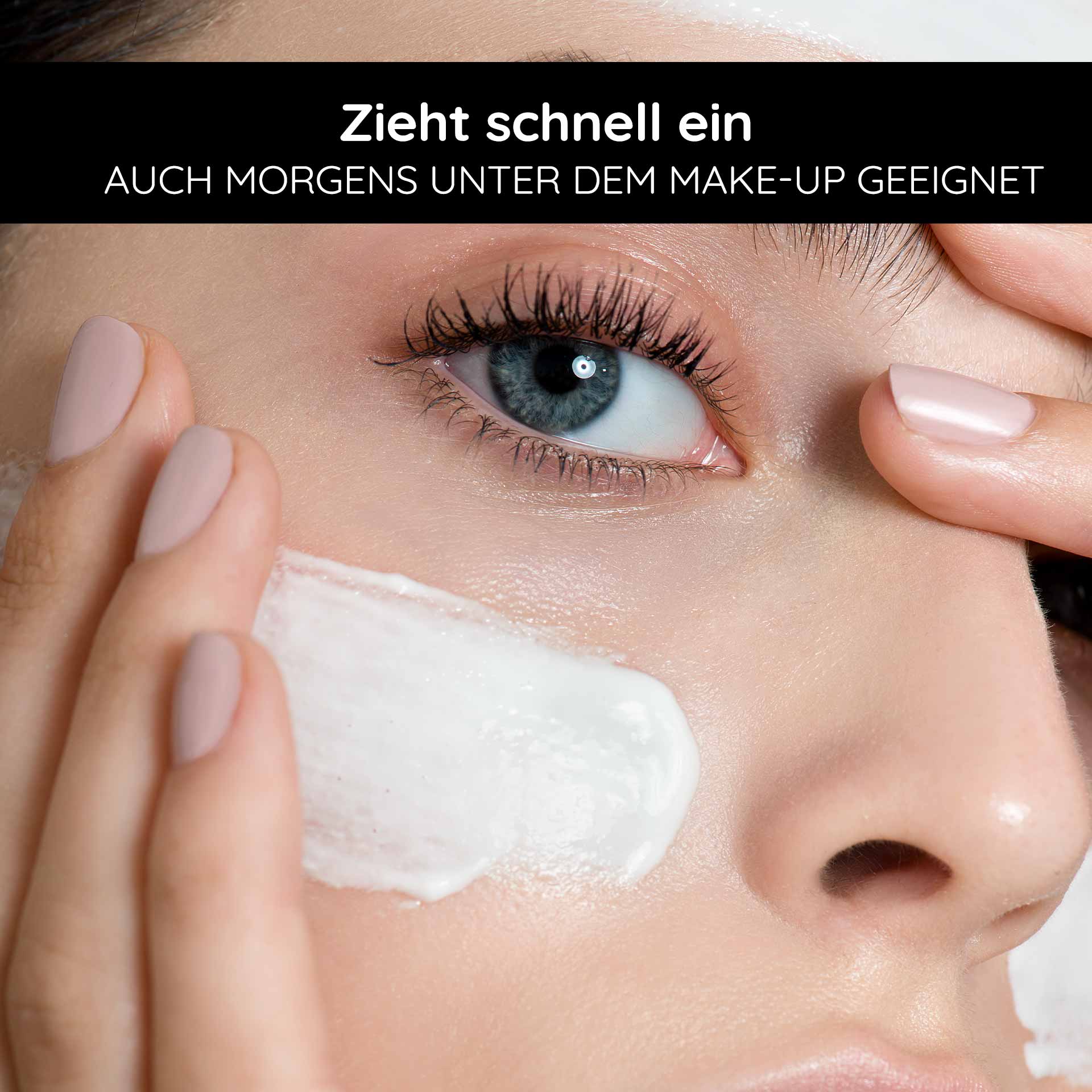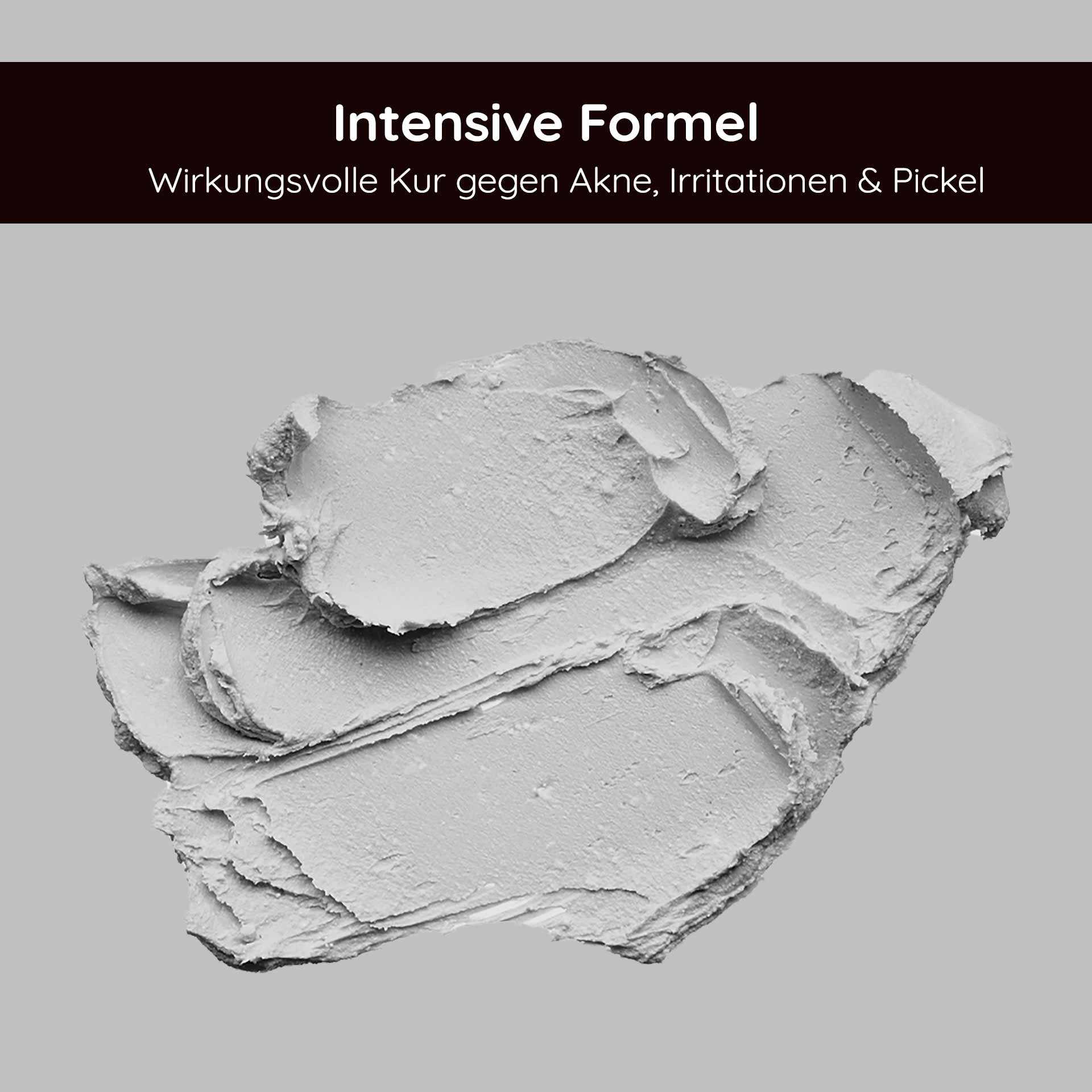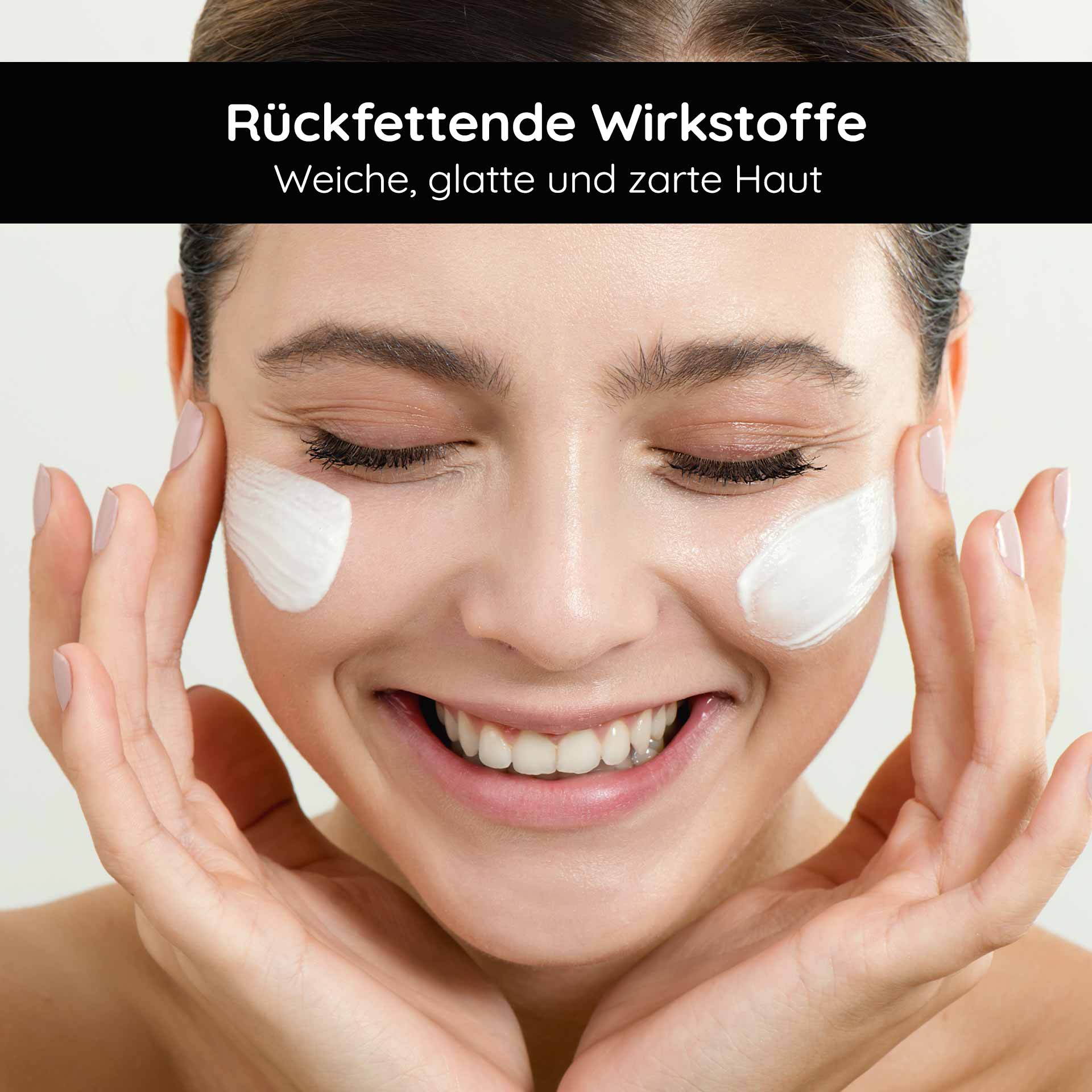 RAU Silvercream 50 ml - Special Cream for Impure Skin with Microsilver & Sage
€35.80*
Content:
0.05 Liter
(€716.00* / 1 Liter)
Available, delivery time: 1-3 days
Product number:
A1301-10275
Manufacturer:
RAU Cosmetics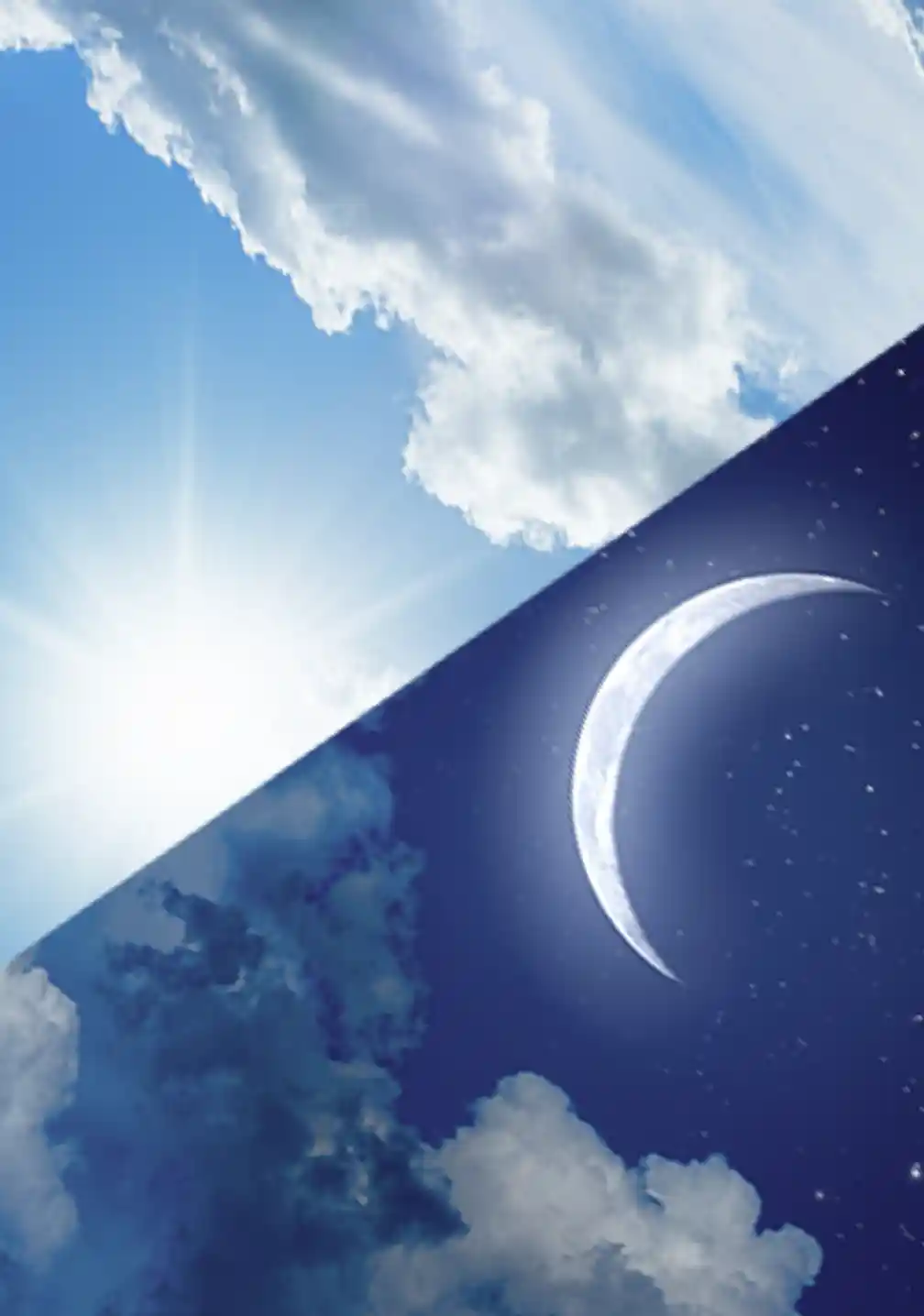 Tageszeit
Die Creme können Sie sowohl morgens als auch abends verwenden.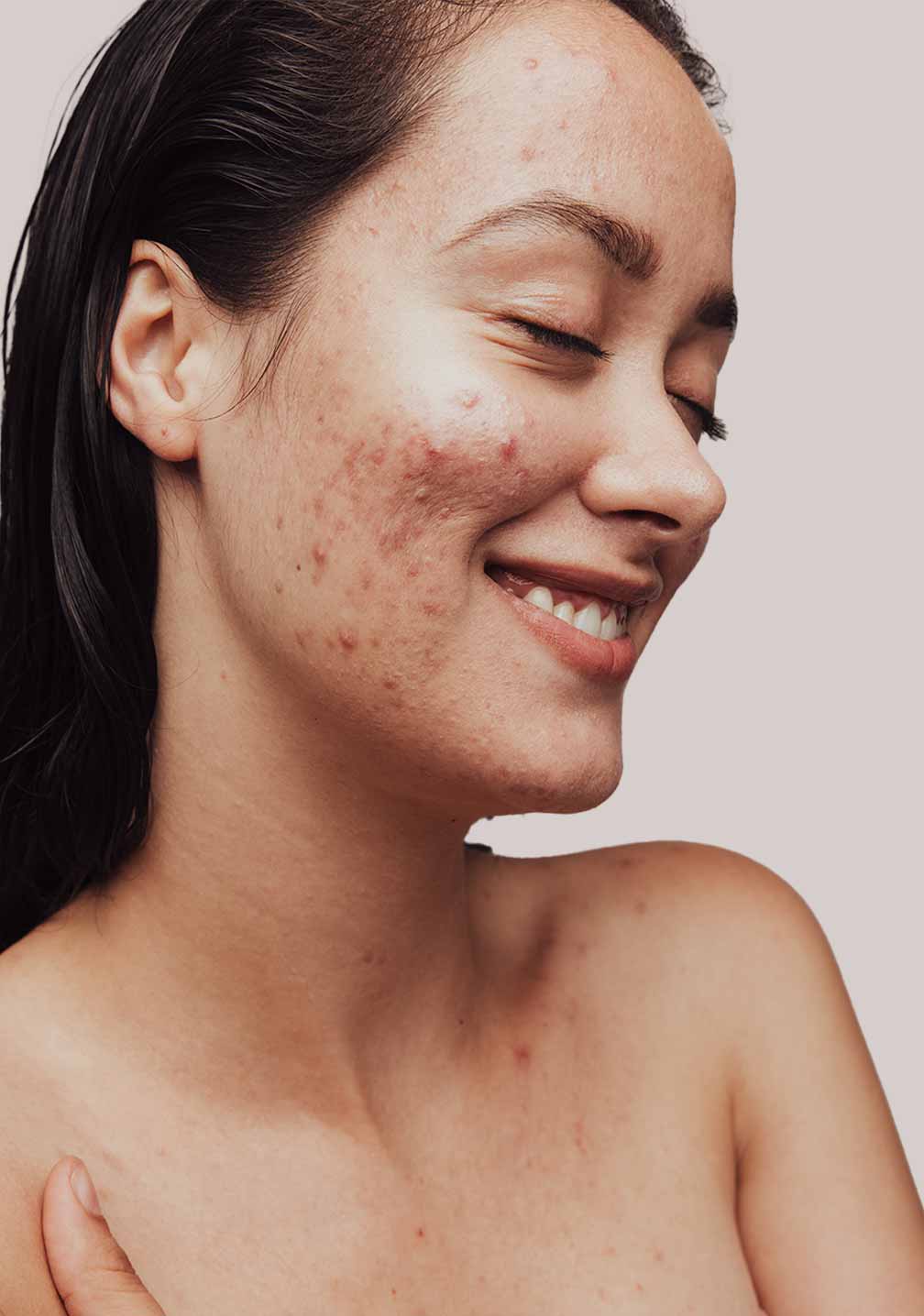 Hauttyp
unreine Haut
Neurodermitis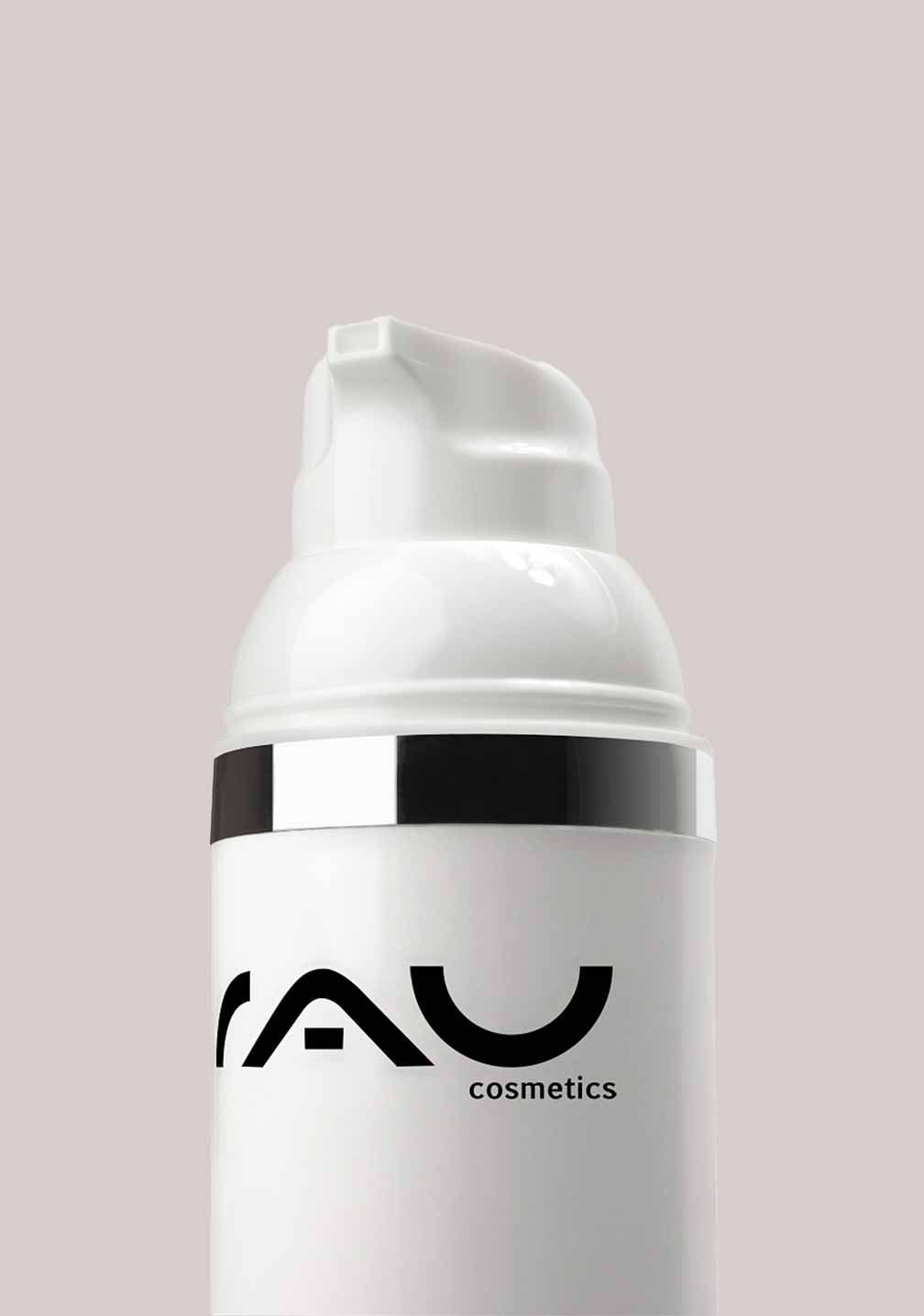 Praktischer Spender
Durch den praktischen Airless-Spender können Sie die Creme richtig dosieren.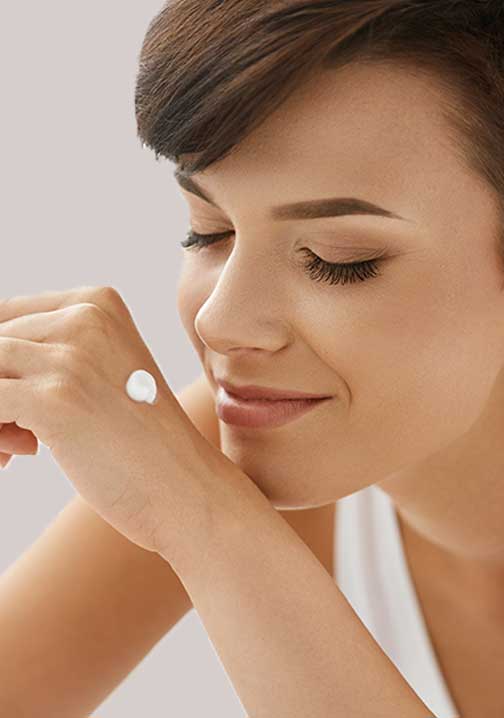 Geruch
Die Creme hat einen süßen Duft.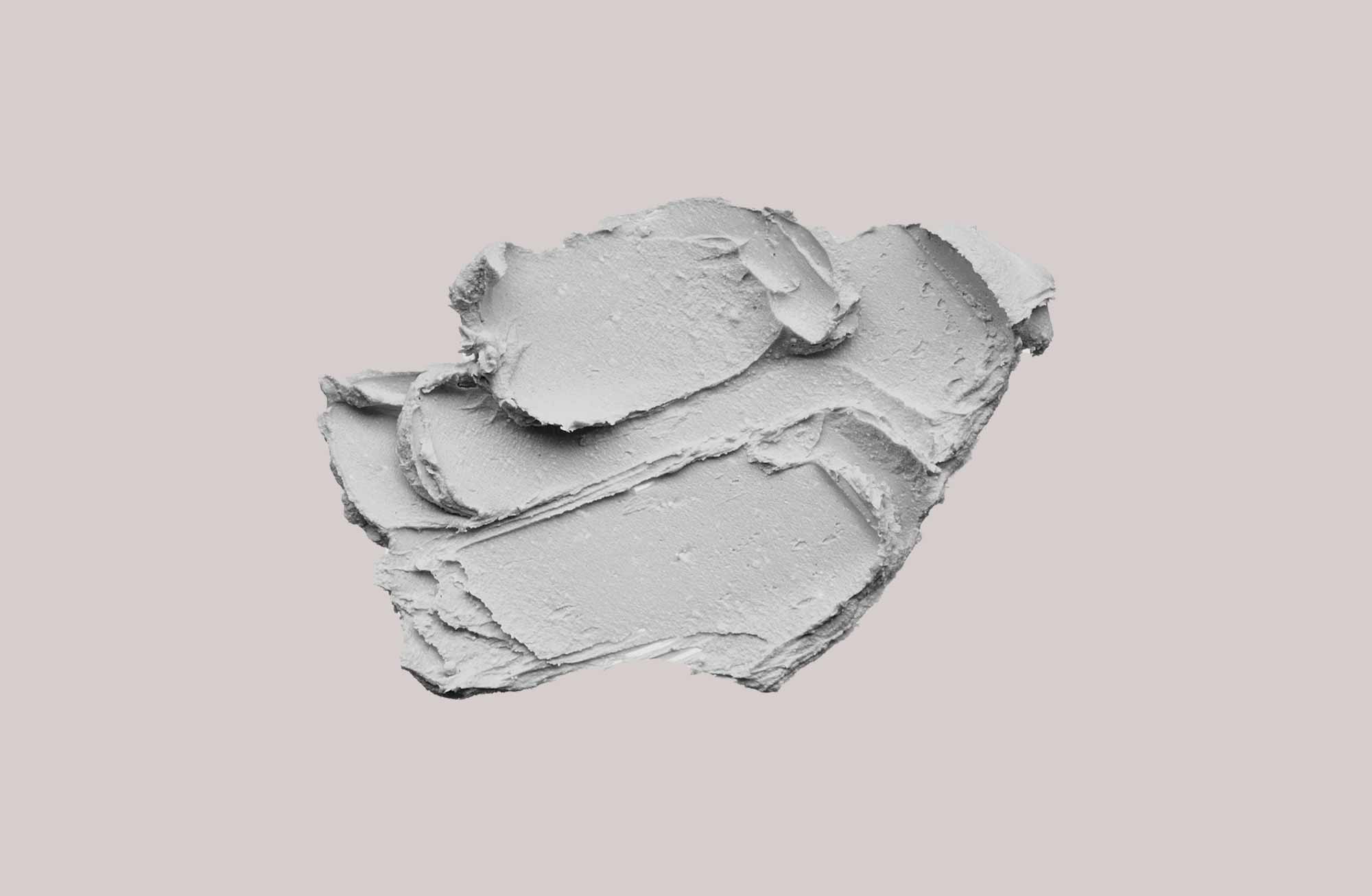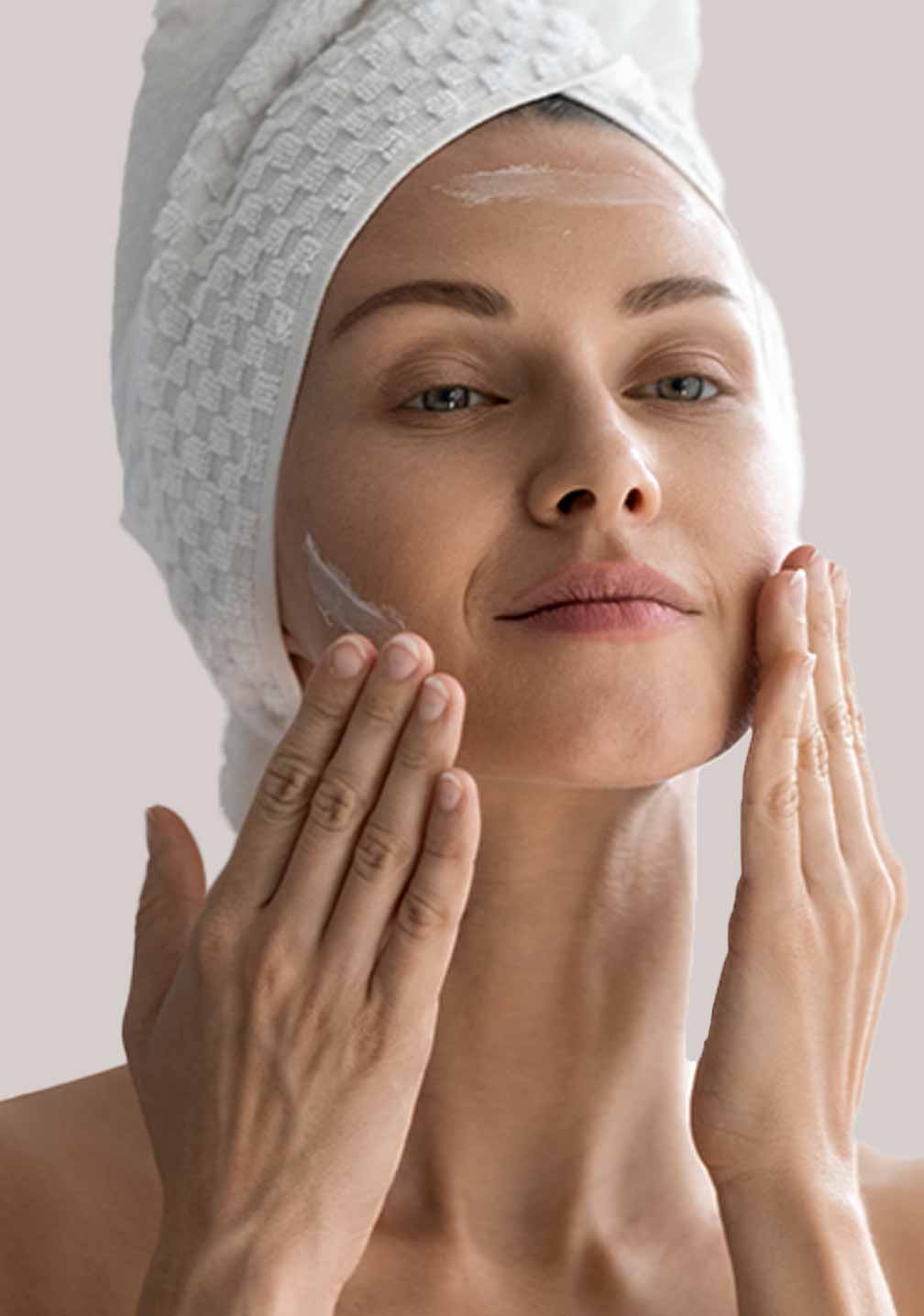 Anwendung
Tragen Sie die Silvercream auf und massieren Sie sie leicht ein. Bei unreiner und entzündlicher Haut in den ersten 4-6 Wochen morgens und abends auf die gereinigte Haut auftragen, anschließend nach Bedarf nur noch abends verwenden. Bei Neurodermitis und Akne als Tages- und Nachtcreme verwenden.
Product information "RAU Silvercream 50 ml - Special Cream for Impure Skin with Microsilver & Sage"
 Cream especially for the needs of impure skin with microsilver  & sage

 Has a calming, soothing, anti-itching & anti-inflammatory effect 
 Also suitable for acne & neurodermatitis, allergen-free perfuming  
 pH value approx. 6,5
Our "RAU Silvercream" was designed for the needs of impure skin and skin with acne. It can be applied to the face, but also to the whole body in order to reduce pimples and other signs of impurities of the skin.
The Microsilber BG used for our cream consists of ultra-fine particles of elemental silver, which can have an antimicrobial effect on the skin and deactivate bacteria and fungi even when applied in small concentrations. The aim is to relieve the skin of excessive bacterial colonisation and to ensure healthy looking skin from inside out.
Ingredients such as salicylic acid and ointment extract help to improve the overall appearance of the skin. Especially the active ingredient salicylic acid is recommended against various impurities ans well as acne. Salicylic acid gently removes dead skin cells, has anti-inflammatory and slightly antimicrobial effects that can be effective against a large number of bacteria and fungi and inhibits the development of microorganisms on the skin. The gentle face cream can also counteract redness.
Selected and proven active ingredients such as squalanes, ceramide 3, refatting lipids, hyaluronic acid and panthenol care for your skin and provide it with moisture.
With regular use, effects usually becomes visible after only a few days. Redness and pimples are reduced, the complexion is clear and mattified, oily problem skin is normalized. The sebum secretion of the skin is regulated to normal production in both cases: over- and under-functioning. Clogging of the pores is prevented.  

Application:
1. Cleanse your face, for example with our RAU Silver Facial Washgel.
2. Tone your face, for example with our RAU Tonic alcohol-free  
For the first 3-4 weeks apply it morning and evening. Afterwards, use it only in the evening if necessary. For neurodermatitis and acne use it as a day and night cream.
Important Ingredients: 
MicroSilver BG is a registered trademark of Bio-Gate AG.
INGREDIENTS:
AQUA (WATER); PENTYLENE GLYCOL; CETEARYL ALCOHOL; CELLULOSE; GLYCERYL STEARATE; DICAPRYLYL CARBONATE; METHYL GLUCOSE SESQUISTEARATE; DICAPRYLYL CARBONATE; UNDECANE; GLYCERIN; ZINC OXIDE; CAPRYLIC / CAPRIC TRIGLYCERIDE; TRIDECANE; PROPANEDIOL; SQUALANE; SILVER; CERAMIDE NP; SODIUM HYALURONATE; HELIANTHUS ANNUUS (SUNFLOWER) SEED OIL; PANTHENOL; XANTHAN GUM; SALVIA TRILOBA (SAGE) LEAF EXTRACT; COCO-CAPRYLATE; SALICYLIC ACID; PARFUM (FRAGRANCE); LINALOOL; LIMONENE; CITRIC ACID; TOCOPHEROL
Hautbedürfnis:

Purity

, Radiance

, Redness

Hauttyp:

Impure Skin

, Sensitive Skin

Inhalt:

50 ml

Produkt-Typ:

Face Cream

Sonstige Eigenschaften:

vegan

Textur:

Cream

Wirkstoff:

Salicylic Acid

, hyaluronic acid

, microsilver

, panthenol

, sage

, squalane

, urea

, xanthan

, zinc
---
Wir haben so viele Produkte ge
Wir haben so viele Produkte gegen unteine Haut ausprobiert. Die Produkte von Rau helfen innerhalb von 2 Wochen. Einfach großartig
Perfekt gegen unreine, hartnäckige Haut
Heute geht es um ein ganz besonders hartnäckiges Produkt, das wirklich alles ausmerzt: Die Silvercream. Auch Sie enthält Mikrosilber, dass antimikrobiell wirkt, ohne die Haut zu reizen. So ist Sie sogar für Neurodermitis geeignet und verhindert auch die weitere Ausbreitung verschiedener Hautprobleme. Und hier muss ich wirklich einmal sagen "Hut ab!". Die Silvercream ist extrem hartnäckig gegenüber jedem Hautproblem, insbesondere aber Akne und öliger Haut - und dennoch - es gab keine einzige Hautreizung. Nicht einmal ein kleiner roter Punkt auf dem Gesicht entstand. Und das ist bei meiner Haut ein Weltwunder. Denn ich habe nicht nur Pickel als Probleme (gehabt), sondern leide zudem unter extrem entzündlicher und trockener Haut. Und dennoch hätte ich die Creme so oft auftragen können, wie ich es wollte. Es gab keine Hautreizung und sogar mein mich ständig begleitender Juckreiz wurde gelindert - natürlich wird das alles nicht nach einem Tag ausgemerzt, aber es wurde alles deutlich sanfter und die Haut war nicht mehr so "angreifbar" wie vorher. Die Silvercream hat eine beachtliche Wirkung. Und hier noch einmal im Detail: Die Creme enthält wie auch das Silver Fashial Waschgel den Stoff Mikrosilber, der antimikrobiell wirkt. Er löscht also Bakterien und Zellen aus, die bei uns für Hautprobleme sorgen; Akne, Neurodermitis, Juckreiz, ölige Haut und Ähnliches, ohne dabei die Haut selbst anzugreifen. Nur die Problemstoffe werden behandelt, während der Rest des Gesichts verschont bleibt. Geeignet ist die Silvercream aber dennoch nur für besonders stark betroffene Haut, die wirklich unter Unreinheiten leidet. Grund dafür ist einfach, dass der Stoff genau für dieses Bedürfnis entwickelt wurde. Weitere besonders wichtige Inhaltsstoffe sind Salbei und Zink, die Verfettung stoppen und gleichzeitig Juckreiz lindern. Erste Ergebnisse sieht man schon nach der ersten Anwendung, aber etwa die fünfte oder sechste Anwendung war ganz besonders. Die Silvercream habe ich nämlich auch auf die Schultern aufgetragen, wo ich auch unter Pickeln litt. Und siehe da: Aus den Pickeln sind nur noch kleine Rötungen geworden, die langsam aber sicher abheilen. In den vorigen Pickeln sind aber keine auslösenden Bakterien enthalten, sodass die Haut sich nur noch rekonstruieren muss. Und schon sind die Pickel weg. Die Silvercream wird von mir wahnsinnig gerne empfohlen, insbesondere an alle Challenge-Teilnehmer, die dem Wunsch einer reinen Haut nicht nachkommen konnten. Die Silvercream ist genau das, was alle versprechen, aber es selbst nicht verspricht. Übrigens enthält sie neben den ausmerzenden Stoffen auch eine große Auswahl an pflegenden und rückfettenden Stoffen, die die Haut sich regenerieren lassen lässt. RAU Cosmetics hat dabei nur besonders erprobte und schnell wirksame Inhaltsstoffe verwendet. Mit dabei sind unter anderem die bekannten Wirkstoffe Hyaluronsäure, Panthenol, Ceramide 3, rückfettende Lipide und Squalene. Von mir gibt es eine der wärmsten Empfehlungen an unreine Haut, die ich jemals gegeben habe.
Sehr guter Service, sehr schnelle Lieferung, die Ware war liebevoll verpackt. Der erste Eindruck der Creme ist sehr gut, meine sehr problematische und empfindliche Haut mit teilweise trockenen Stellen und Akne tarda an Hals und Kinn wird gepflegt aber nicht überpflegt und wird schön mattiert. Zum Langzeiteffekt der Wirkung kann ich zum jetzigen Zeitpunkt jedoch noch nichts sagen. Ich bin gespannt!
(Quelle: <a href='https://www.shopvote.de/show-products.php?shopid=15529' target='_blank'>SHOPVOTE</a>)
Ich benutze die Creme erst seit 3 Wochen und bin super zufrieden. Hatte schon immer unreine haut und viele Pickel. Die Pickel sind nun so gut wie verschwunden. Es sind auch keine neuen mehr nachgekommen. Ich bin richtig happy mit dieser Creme.
Top Produkt und es hilft *****
Da meine Haut zu seborrhoisches Dermatitis neigt ,verwende ich seit längeren die Creme, habe sehr positive Veränderungen wahrgenommen! Nach zwei Wochen hatte ich bereits weniger Rötungen im Gesicht.Nun nach drei Wochen bin ich sehr zufrieden! Keine Schuppen mehr und mein Gesicht sieht richtig gesund aus. Durch die Creme ist meine Haut nicht mehr fettig.Die Creme ist sehr angenehm aufzutragen. Ich verwende die Creme zur Zeit nur morgens und nach dem Saunabesuch. Es lässt sich sehr gut Auftragen, die Haut ist sehr weich und fühlt sich danach richtig gut an. Ich bin zu einigen Hautärzte gegangen und es hat nie etwas gebracht,bis ich zur Kosmetikerin ging. Sie wollte die Creme mal bei mir ausprobieren, es ist der absolute Hit ! ! ! Vielen Dank Frau Engelmeier
Ich neige zu perioraler Dermatitis und zu hormoneller Akne. Dieses Produkt nutze ich zur Zeit nur abends und meine Haut hat sich bereits merklich gebessert. Es trocknet die Haut dabei absolut nicht aus
Ich habe lange nach einer Pflege gesucht die meine Unreinheiten endlich in ein Griff bekommt. Und schon nach ein paar Tagen konnte ich sehen wie meine Haut nach und nach besser und beruhigender wurde ! Ich nehme die ganze Serie, Creme, Wasch Gel, BHA (alle 2 Wochen) und Aha ! Mega super Produkt !!!
Niacinamide Serum 100 ml
✔ with 10% niacinamide ✔ moisturizing due to the active ingredient aloe vera ✔ skin texture can be visibly improved ✔ can lighten skin discolorations and counteract them preventively ✔ developed & produced in Germany Skin typeThe face serum is suitable for all skin types. ApplicationApply to cleansed skin in the morning and evening and massage in gently. Do not apply at the same time as a BHA or AHA peel. EffectRegular use can improve the appearance of the skin. Hazard statementsNot suitable for children under 6 years of age.Avoid contact with eyes and mucous membranes. Our Niacinamide Serum is THE all-rounder concentrate for your skin. It can have a brightening effect on pimple marks, pigment spots and acne scars, can refine pores, moisturize and provide a beautiful complexion. The active ingredient combination of the Niacinamide Serum:The serum contains 10% niacinamide. The active ingredient is a derivative of vitamin B 3. Thanks to its outstanding properties, the appearance of the skin can be visibly improved by our Niacinamide Serum: It can lighten and preventively counteract skin discoloration, it provides protection against premature aging as an antioxidant, and it can moisturize. As a result, you can enjoy a beautiful, even complexion. Impure, coarse-pored or oily skin can also benefit, because niacinamide can refine pores, soothe the skin and regulate sebum production. In addition, the active ingredient has anti-bacterial properties, which can counteract excessive germ formation. Furthermore, the niacinamide serum contains 1% zinc PCA. This versatile active ingredient is known to retain moisture in the skin. In addition, zinc PCA has outstanding sebum-regulating properties and can have an anti-bacterial effect. Zinc PCA is therefore particularly recommended for impure skin, oily skin or acne. Also the contained extracts of Maclura Cochinchinensis are very suitable for impure skin to reduce and prevent impurities. The contained Aloe Vera can moisturize the skin, soothe it and support its regeneration. Highly effective hyaluronic acid can moisturize and help the skin retain moisture. This can make the skin appear smoother and plumper. Other active ingredients such as arginine, lactic acid and glycerin also contribute to a healthy moisture balance. IngredientsALOE BARBADENSIS LEAF JUICE - Aloe Vera - moisturizing, skin nourishing AQUA (WATER) - water - solvent, moisturizes the skin NIACINAMIDE - Niacinamide - Reduces roughness of the skin and evens out irregularities GLYCERIN - Glycerin - Moisturizes the skin, plant-based PENTYLENE GLYCOL - Pentylene glycol - Moisturizes the skin. METHYLPROPANEDIOL - Solvent MACLURA COCHINCHINENSIS LEAF PRENYLFLAVONOIDS - antioxidant of plant origin - skin nourishing SODIUM HYALURONATE - hyaluronic acid - moisturizing, skin nourishing ZINC SULFATE - Zinc sulfate - pulls the skin together/densifies the skin surface PROPANEDIOL - solvent - increases or decreases viscosity of the product XANTHAN GUM - Xanthan gum - Enables the formation of emulsions, increases the viscosity of cosmetic products CITRIC ACID - Citric acid - Reduction of horny skin, blackheads, acne scars, fine wrinkles, pore width/depth SODIUM LACTATE - sodium salt of lactic acid - moisturizing, helps remove dead skin cells from the skin surface LACTIC ACID - Lactic acid - moisturizing, skin conditioning, regulates / stabilizes the pH of cosmetic products TETRASODIUM GLUTAMATE DIACETATE - stabilizer - influences stability and quality of the product SODIUM HYDROXIDE - sodium hydroxide - regulates and stabilizes the pH of the product ETHYLHEXYLGLYCERIN - Ethylhexylglycerin - skin conditioning agent ARGININE - L-Arginine (an amino acid) - nourishes the skin and improves the smell of the product PHENOXYETHANOL - phenoxyethanol - antimicrobial, protects the product from spoiling POTASSIUM SORBATE - potassium salt - protects the product from microbial spoilage and gives the product a pleasant smell SODIUM BENZOATE - sodium salt - protects the product from microbial spoilage and gives the product a pleasant smell
Content: 0.1 Liter (€598.00* / 1 Liter)
Bakuchiol & Vitamin E Daily Care Serum 100 ml - Anti-Aging Concentrate
APPLICATIONApply to cleansed skin in the morning. EFFECTWith regular use, the concentrate can lend a pleasently soft skin feeling. HAZARD WARNINGSNot suitable for children under 3 years of age.Do not allow to get into eyes. Rich anti-aging concentrate for daily skin care. The main active ingredient used, Bakuchiol, stimulates collagen synthesis, fights free radicals and has an antimicrobial effect, thus it can prevent wrinkles and premature aging of the skin. The contained vitamin E provides natural UV protection and can have an anti-inflammatory effect. Valuable plant oils and moisturizing active ingredients such as sunflower oil care for the skin and make it soft to the touch. INGREDIENTSAQUA (WATER) - water - solvent, moisturizes the skin ALCOHOL - alcohol - antimicrobial, perfuming GLYCERIN - Glycerin - Moisturizes the skin, plant-based GLYCERYL OLEATE CITRATE - Surfactant - Allows the formation of finely divided mixtures of oil and water SQUALANE - Squalane - Makes the skin smooth and supple COCO-CAPRYLATE - Caprate - Makes the skin smooth and supple BAKUCHIOL - Bakuchiol - Inhibits the growth of microorganisms (e.g. bacteria and fungi) DICAPRYLYL ETHER - Dicaprylylether - Makes the skin smooth and supple HELIANTHUS ANNUS (SUNFLOWER ) SEED OIL - Sunflower - Improves the smell of a product and/or perfumes the skin TOCOPHERYL ACETATE - Vitamin E acetate - Keeps the skin in good condition TOCOPHEROL - Vitamin E - Keeps the skin in good condition GLYCIN SOJA (SOYBEAN) OIL - Soybean oil - strong cell regenerating & cell activating, optimal for mature skin BISABOLOL - alpha-Bisabolol - skin-soothing or skin-regenerating, antibacterial, anti-inflammatory CAPRYLIC / CAPRIC TRIGLYCERIDE - esterification product of glycerin with capric acid and caprylic acid (1:3) - keeps skin in good condition XANTHAN GUM - xanthan gum - enables the formation of emulsions, increases the viscosity of the product ALCOHOL - Alcohol - antimicrobial, perfuming SCLEROTIUM GUM - scleroglucan - keeps the skin in good condition SODIUM LACTATE - Sodium lactate (sodium salt of lactic acid) - Helps remove dead skin cells from the skin surface SODIUM LEVULINATE - Levulinic acid - Keeps skin in good condition SODIUM ANISATE - Sodium - Inhibits the growth of microorganisms (e.g. bacteria and fungi) LACTIC ACID - Lactic acid - Regulates and stabilizes the pH of cosmetic products PARFUM (FRAGRANCE) - Perfume - Improves the odor of a product and/or perfumes the skin DISODIUM COCOYL GLUTAMATE - Disodium - Cleanses skin POTASSIUM SORBATE - Potassium sorbate - Improves the smell of the product LINALOOL - Linalool - natural fragrance BENZYL SALICYLATE - Benzyl salicylate - Protects the cosmetic product from damage caused by UV light
Content: 0.1 Liter (€598.00* / 1 Liter)
RAU Caviar Pore Minimizer Serum 50 ml - Pore Refining & Protecting Concentrate
Nourishing concentrate for dry & irritated skin Intensively hydrating and pore refining Contains caviar extract, algae, sea salt & plankton extract Our "RAU Caviar Pore Minimizer Serum" is designed for dehydrated skin in need of regeneration. The particularly moisturizing active ingredients caviar extract, oyster, algae and plankton extract have been combined in our "RAU Caviar Pore Minimizer Serum" in order to form a unique active ingredient complex. This active ingredient complex protects the skin barrier and ensures a healthy skin texture. In addition, the skin cells are stimulated, allowing the skin to regenerate deeply. Furthermore, this concentrate has a rehydrating effect, which means it helps the skin to store moisture more efficiently. Unpleasant feelings of tension subside significantly, your pores are refined and your skin can finally glow once again. Application: 1. Cleanse your face, for example with our RAU Cleansing Lotion 2. Tone your face, for example with our RAU Tonic alcohol-free 3. Then apply your day cream, for example, our RAU Extrait de Caviar 24h Cream. Important Ingredients: Algae (INCI: FUCUS VESICULOSUS EXTRACT) Butylene Glycol (INCI: BUTYLENE GLYCOL) Caviar (INCI: HYDROLYZED CAVIAR EXTRACT, HYDROLYZED ROE) Hydrolized Actin (INCI: HYDROLYZED ACTIN) Ostrea (INCI: OSTREA (OYSTER) SHELL EXTRACT) Propylene Glycol (INCI: PROPYLENE GLYCOL) Plankton Extrakt (INCI: PLANKTON EXTRACT) Sea Salt (INCI: MARIS LIMUS (SEA SiLT) EXTRACT) Sodium Salt (INCI: SODIUM PCA) Xanthan (INCI: XANTHAN GUM) INGREDIENTS: AQUA (WATER), BUTYLENE GLYCOL, GLYCERIN, PLANKTON EXTRACT, MARIS LIMUS (SEA SALT) EXTRACT, OSTREA (OYSTER) SHELL EXTRACT, HYDROLYZED CAVIAR EXTRACT, HYDROLYZED ACTIN, HYDROLYZED ROE FUCUS VESICULOSUS EXTRACT, SODIUM PCA, XANTHAN GUM, PROPYLENE GLYCOL, BENZOIC ACID, PHENOXYETHANOL, ETHYLHEXYLGLYCERIN, DEHYDROACETIC ACID, POTASSIUM SORBATE
Content: 0.1 Liter (€548.00* / 1 Liter)