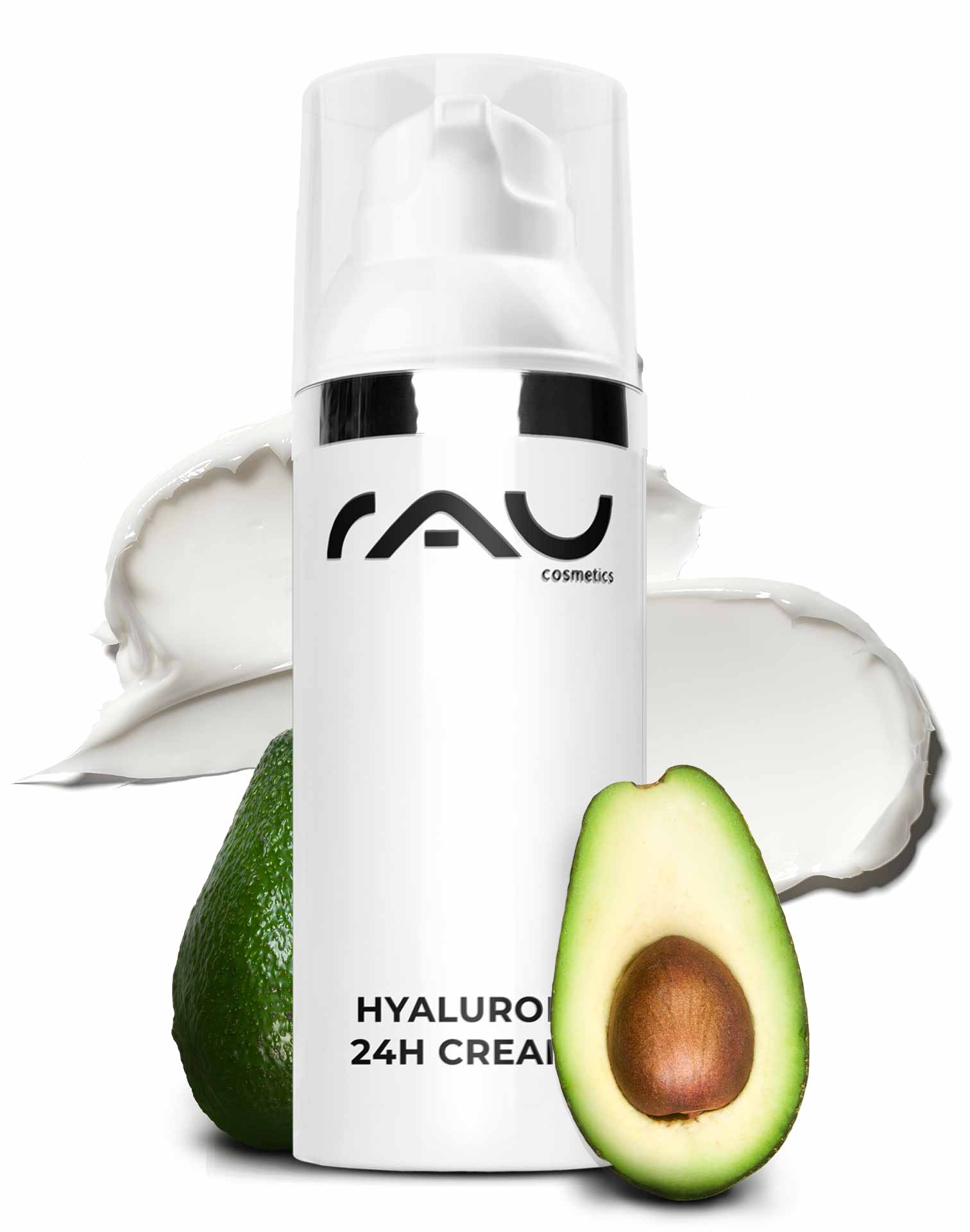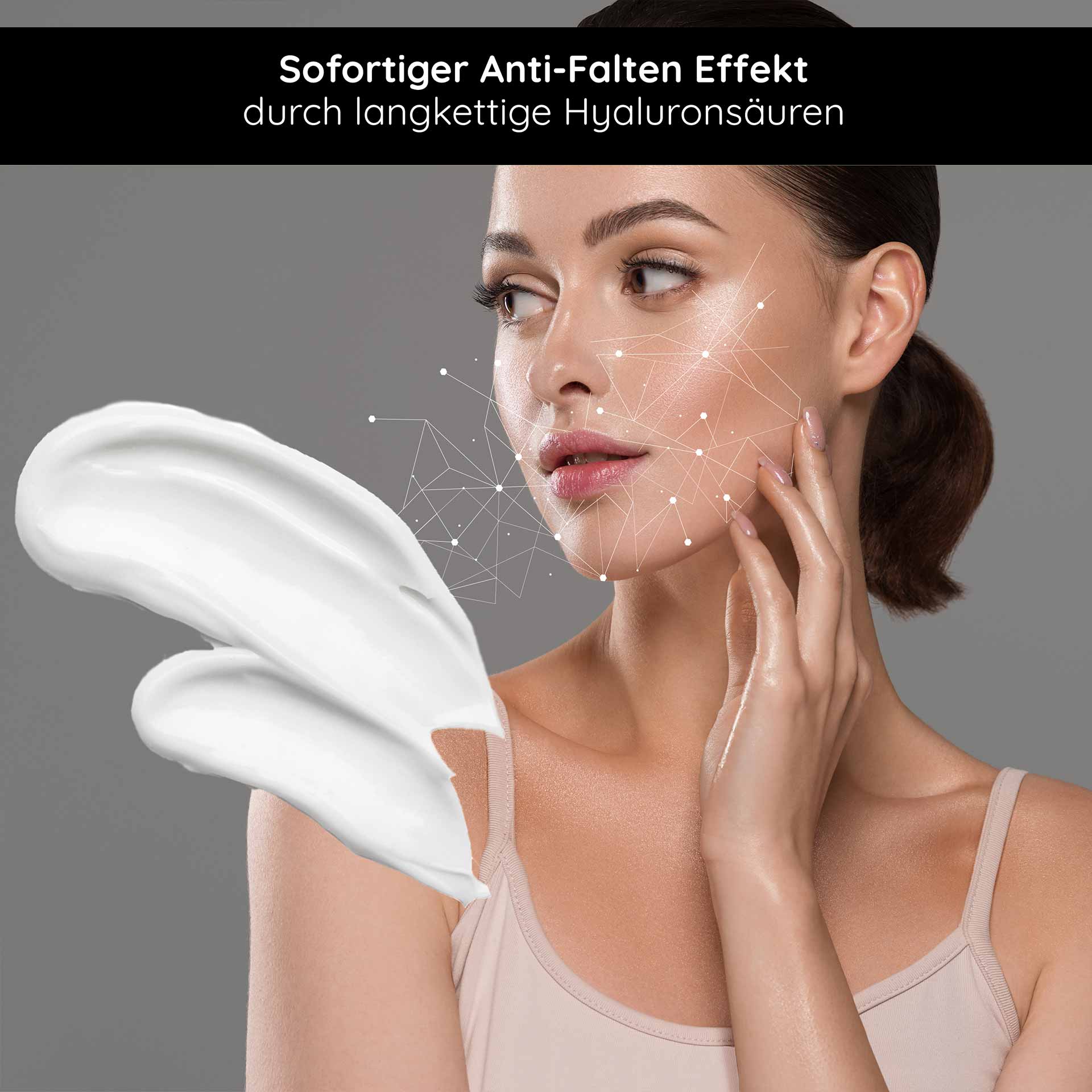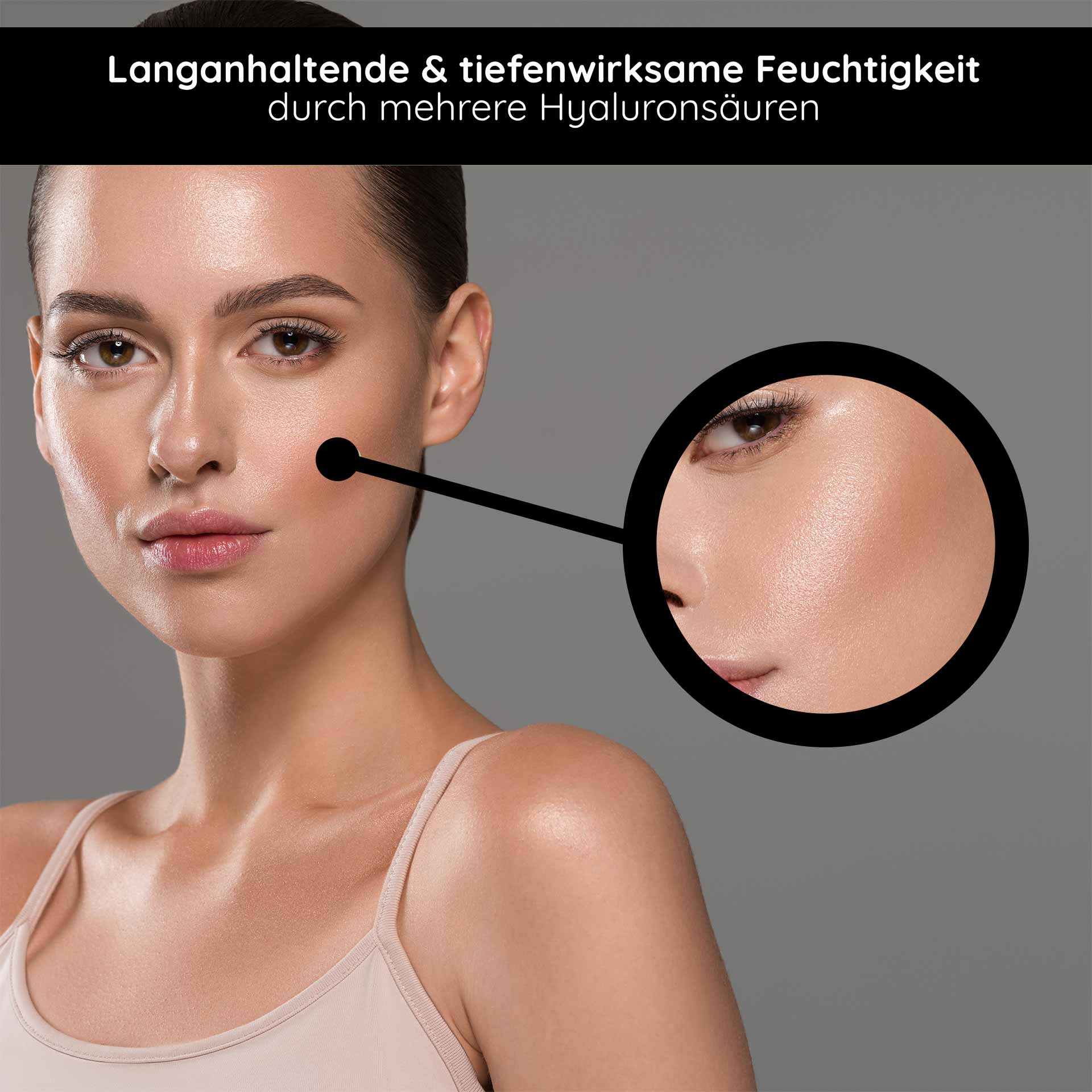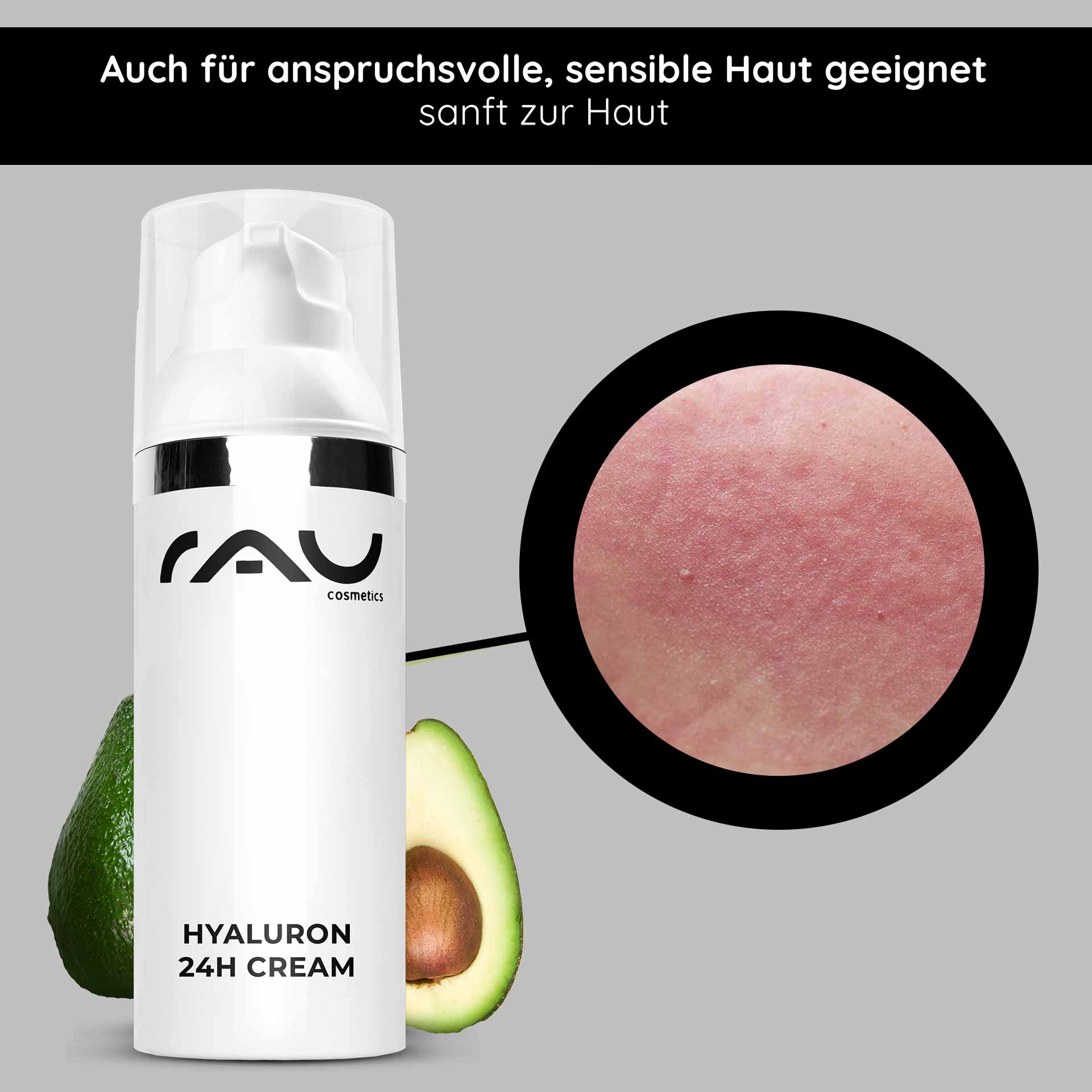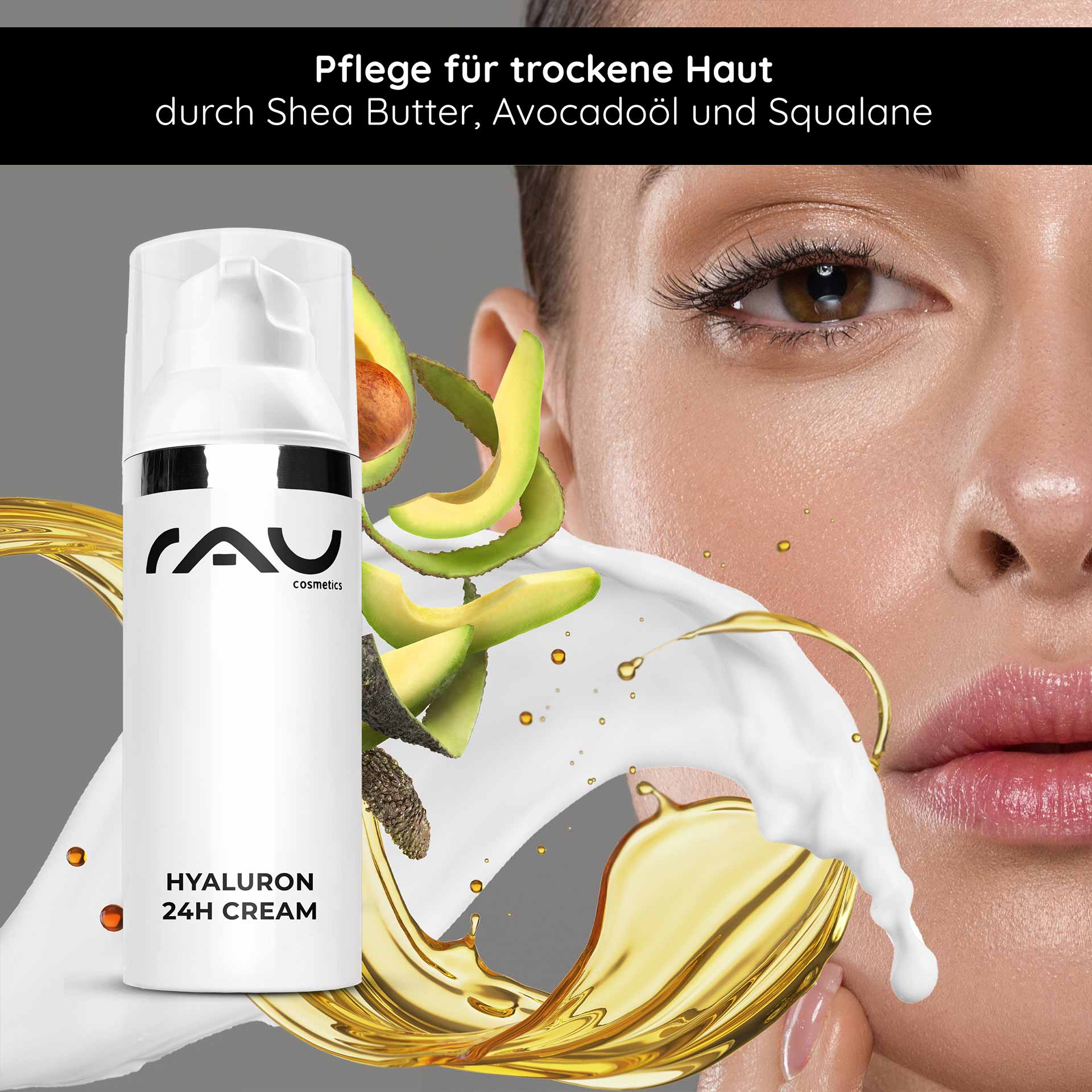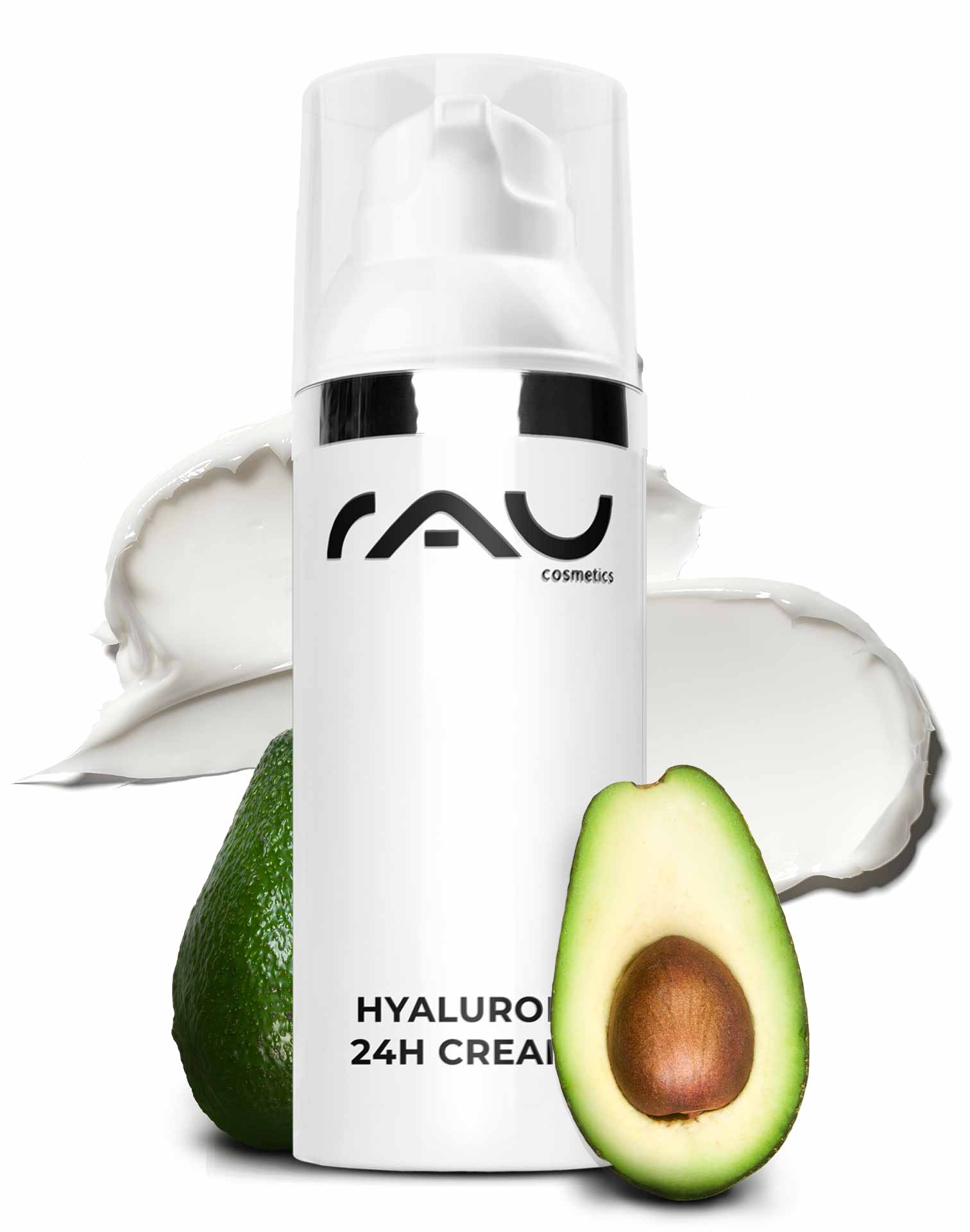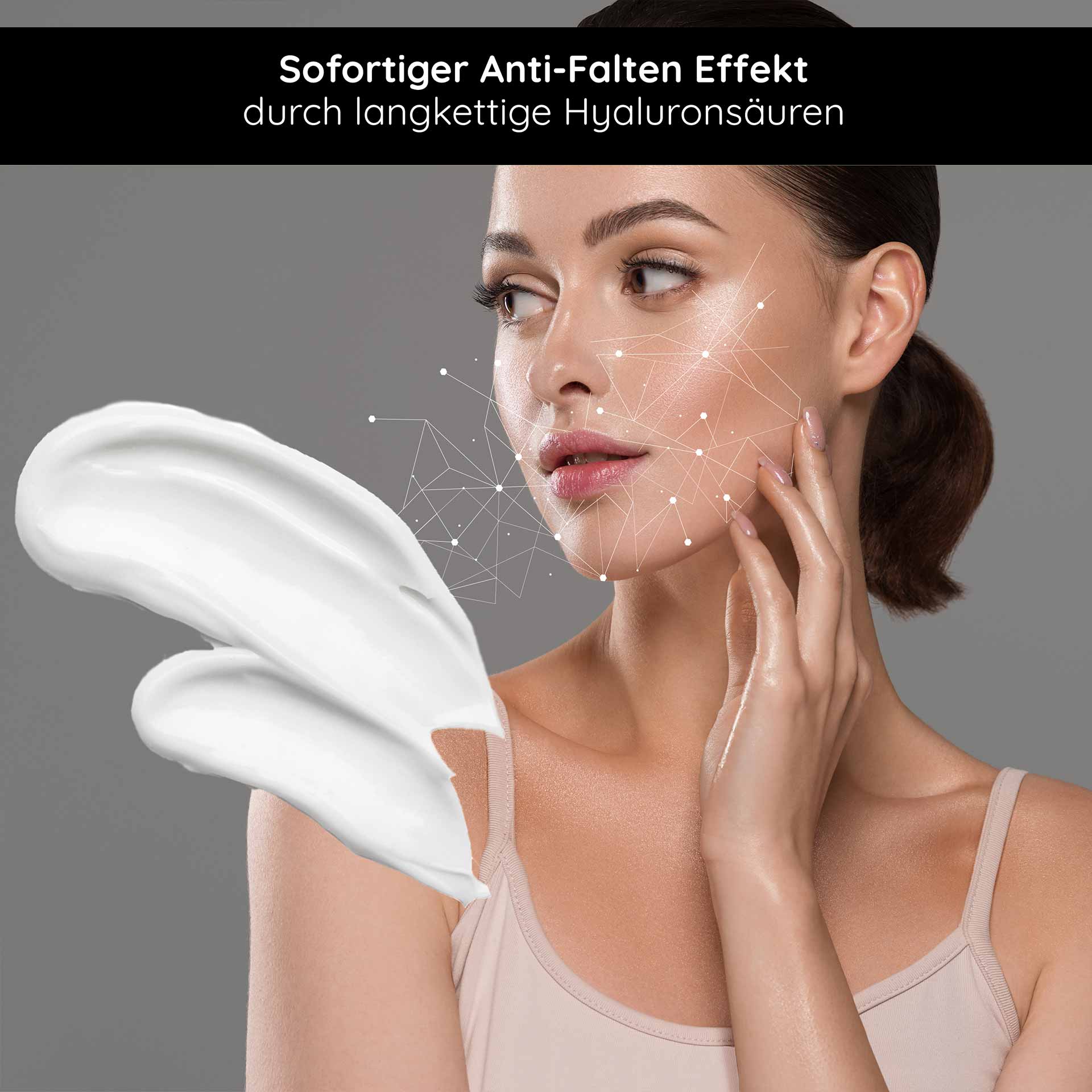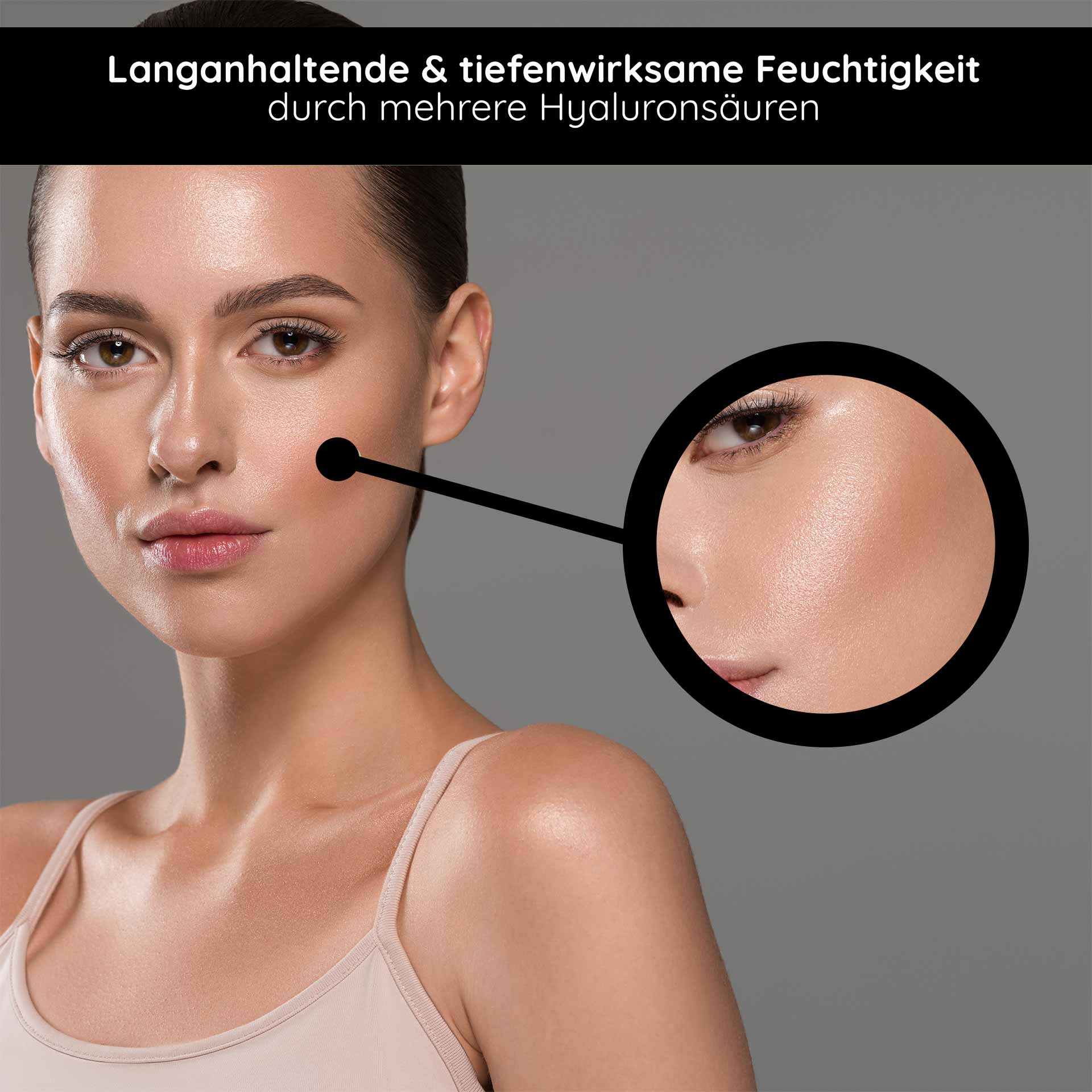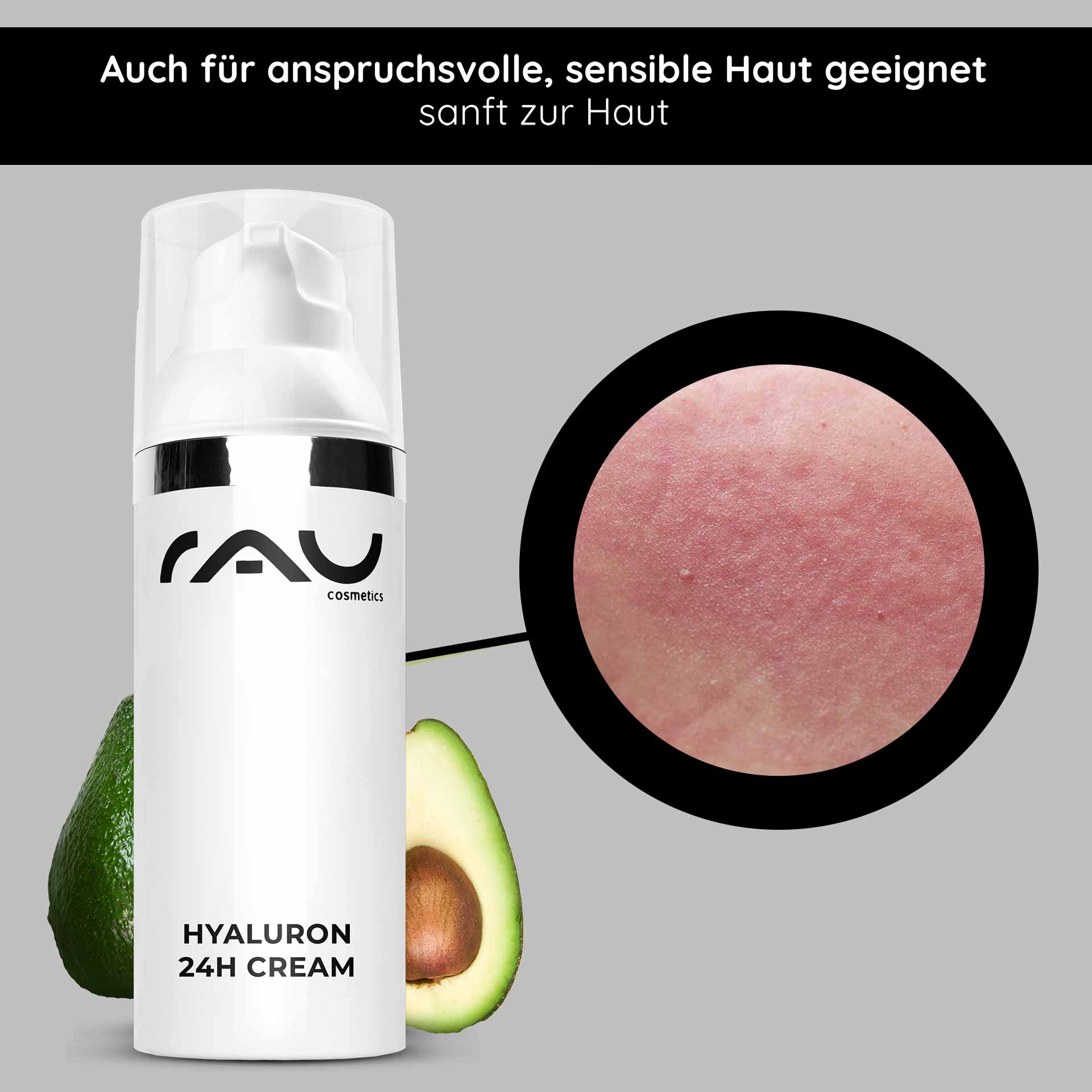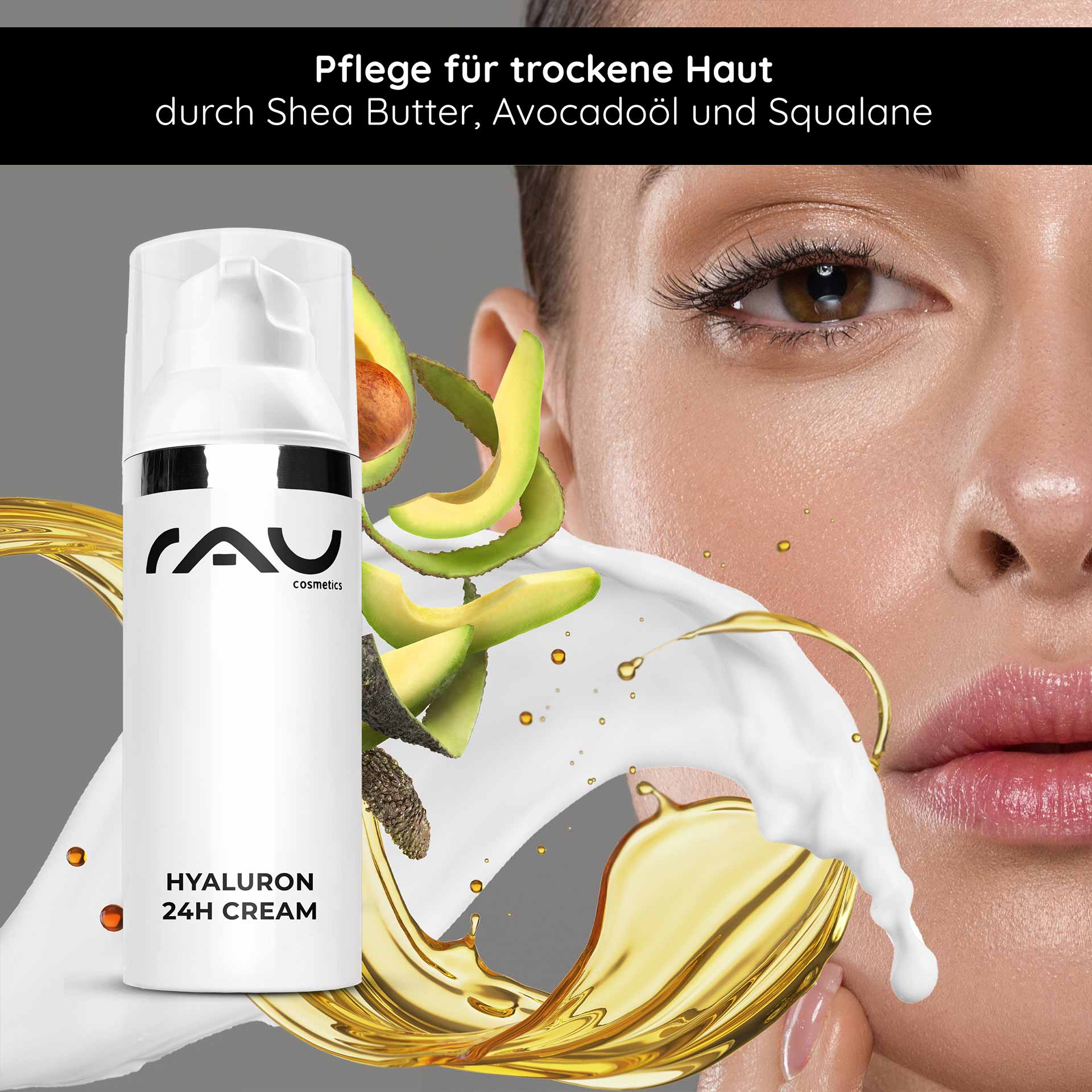 RAU Hyaluron 24h Cream 50 ml - Hyaluronic Acid Cream with Shea Butter & Avocado Oil
€35.80*
Content:
0.05 Liter
(€716.00* / 1 Liter)
Available, delivery time: 1-3 days
Manufacturer:
RAU Cosmetics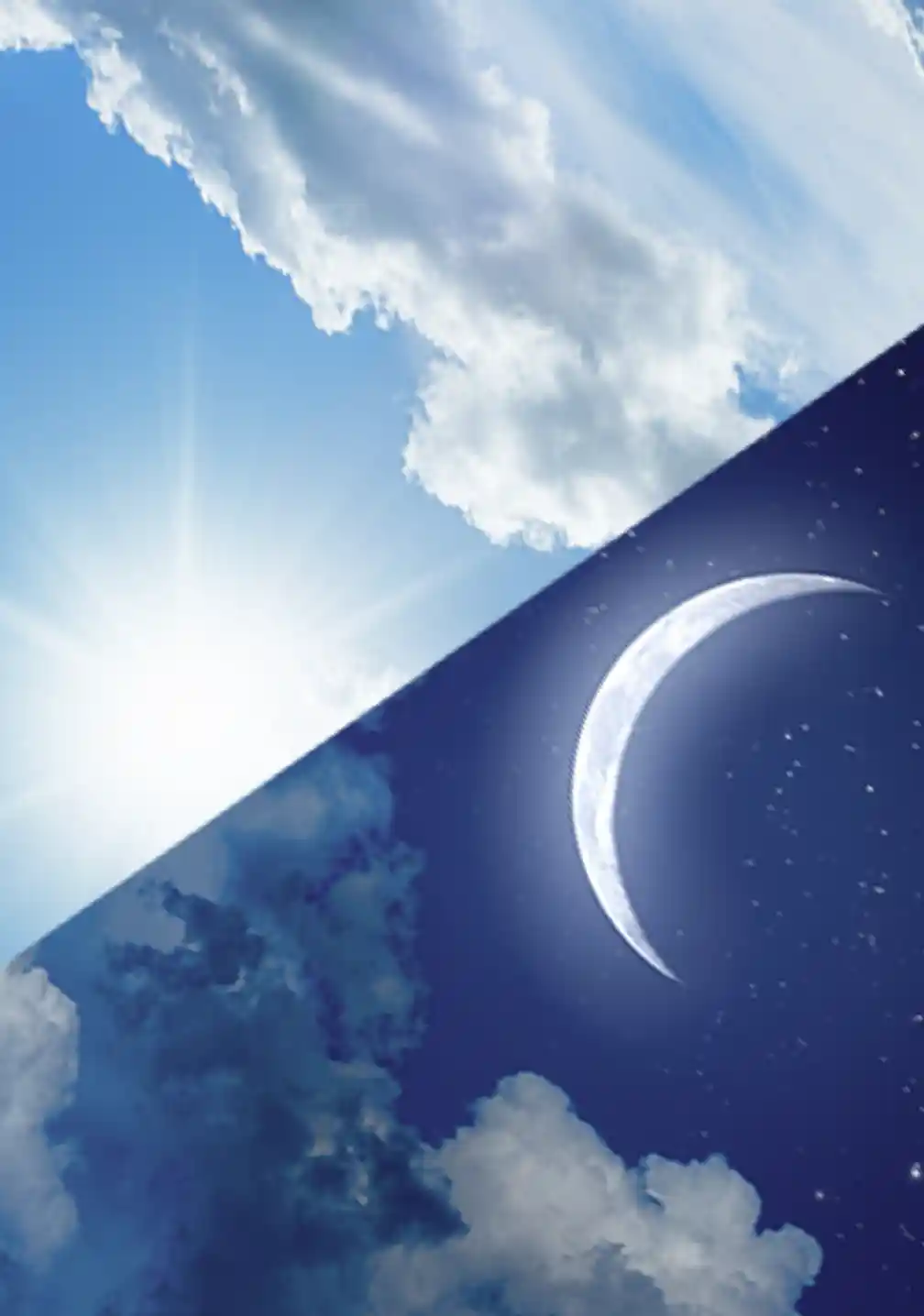 Tageszeit
Die Creme können Sie sowohl morgens als auch abends verwenden.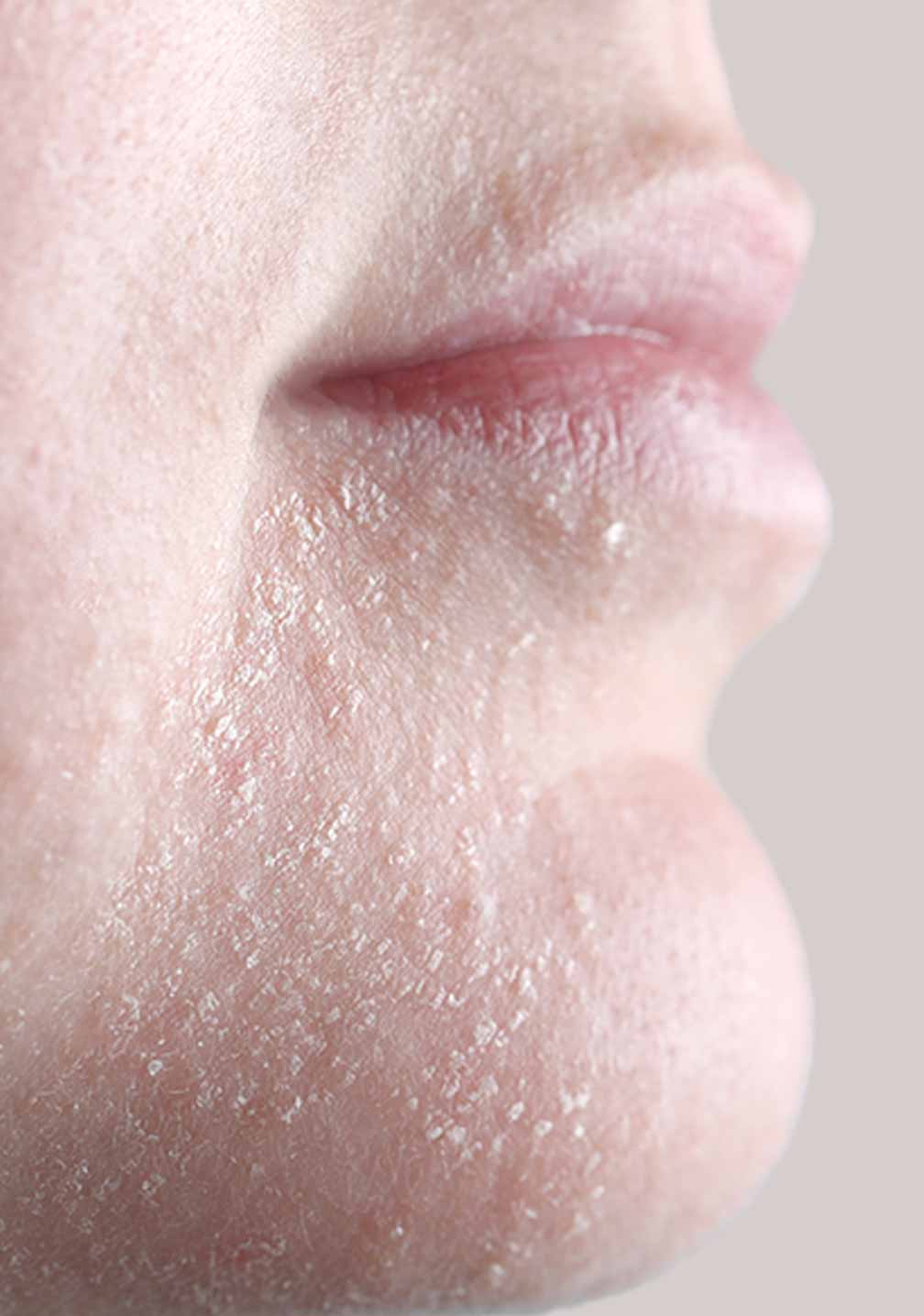 Hauttyp
trockene & anspruchsvolle Haut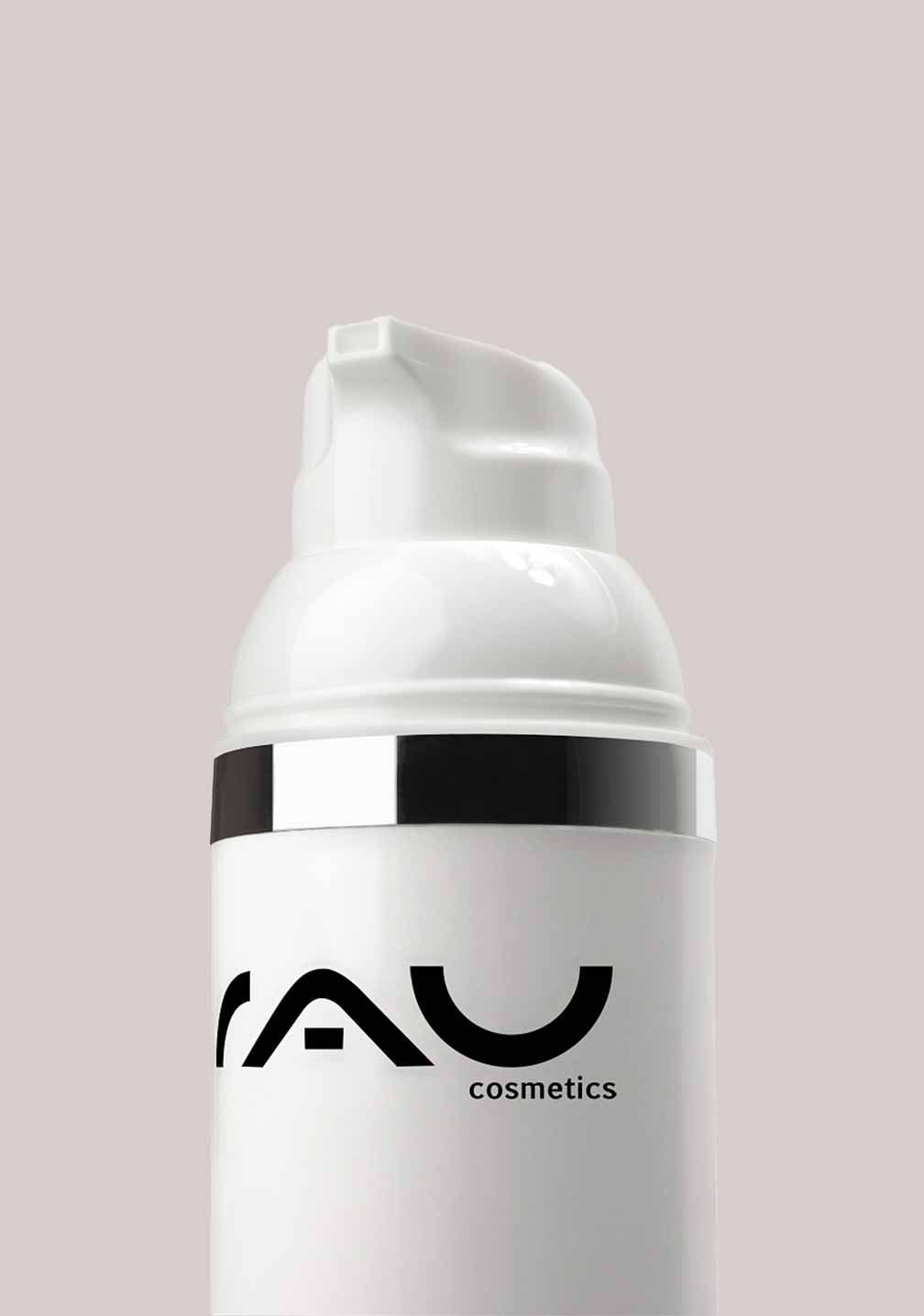 Praktischer Spender
Durch den praktischen Airless-Spender können Sie die Creme richtig dosieren.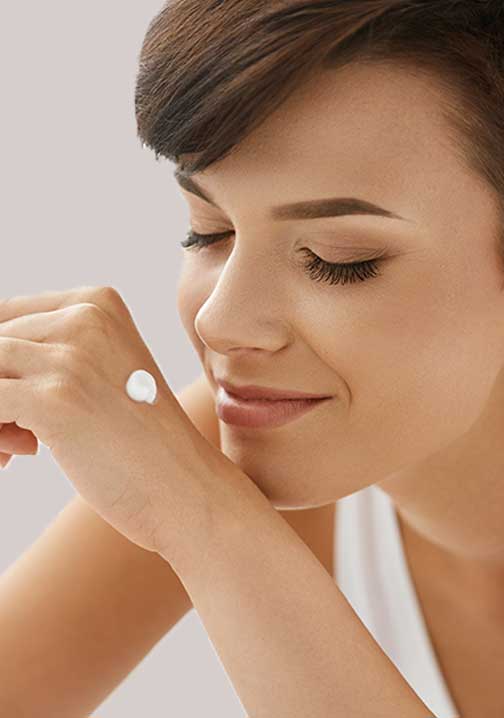 Geruch
Die Creme hat einen angenehm milden Duft.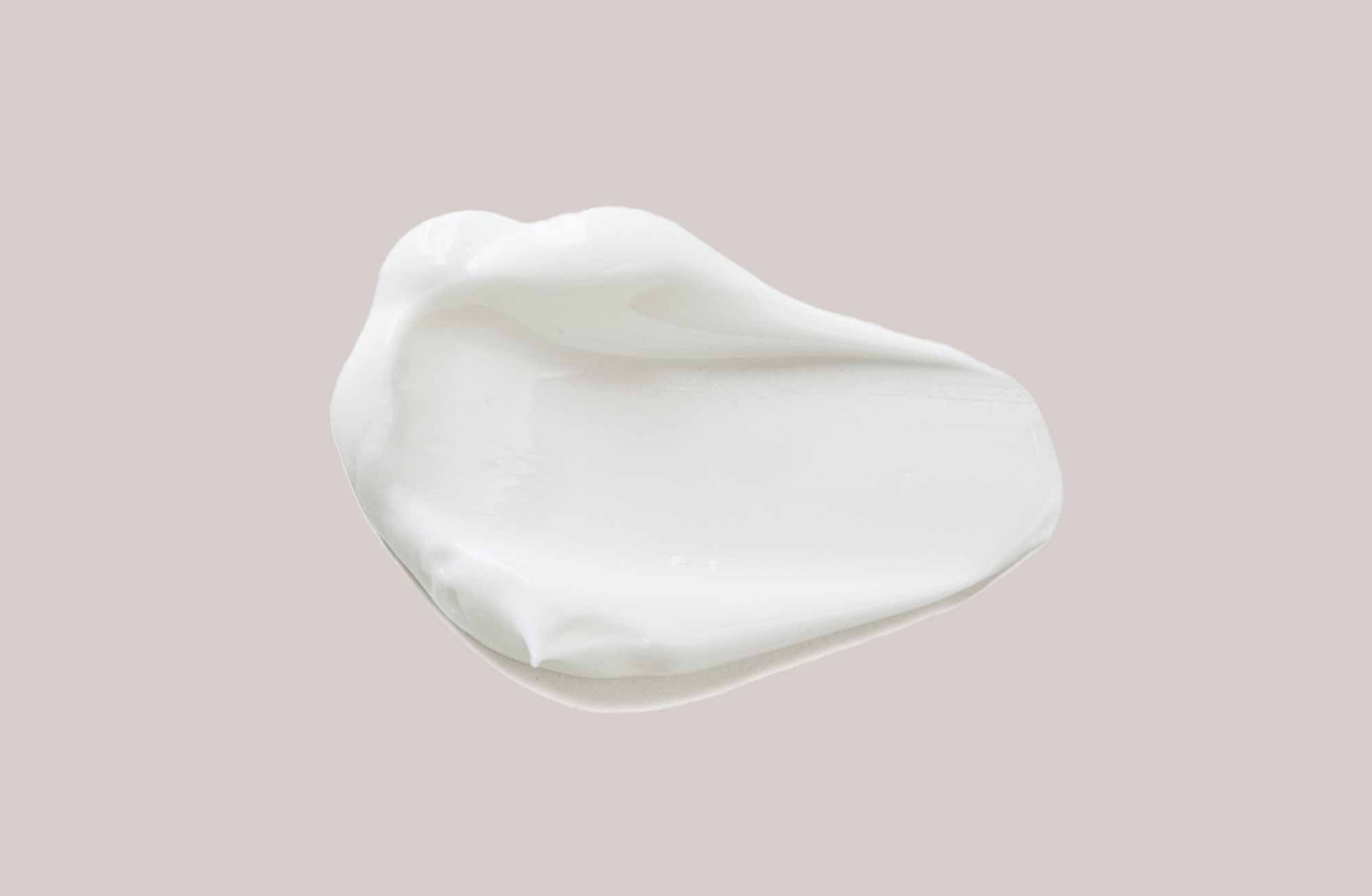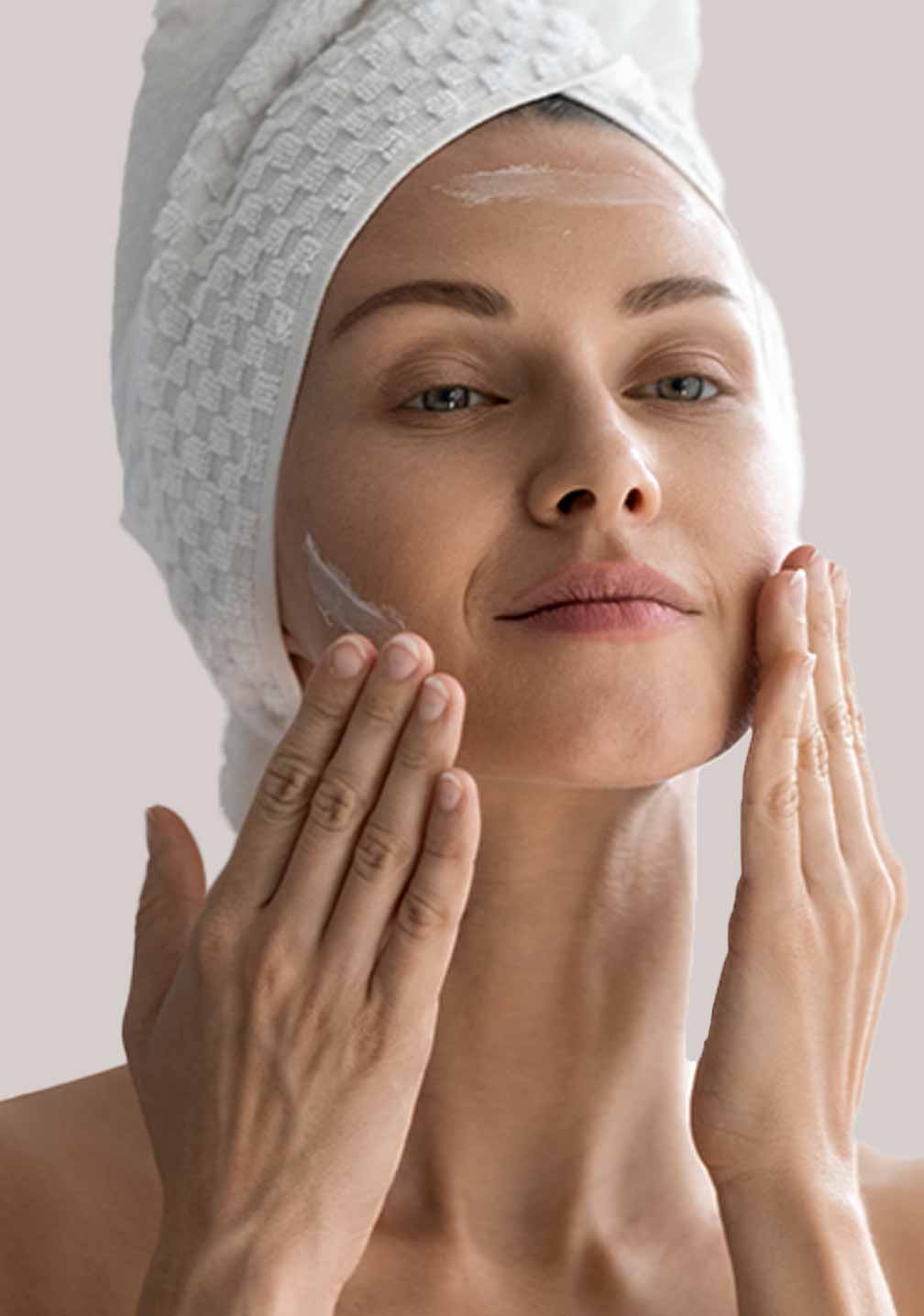 Anwendung
Auf die gereinigte Gesichtshaut auftragen und einmassieren.
Product information "RAU Hyaluron 24h Cream 50 ml - Hyaluronic Acid Cream with Shea Butter & Avocado Oil"
 For challenging & dry skin
 Pure moisturising skin care
 Immediate plumping effect
Our"RAU Hyaluron 24h Cream" is a compact hyaluronic acid cream for demanding and dry skin. Its main active ingredients are low-molecular as well as high-molecular hyaluronic acids, providing your skin with intensive moisture.
Long-chained hyaluronic acid can effectively bind moisture inside the upper skin layers and, thus, cause an immediate plumping effect. This firming and smoothing effect is visble within a short time after application. In contrast, short-chained hyaluronic acid penetrates the upper skin layers and can have permanent influence on the skin´s inner moisture balance.
Lipid-supporting substances, like shea butter, avocado oil and olive-based squalane nourish dry skin.
When applied on a regular basis, this product can have a moisture-boosting long-term effect. Your skin benefits from an increased moisture supply, making it look firmer and younger.
Application:
1. Cleanse your face, for example with our RAU Cleansing Lotion
2. Tone your face, for example with our RAU Tonic alcohol-free  
3. Apply the face cream in the morning and evening
Important Ingredients:
INGREDIENTS:
AQUA (WATER); DICAPRYLYL CARBONATE; ETHYLHEXYL STEARATE; CETEARYL ALCOHOL; GLYCERIN; CAPRYLIC / CAPRIC TRIGLYCERIDE; SQUALANE; PERSEA GRATISSIMA (AVOCADO) OIL; BUTYROSPERMUM PARKII (SHEA) BUTTER; SODIUM HYALURONATE; SODIUM STEAROYL GLUTAMATE; XANTHAN GUM; ETHYLHEXYLGLYCERIN; ALCOHOL; TOCOPHEROL; ASCORBYL PALMITATE; ASCORBIC ACID; SODIUM HYDROXIDE; PARFUM (FRAGRANCE); CITRIC ACID; PHENOXYETHANOL; TETRASODIUM GLUTAMATE DIACETATE; LINALOOL; LIMONENE
Auf Amazon:
Hautbedürfnis:

Anti-Aging

, Hydration

, Radiance

Hauttyp:

Combination Skin

, Dry Skin

, Mature Skin

, Normal Skin

, Sensitive Skin

Inhalt:

50 ml

Kategorie:

Anti-Aging

, Hydration

Produkt-Typ:

Face Cream

Sonstige Eigenschaften:

vegan

Textur:

Cream

Wirkstoff:

ascorbic acid

, avocado oil

, fruit acid

, hyaluronic acid

, shea butter

, squalane

, xanthan
---
Ich hatte diese Creme als Probe geschickt bekommen und muß sagen, sie ist wirklich toll! Ich benutze vorweg das Aloe Vera Concentrate, um meine (manchmal recht zickige & zu Rörungen neigende) Haut noch zusätzlich zu beruhigen. Meine Haut ist dann super mit Feuchtigkeit versorgt und bei Bedarf hält auch das Make-up sehr gut. Werde ich demnächst mitbestellen und kann die Creme auf jeden Fall empfehlen!
Eine tolle reichhaltige Pflege mit Sofortefekt
Ich trage die Creme abends dick auf das gesamte Gesicht auf und lasse es einziehen die Haut ist dann pur durchfeuchtet und am nächsten Morgen sichtbar praller. Ein absolutes Top Produkt was man sich zulegen sollte
Tolles Produkt für morgens und abends
Tolle reichhaltige Creme für morgen uns abends geeignet. Gut als Grundlage zur Foundation! Duftet angenehm. Eine kleine Menge reicht fürs ganze Gesicht.
Tolle Creme. Ich benutze vorhe
Tolle Creme. Ich benutze vorher das Moist Concentrate mit Hyaluron und meine Haut ist so zart den ganzen Tag lang.
Tolle Creme. Ich benutze...
Tolle Creme. Ich benutze vorher das Moist Concentrate mit Hyaluron und meine Haut ist so zart den ganzen Tag lang. (Quelle: <a href='https://www.shopvote.de/show-products.php?shopid=15529' target='_blank'>SHOPVOTE</a>)