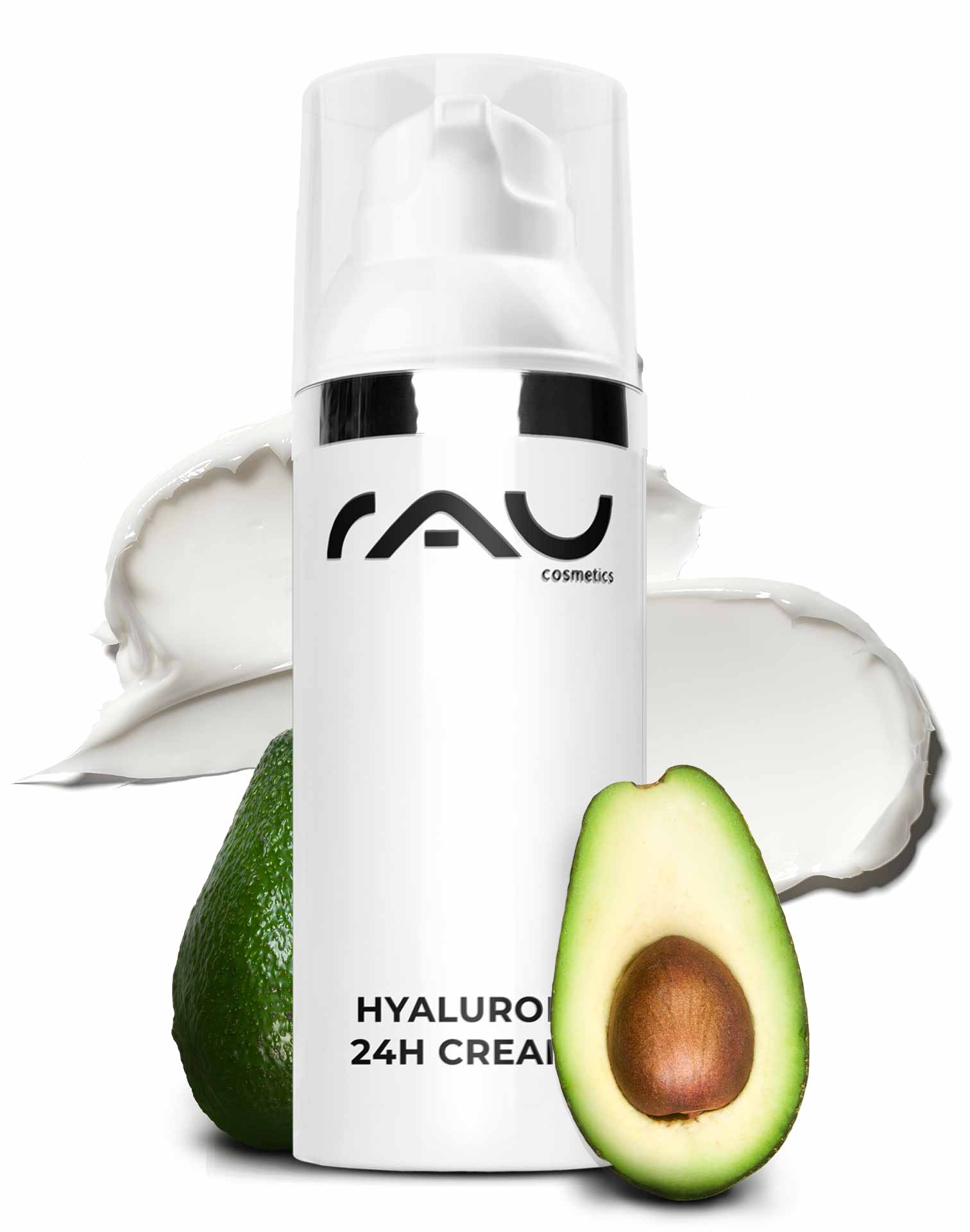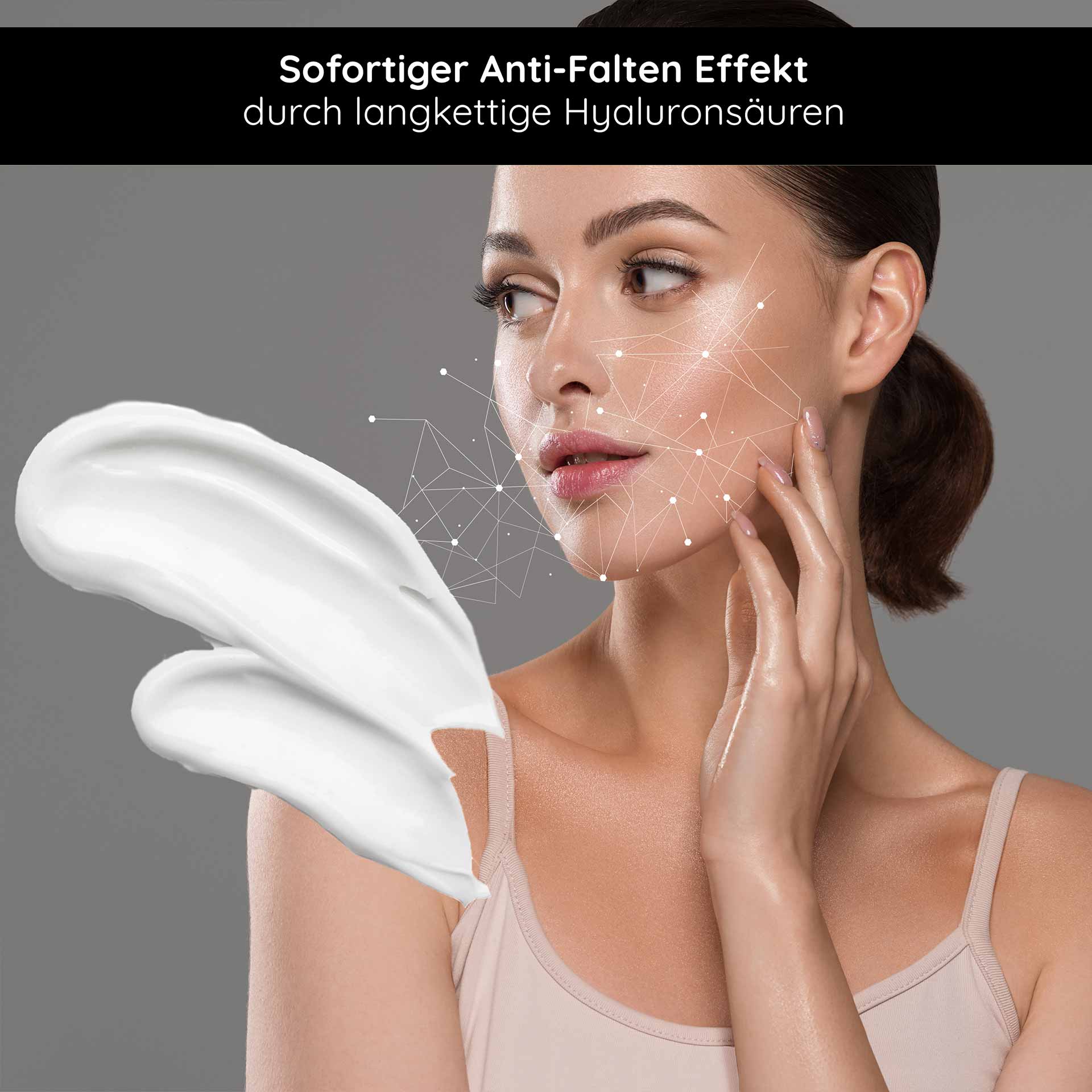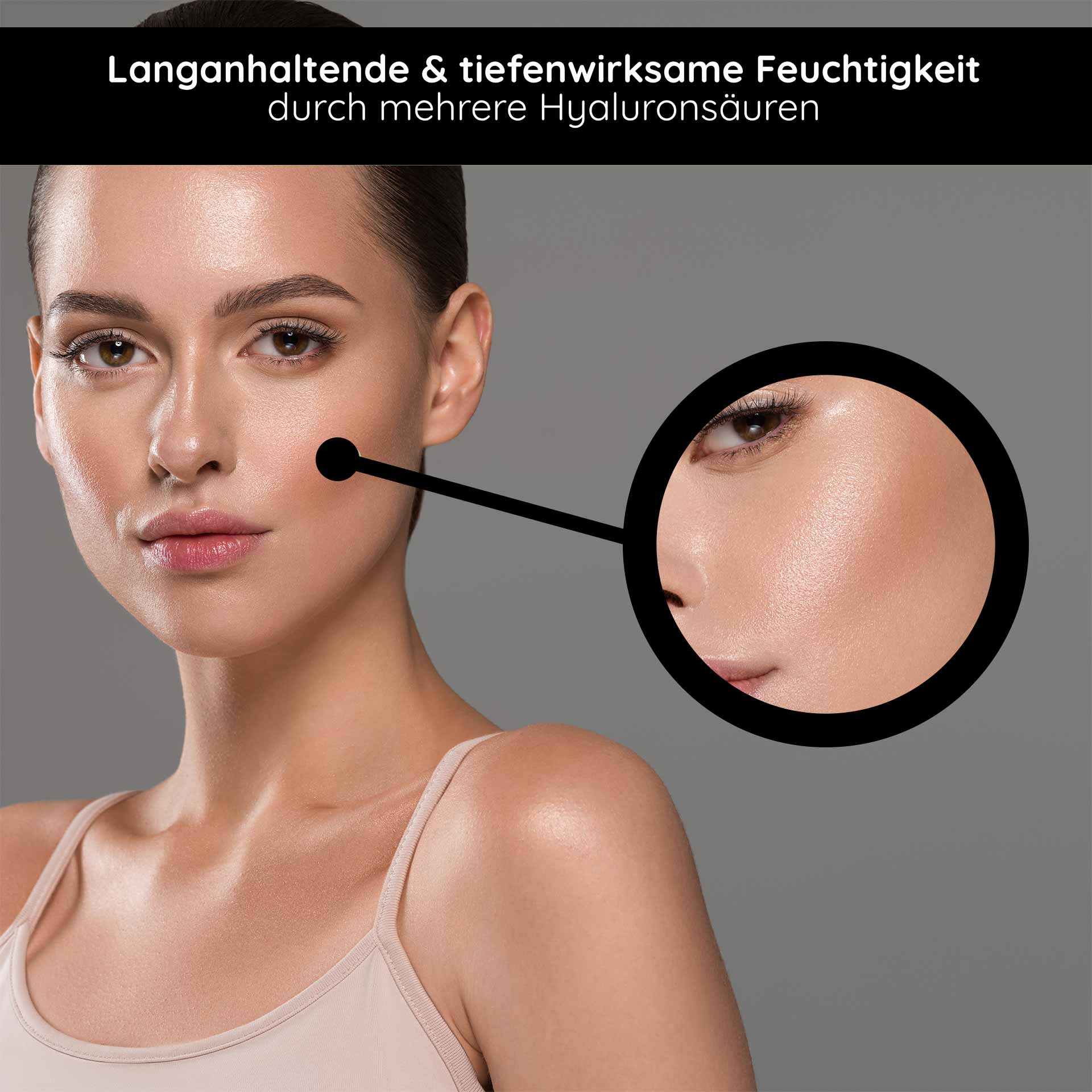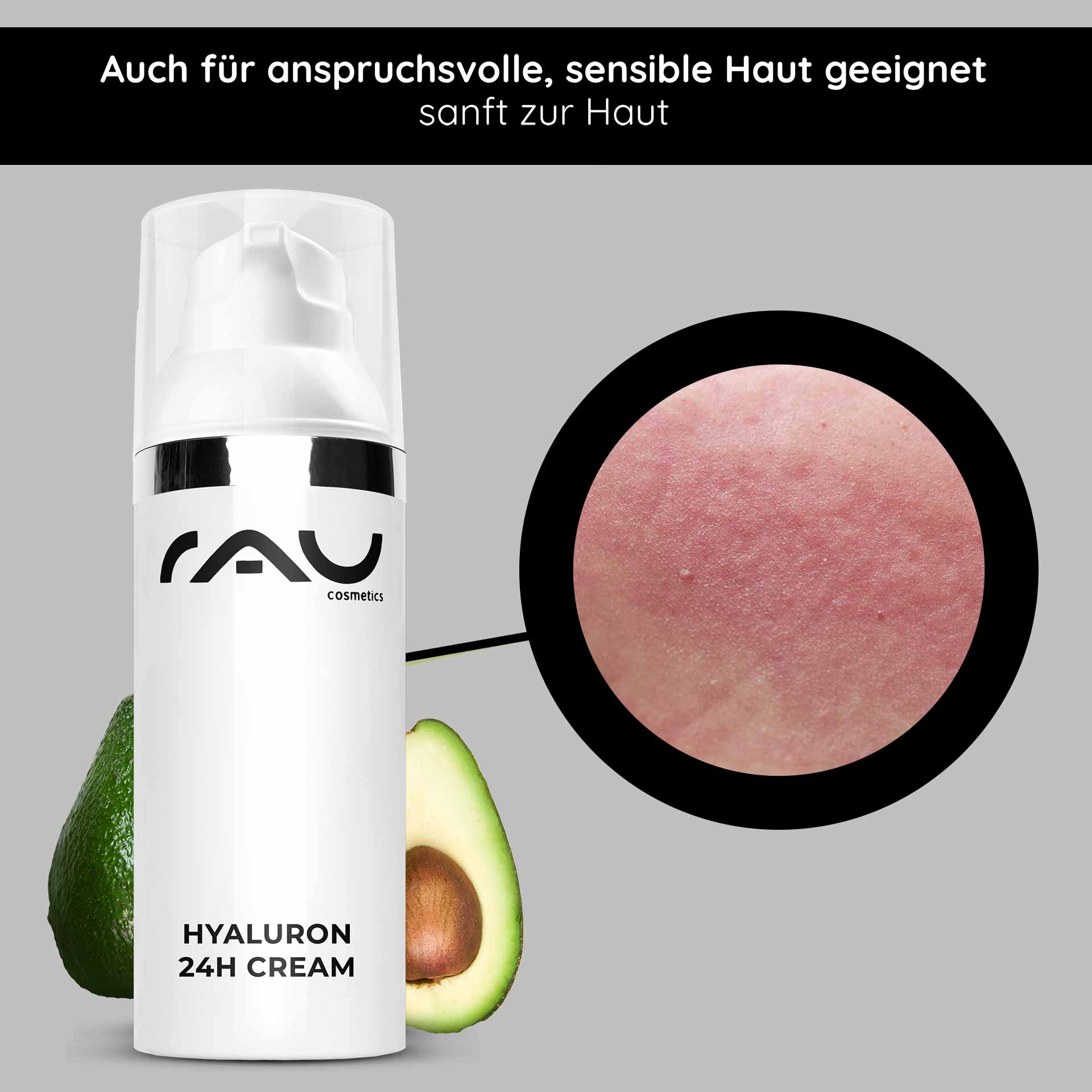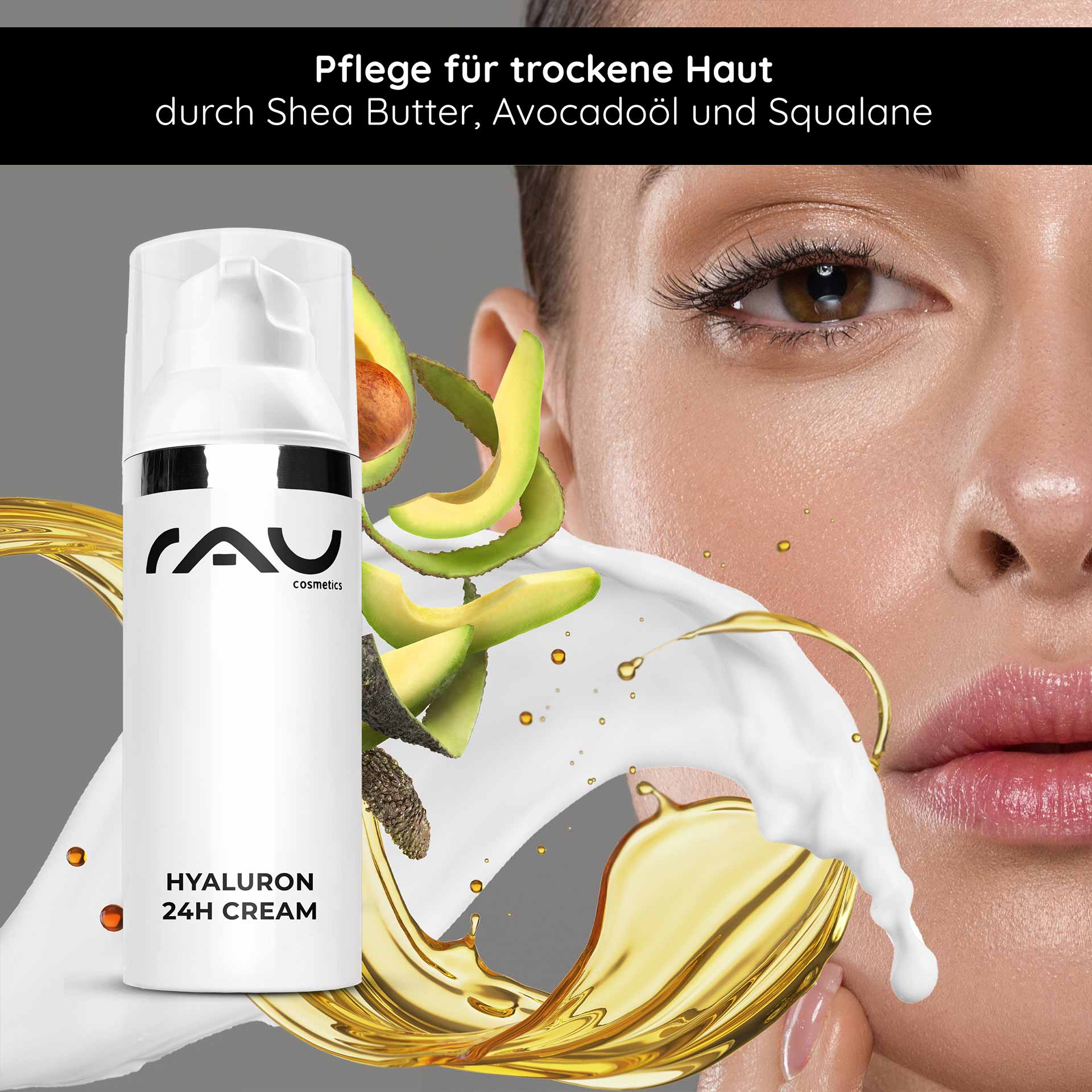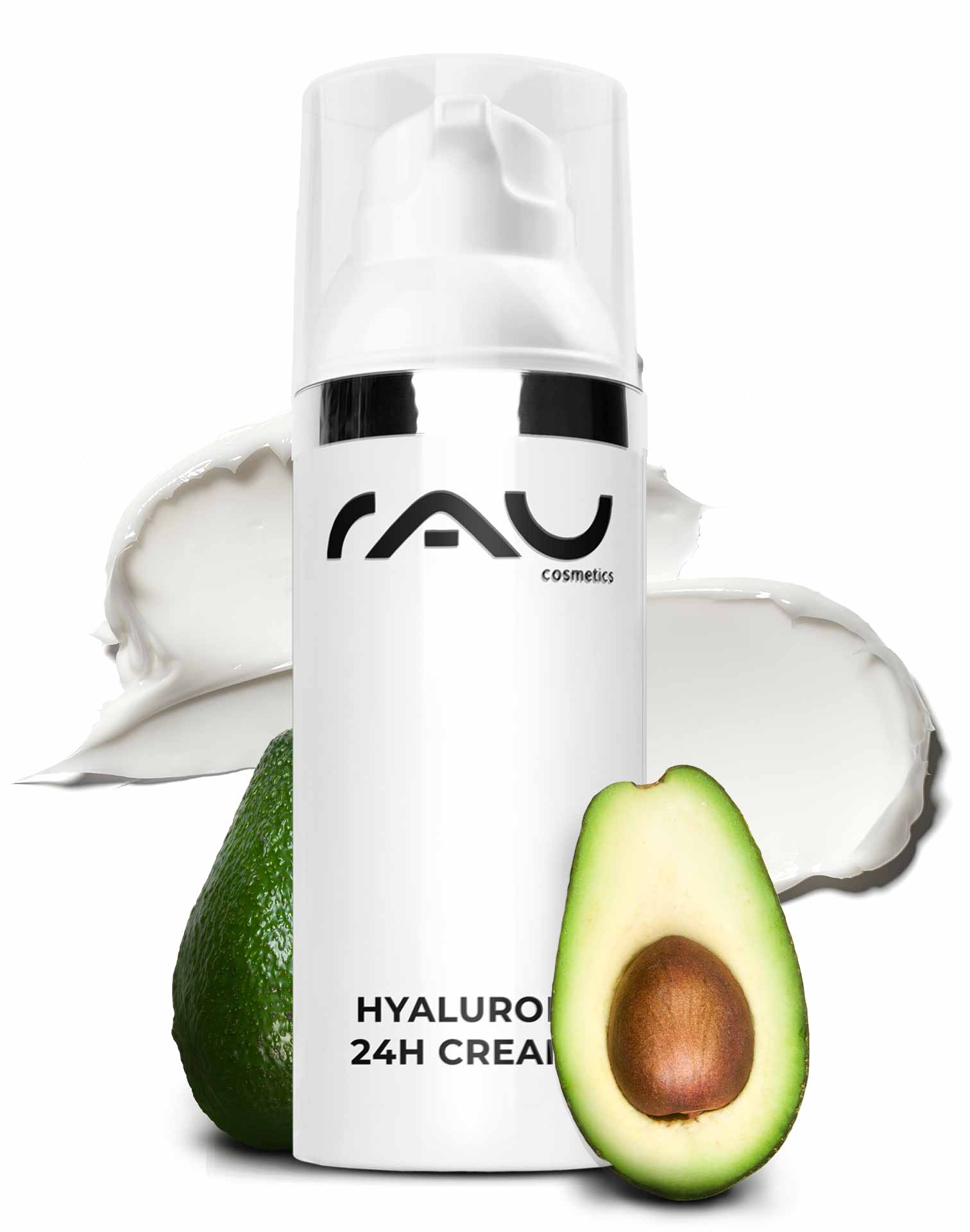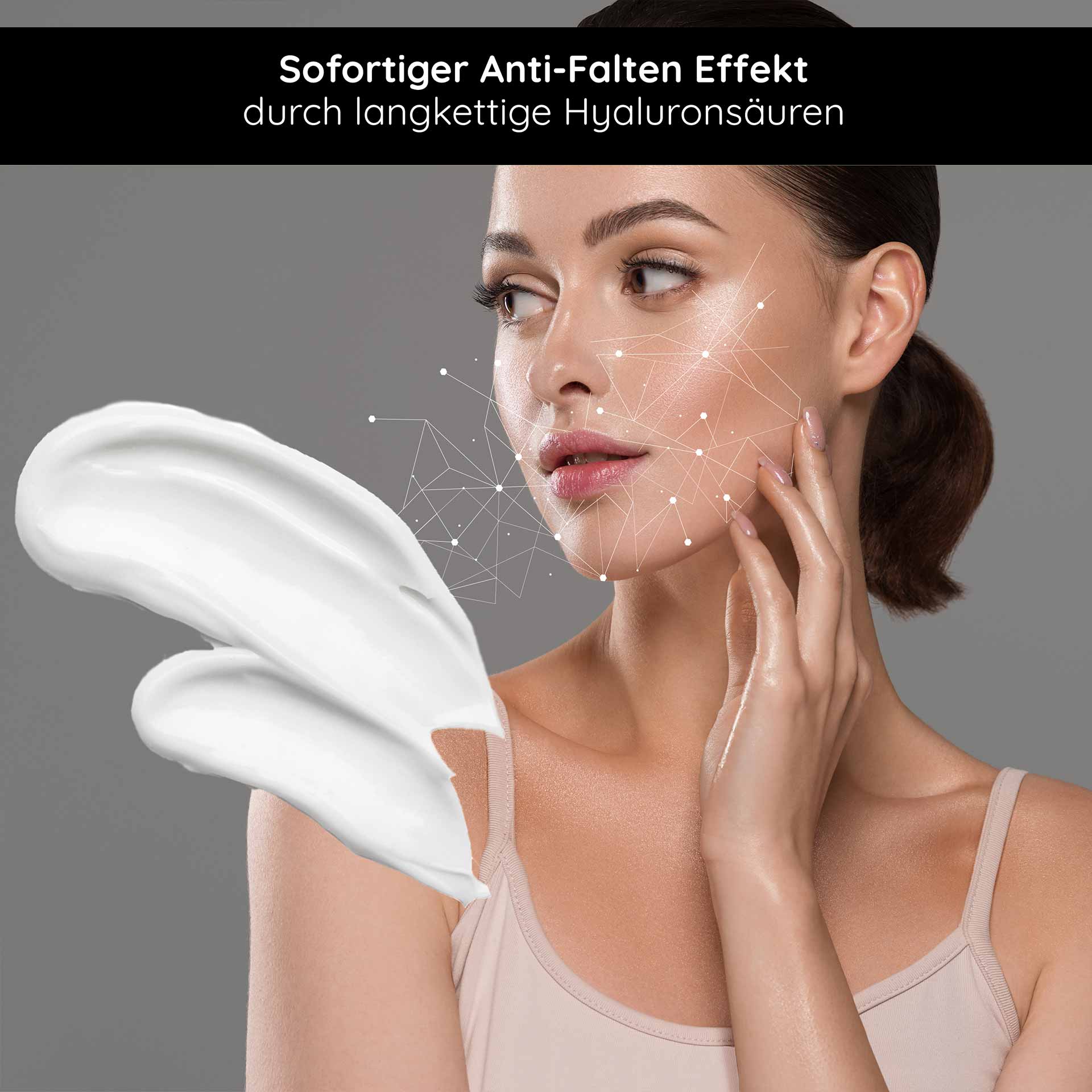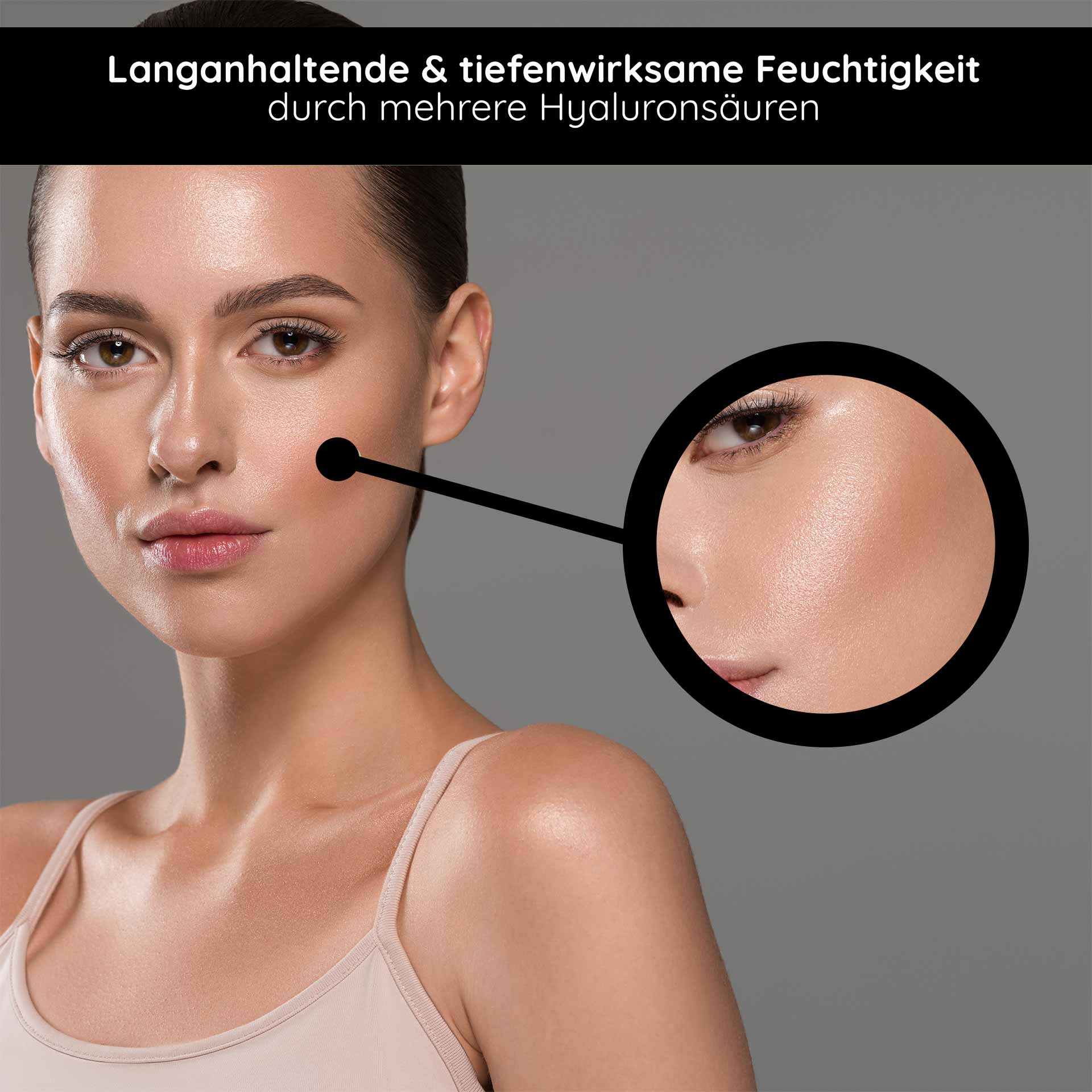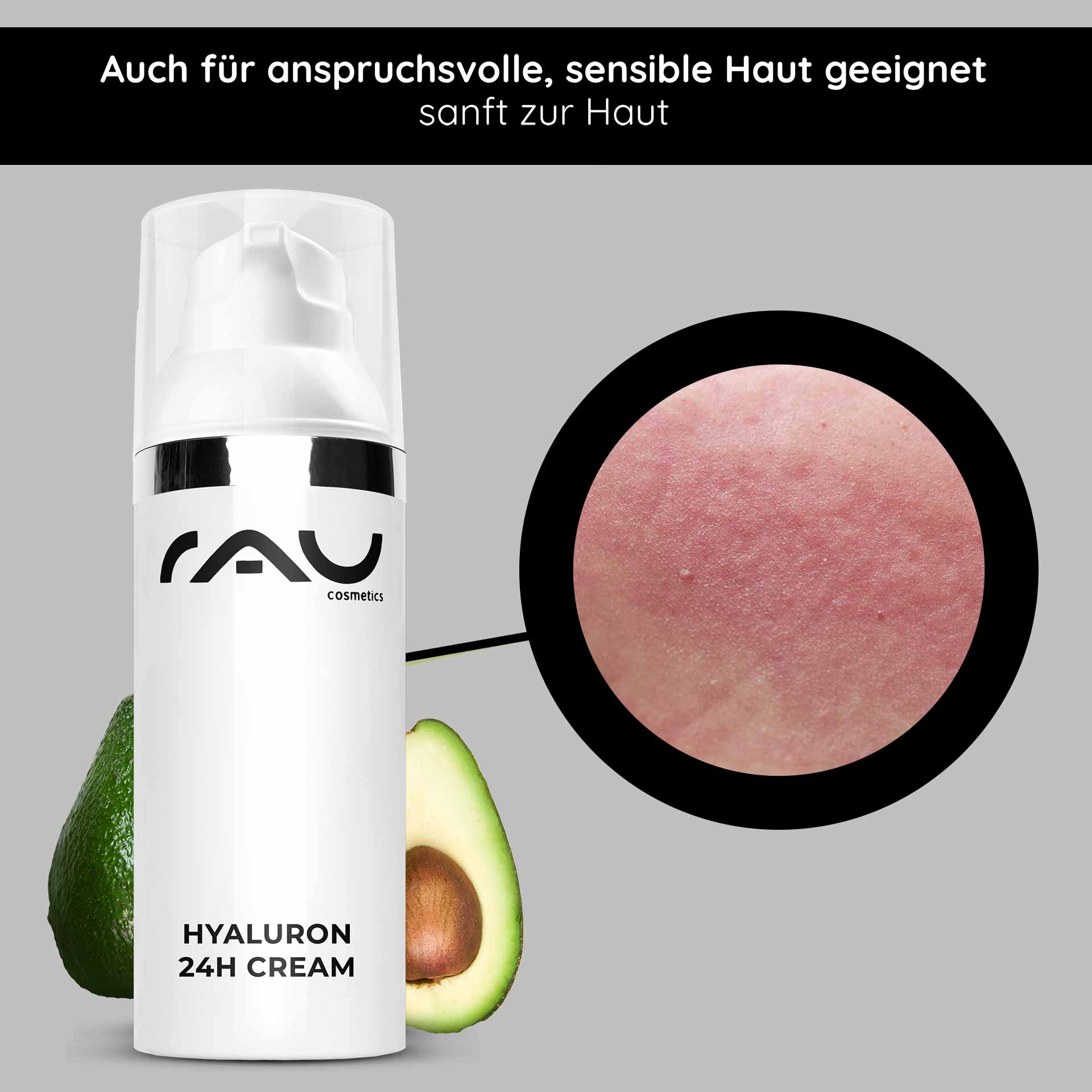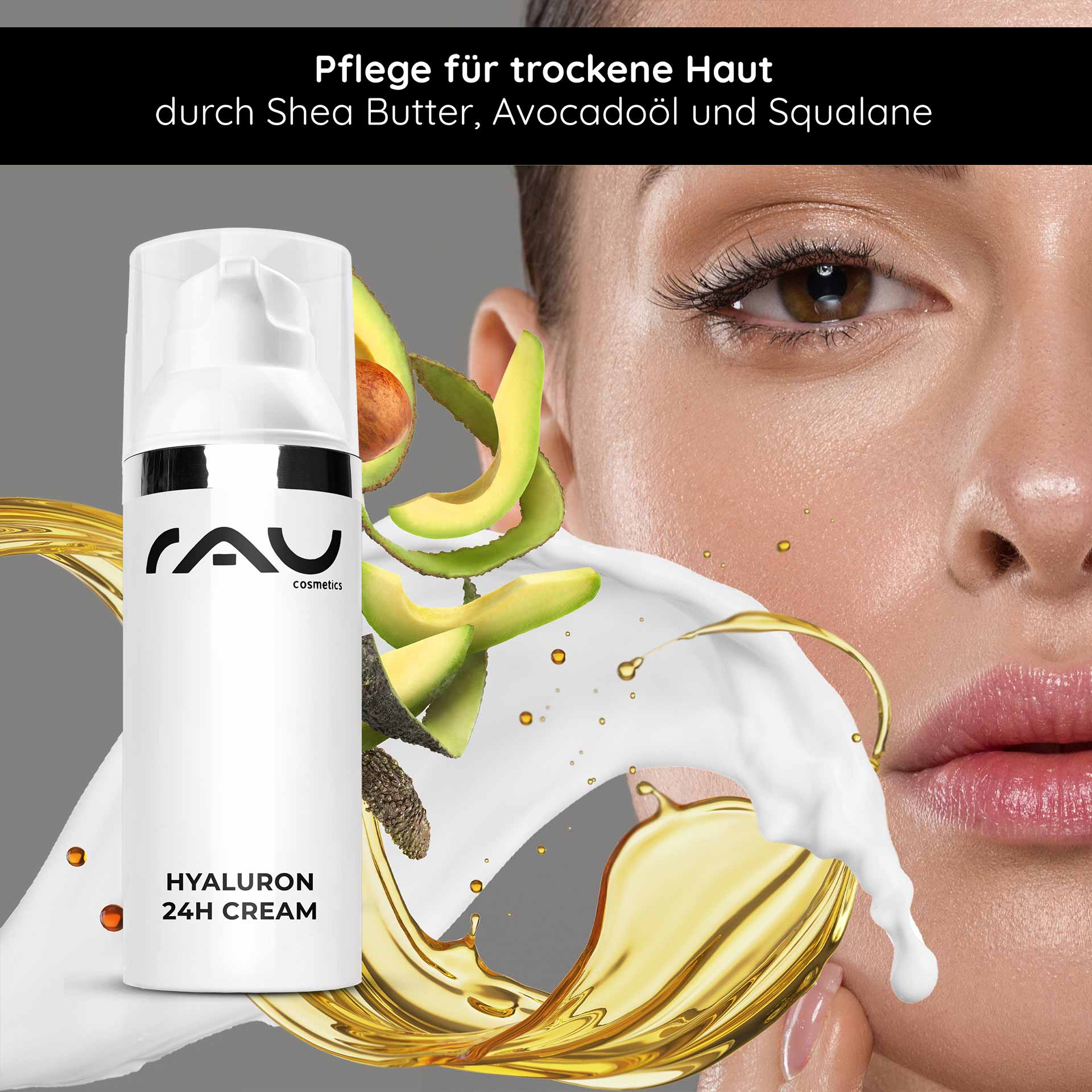 Hyaluron 24h Cream 50 ml Hyaluron Care Cream
€35.80*
Content:
0.05 Liter
(€716.00* / 1 Liter)
Available, delivery time: 1-3 days
Manufacturer:
RAU Cosmetics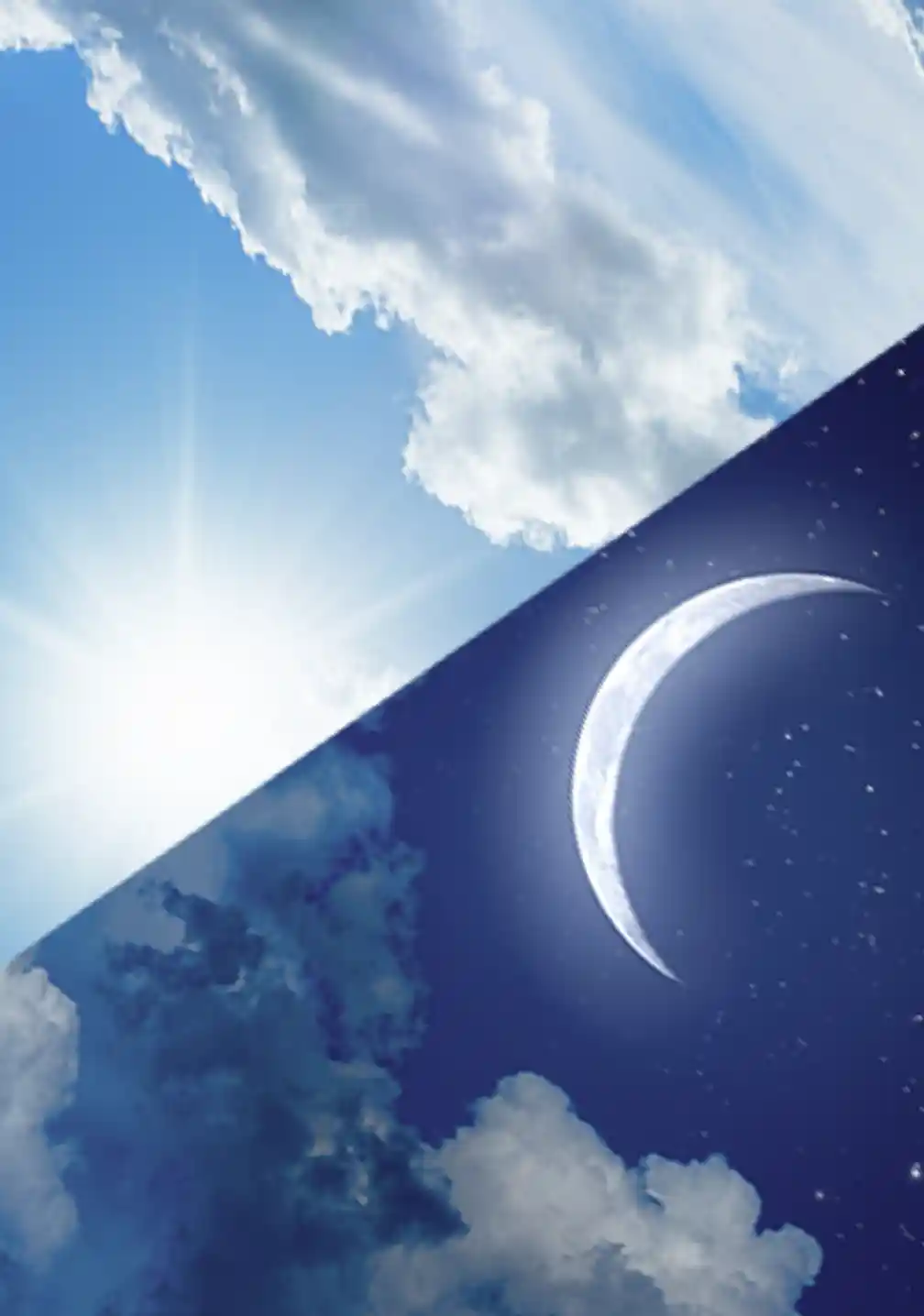 Tageszeit
Die Creme können Sie sowohl morgens als auch abends verwenden.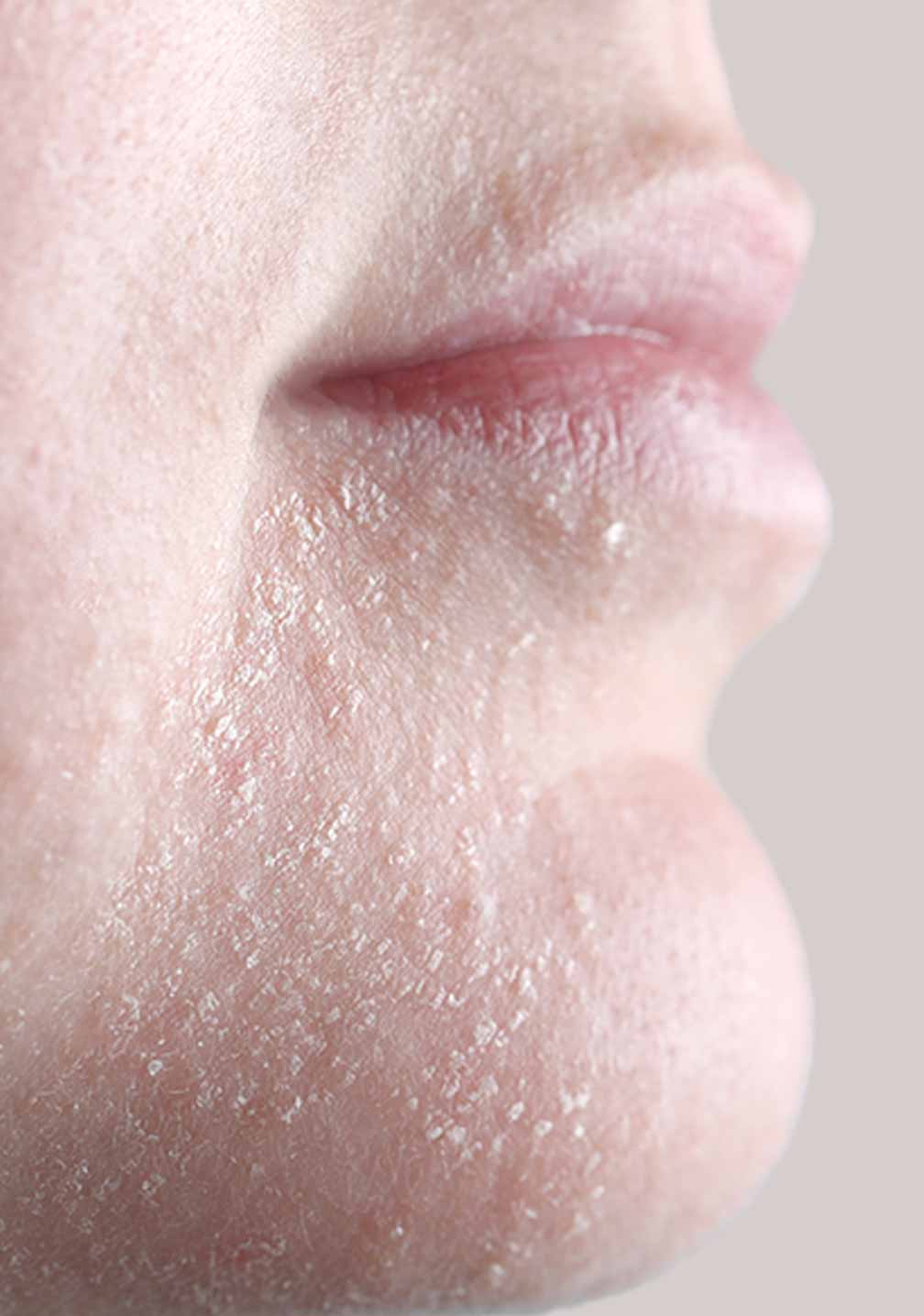 Hauttyp
trockene & anspruchsvolle Haut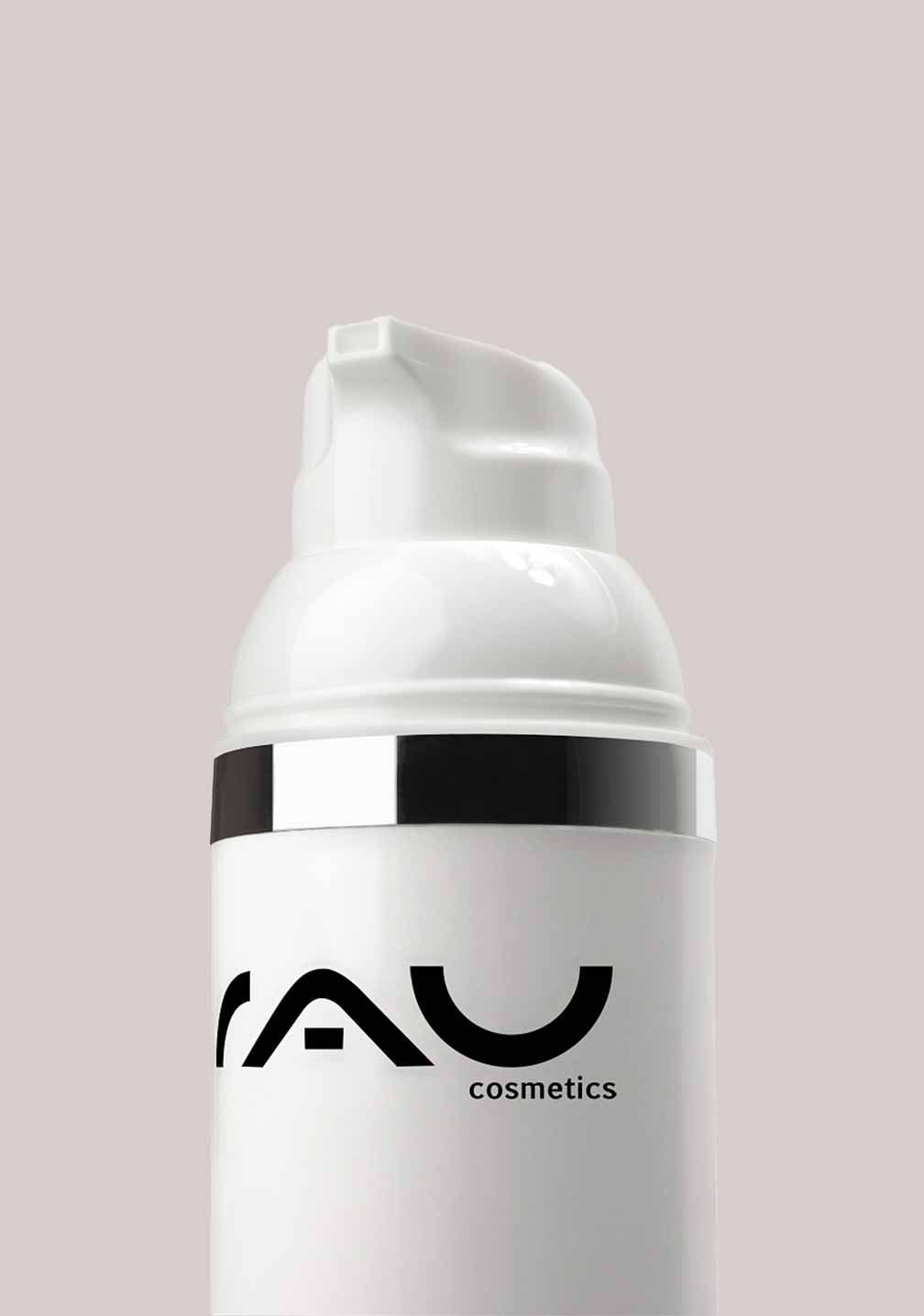 Praktischer Spender
Durch den praktischen Airless-Spender können Sie die Creme richtig dosieren.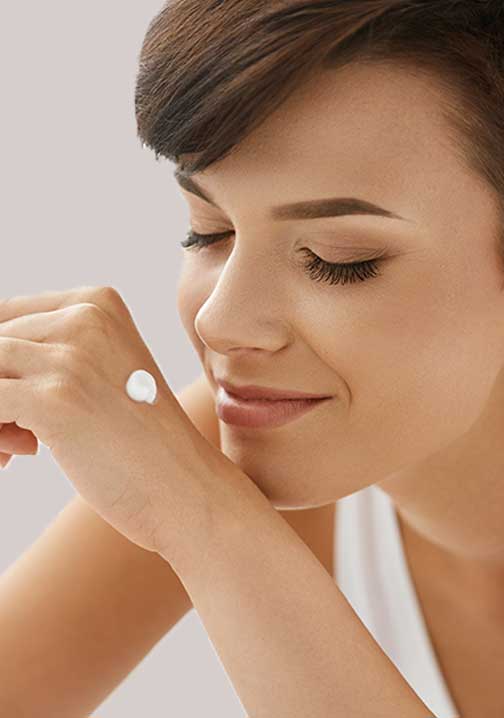 Geruch
Die Creme hat einen angenehm milden Duft.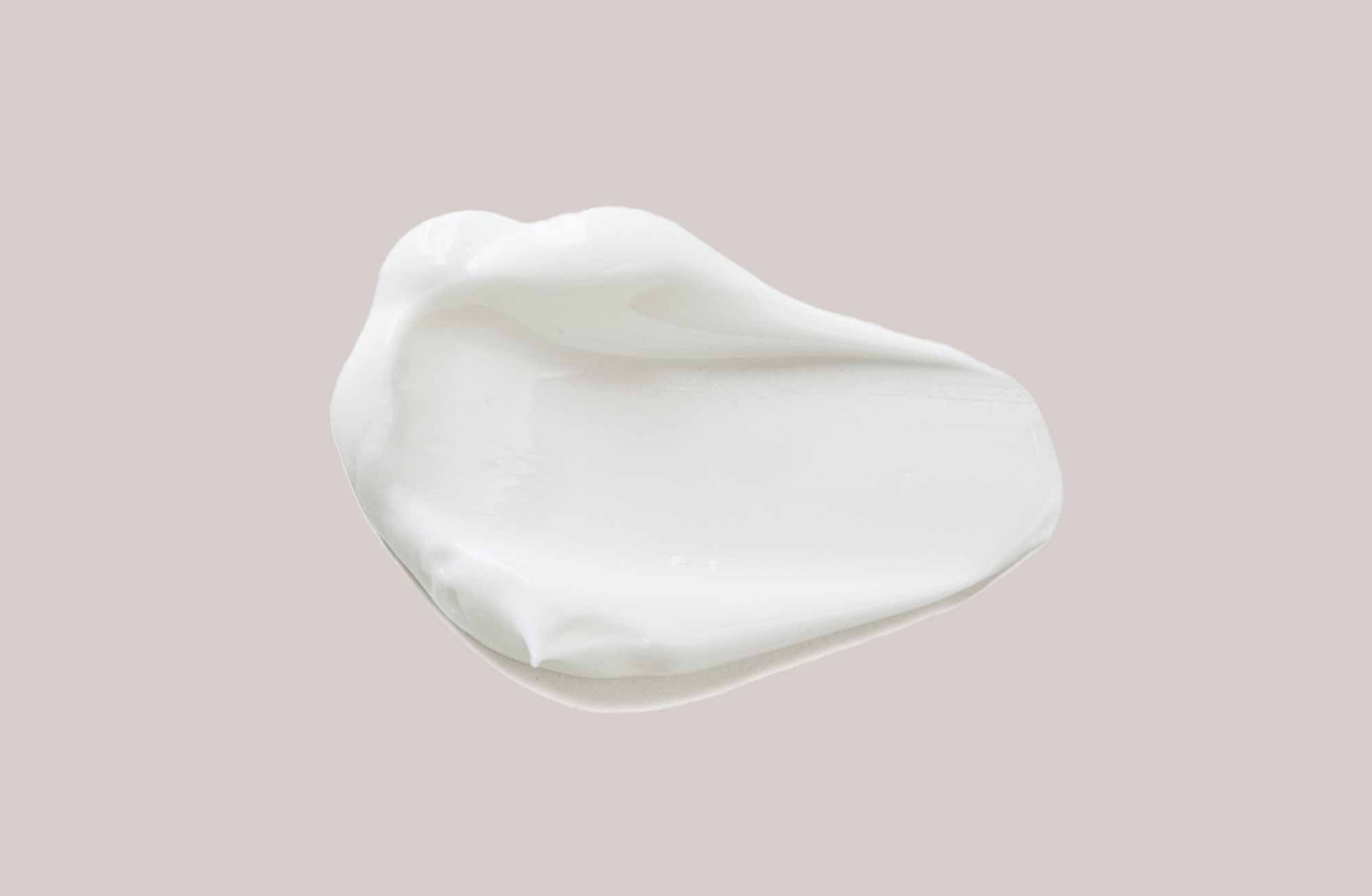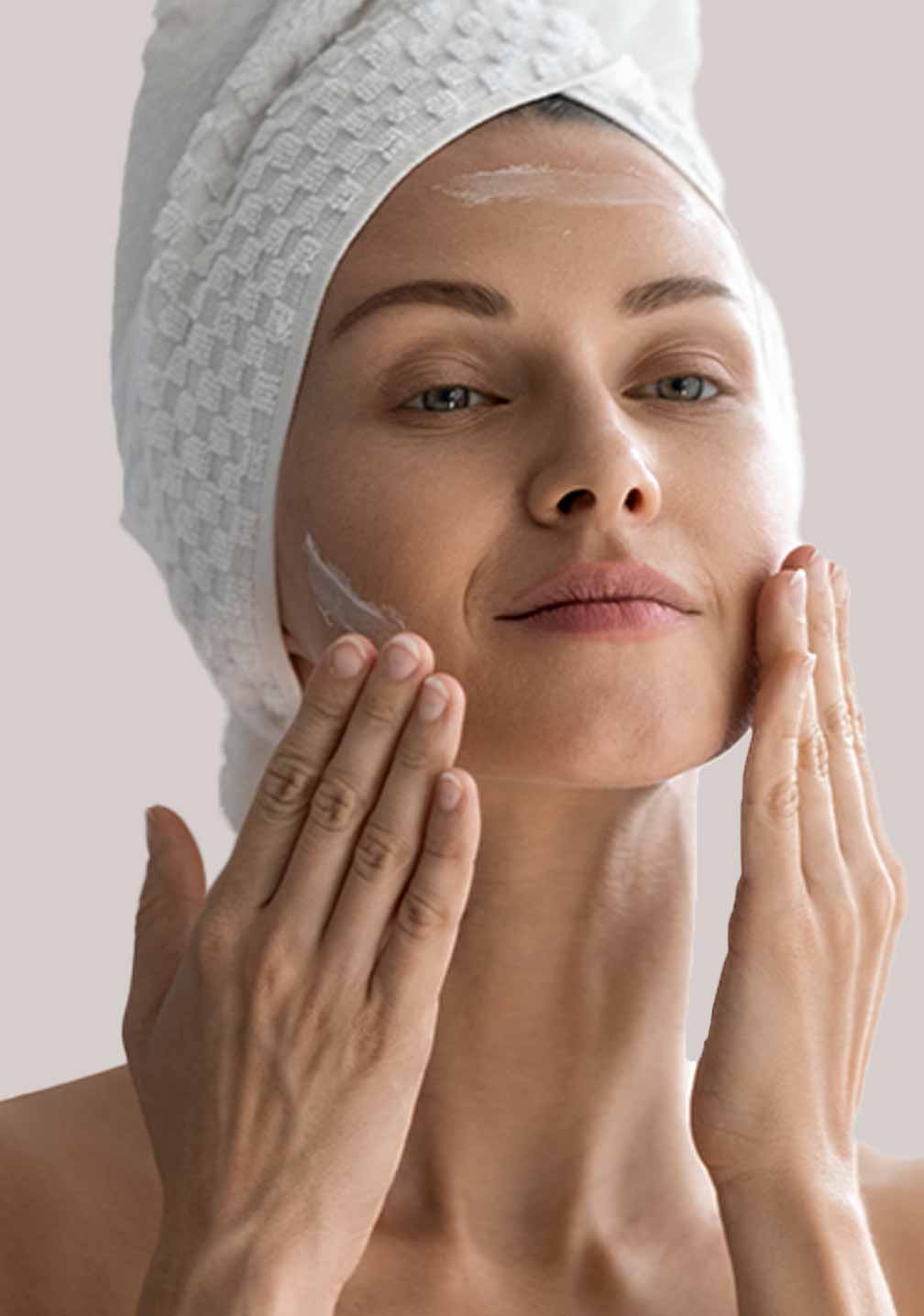 Anwendung
Auf die gereinigte Gesichtshaut auftragen und einmassieren.
Product information "Hyaluron 24h Cream 50 ml Hyaluron Care Cream"
Hyaluron 24h Cream

✔ light moisturizing cream
✔ immediate plumping effect
✔ can influence the inner moisture blanace in the long term
✔ developed & produced in Germany
Skin type
The face cream is suitable for demanding & dry skin.
Application
Apply in the morning and evening to cleansed skin.skin.

CAN
- provide long-term moisture
- make the skin look plumper
- soften wrinkles
- reduce dryness
Hazard statements
Not suitable for children under 3 years of age.
Our Hyaluron 24h Cream is a rich hyaluron cream for demanding and dry skin. Both low-molecular and high-molecular hyaluronic acids are used as special main active ingredients. In addition, other valuable ingredients intensively care for the skin.
The active ingredient combination of the Hyaluron Cream:
Our Hyaluron 24h Cream contains two different hyaluronic acids for greater effectiveness: the long-chain hyaluronic acid can effectively bind moisture in the upper layer of the skin and thus have an immediate plumping effect. The skin-firming and smoothing effect is visible very quickly after application. In contrast, short-chain hyaluronic acid penetrates the upper layer of the skin and can affect the internal moisture balance in the long term. In addition, the hyaluronic cream contains lipid active ingredients such as shea butter, avocado oil and squalane. These active ingredients can sustainably moisturize and nourish the skin, which means that the hyaluronic cream can make the skin appear firmer, plumper and more youthful.
Ingredients
AQUA (WATER) - Water - Solvent, moisturizes
DICAPRYLYL CARBONATE - dicaprylyl carbonate - keeps the skin in good condition and makes it supple
ETHYLHEXYL STEARATE - ethylhexyl stearate - makes the skin smooth and supple
CETEARYL ALCOHOL - surfactant - Washing active substance which is mulsion stabilizing and skin caring. Makes the skin smooth and soft.
GLYCERIN - Glycerin - Moisturizes the skin, vegetable
CAPRYLIC / CAPRIC TRIGLYCERIDE - Vegetable neutral oill - Smoothes the skin, Re-greases the skin
SQUALANE -oil extracted from the plant- prevents the loss of moisture from the skin, has great affinity with the skin and skin lipids and has excellent skin compatibility.
PERSEA GRATISSIMA (AVOCADO) OIL - Avocado oil- Keeps the skin in good condition
BUTYROSPERMUM PARKII BUTTER (SHEA BUTTER) - shea butter - nourishes the skin, regulates viscosity
SODIUM HYALURONATE - hyaluronic acid - moisturizing, skin caring
SODIUM STEAROYL GLUTAMATE - sodium stearoyl glutamate- cleanses the skin, keeps the skin in good condition
XANTHAN GUM-Xanthan Gum - Enables the formation of emulsions, increases the viscosity of cosmetic products
ETHYLHEXYLGLYCERIN - Ethylhexylglycerin- skin caring
ALCOHOL - alcohol - antimicrobial, perfuming, viscosity regulating
TOCOPHEROL - vitamin E - antioxidant, skin nourishing, gives the product a pleasant fragrance
ASCORBYL PALMITATE - antioxidant - makes the product durable and improves the smell of the product
ASCORBIC ACID- Vitamin C, ascorbic acid - Antioxidant, perfuming, skin conditioning
SODIUM HYDROXIDE - sodium hydroxide - stabilizer - affects stability and quality of the product
PARFUM (FRAGRANCE) - perfume
CITRIC ACID - CITRIC ACID citric acid - Reduction of horny skin, blackheads, acne scars, fine wrinkles, pore width/depth
PHENOXYETHANOL - Phenoxyethanol- antimicrobial, protects the product from spoilage
TETRASODIUM GLUTAMATE DIACETATE - stabilizer - influences stability and quality of the product
LINALOOL - fragrance
LIMONENE - fragrance
Hautbedürfnis:

Anti-Aging

, Hydration

, Radiance

Hauttyp:

Combination Skin

, Dry Skin

, Mature Skin

, Normal Skin

, Sensitive Skin

Inhalt:

50 ml

Kategorie:

Anti-Aging

, Hydration

Produkt-Typ:

Face Cream

Sonstige Eigenschaften:

vegan

Textur:

Cream

Wirkstoff:

ascorbic acid

, avocado oil

, fruit acid

, hyaluronic acid

, shea butter

, squalane

, xanthan
---
Ich hatte diese Creme als Probe geschickt bekommen und muß sagen, sie ist wirklich toll! Ich benutze vorweg das Aloe Vera Concentrate, um meine (manchmal recht zickige & zu Rörungen neigende) Haut noch zusätzlich zu beruhigen. Meine Haut ist dann super mit Feuchtigkeit versorgt und bei Bedarf hält auch das Make-up sehr gut. Werde ich demnächst mitbestellen und kann die Creme auf jeden Fall empfehlen!
Eine tolle reichhaltige Pflege mit Sofortefekt
Ich trage die Creme abends dick auf das gesamte Gesicht auf und lasse es einziehen die Haut ist dann pur durchfeuchtet und am nächsten Morgen sichtbar praller. Ein absolutes Top Produkt was man sich zulegen sollte
Tolles Produkt für morgens und abends
Tolle reichhaltige Creme für morgen uns abends geeignet. Gut als Grundlage zur Foundation! Duftet angenehm. Eine kleine Menge reicht fürs ganze Gesicht.
Tolle Creme. Ich benutze vorhe
Tolle Creme. Ich benutze vorher das Moist Concentrate mit Hyaluron und meine Haut ist so zart den ganzen Tag lang.
Tolle Creme. Ich benutze...
Tolle Creme. Ich benutze vorher das Moist Concentrate mit Hyaluron und meine Haut ist so zart den ganzen Tag lang. (Quelle: <a href='https://www.shopvote.de/show-products.php?shopid=15529' target='_blank'>SHOPVOTE</a>)